Touring Hohensalzburg Fortress, Salzburg's 900-Year Old Castle
When visiting Salzburg, it is impossible to miss the Hohensalzburg Fortress as it sits high atop a mountain called Festungsberg. If you've seen the skyline of the Austrian city of Salzburg in pictures, you've likely seen a marvelous view of the Hohensalzburg Fortress. At 1,778 ft (542 m), Hohensalzburg Fortress (sometimes know as Salzburg Castle), is one of the largest and most well-preserved medieval castles in Europe and soars above the city. The 900-year-old castle is well worth visiting in Salzburg! And apparently other people think so as well since 1.2 million people visited the iconic fortress in 2017 alone! The same day we went to Hellbrunn Castle, we visited the Hohensalzburg Fortress. If you're looking for what to do in Salzburg in one day, I'd recommend Hellbrunn Castle and the Hohensalzburg Fortress.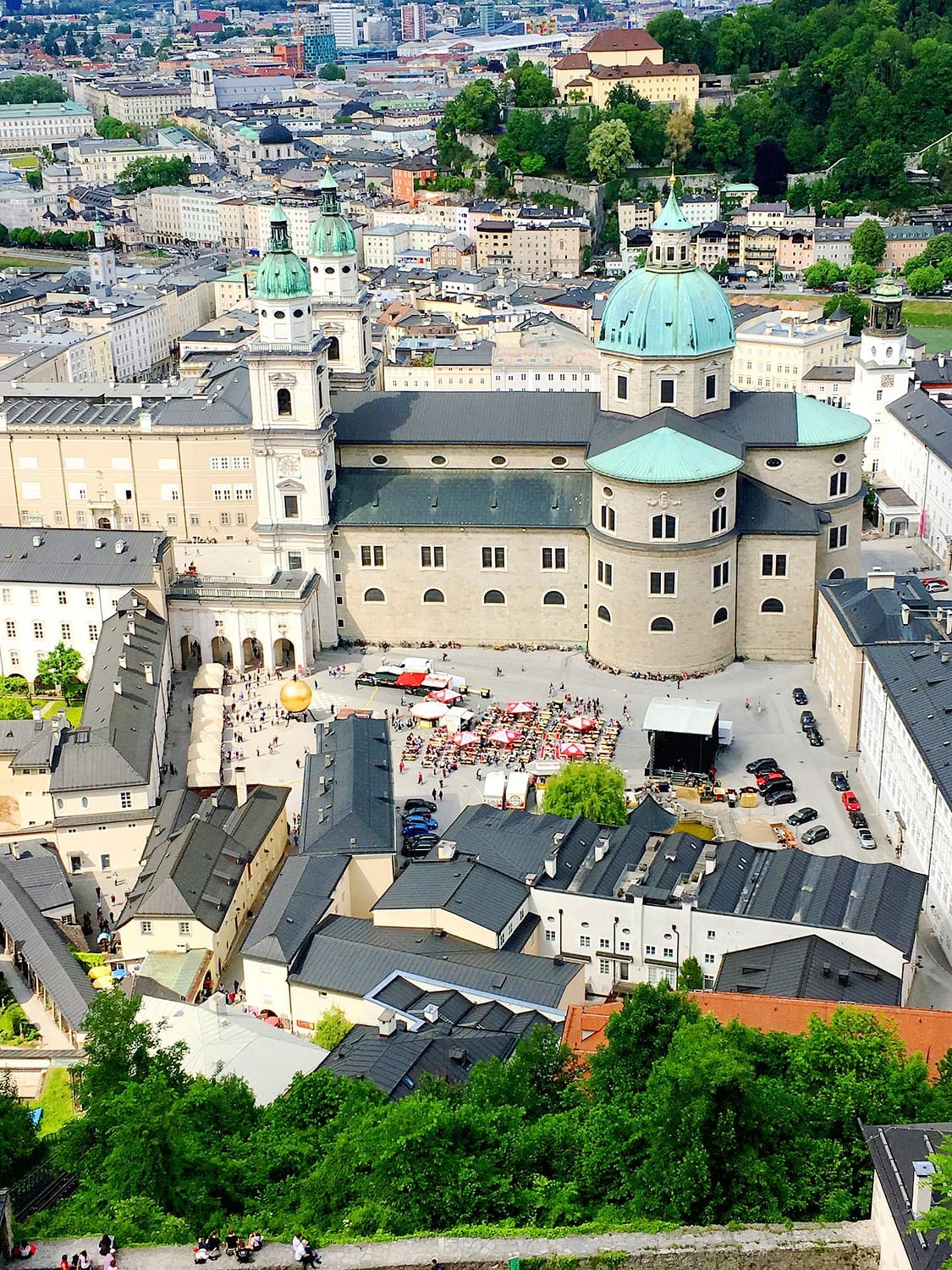 History of the Hohensalzburg Fortress
In 1077, the Hohensalzburg Fortress was built at the behest of Archbishop Gebhard I of Helfenstein to show off the Catholic Church's power (as usual) and to protect Salzburg from attacks. Originating as a simple structure, it grew to the massive medieval castle it is today around 1519. I genuinely can't imagine how they built it. Hauling materials up the 1,778 ft to the top!?!? While today it would be a challenge, back then, it would have been even more so!
This probably contributed to why that during its 900-year history, the castle has never been attacked or conquered. In the late 19th century, Hohensalzburg Fortress (Salzburg Castle) converted to a tourist attraction. Making the steep treck easier for tourists, a funicular railway (Festungsbahn) was built in 1892 and is considered one of the oldest of its kind worldwide.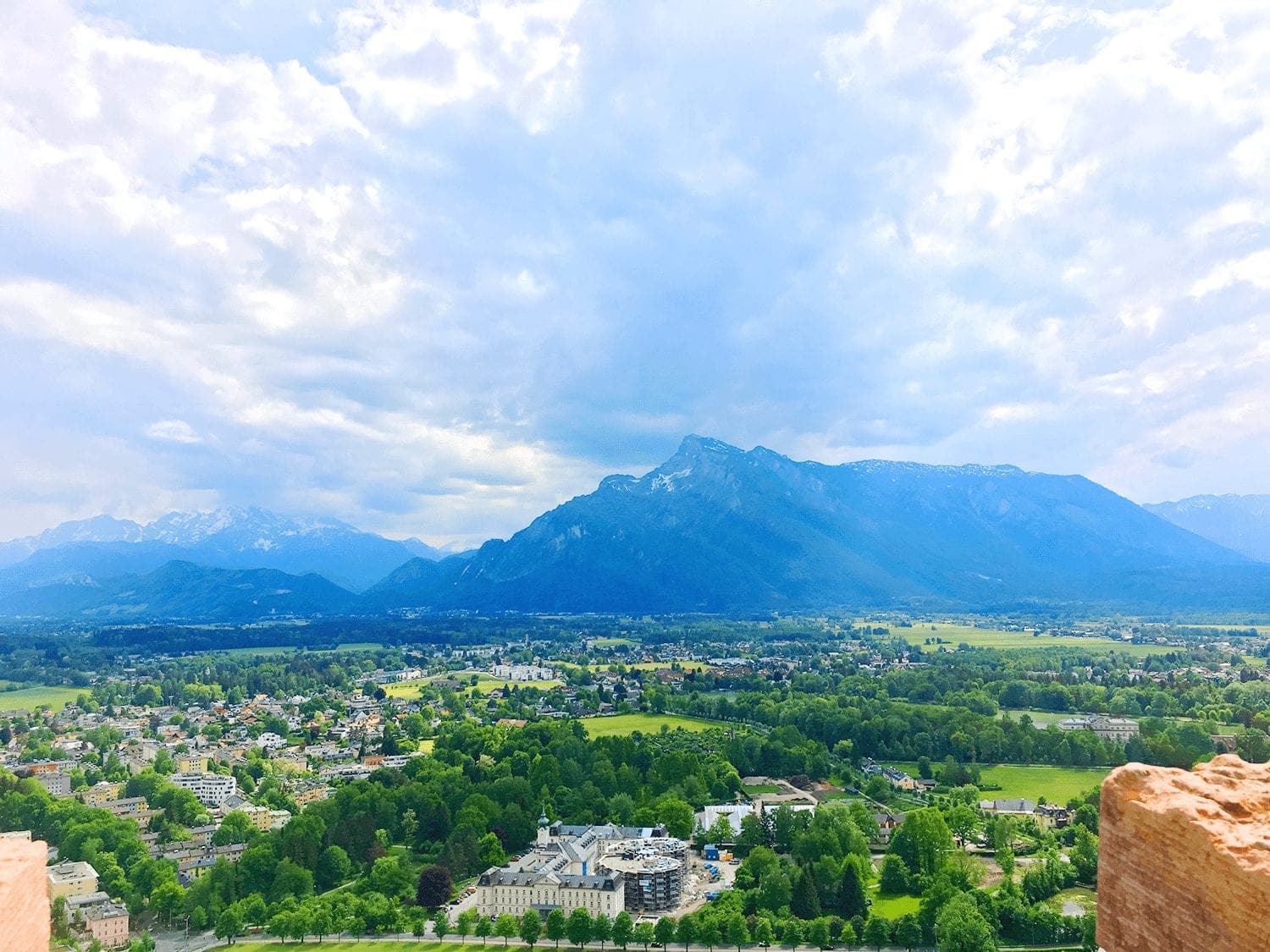 Getting to Hohensalzburg Fortress
Let me note. It is STEEP. Take the funicular if you have any issues with hiking up. There is plenty of things to walk around the castle and see that there is no need to hike up to the castle as well (if you're looking to rack up some more steps). I joked with my Mother about walking up, however, we're super glad we didn't. Even though I'm afraid of heights the funicular is a short ride up and well worth it. It is also free with the Salzburg Card. With the card, you can skip the line. If you really want to walk, I'm told it takes 15 minutes (probably if you're in good shape) and to follow the signs from Kapitelplatz.

What to See at Hohensalzburg Castle
Though the Salzburg Castle is massive. I found the view from the top to be the most impressive feature. There is a lookout tower you can get to by going upstairs that is well worth the look. You can see the old baroque town to the north and a view of the Alps to the south. It was GORGEOUS! Going up the steps (which there were a lot of) to get to the lookout tower was completely worth it! Just look at those mountains! The Alps are just beautiful!!!
There is an audio guide tour you can take included with the Salzburg Card. The card provides one-time free admission and allows you to skip the line. Since we did the Hellbrunn Palace before this, we didn't get to the staterooms in time, but if you enter before 11 am the pass includes access to the staterooms free of charge. So if you do this in reverse you'll be able to get to them in time.
The audio guide tour leads you through to the Stable Block, which is a historical exhibit focused on the courtly life of 17 prince archbishops. Telling the story of how each has added to the castle. From there, you move throughout Salzburg Castle and then head towards the "Salzburg Bull" which is a substantial mechanical organ with more than 200 pipes. It reminded me of my Grandmother's player piano with the large roll seen above.
The Museums of Hohensalzburg Fortress
In addition, there are three museums in the Hohensalzburg Fortress: The Rainer Regiments Museum, Fortress Museum, and a Marionette Exhibit. The first is a World War I museum. The Fortress Museum takes a look at castle life. What was especially interesting in this display was the punishment masks. These unusual masks were worn by those who got in trouble in Salzburg. Making a dunce cap look like a breeze. If I recall correctly, which mask you wore depended on what your crime was. The Marionette Exhibit is a small area featuring dolls from Mozart's "Magic Flute" to "The Sound of Music."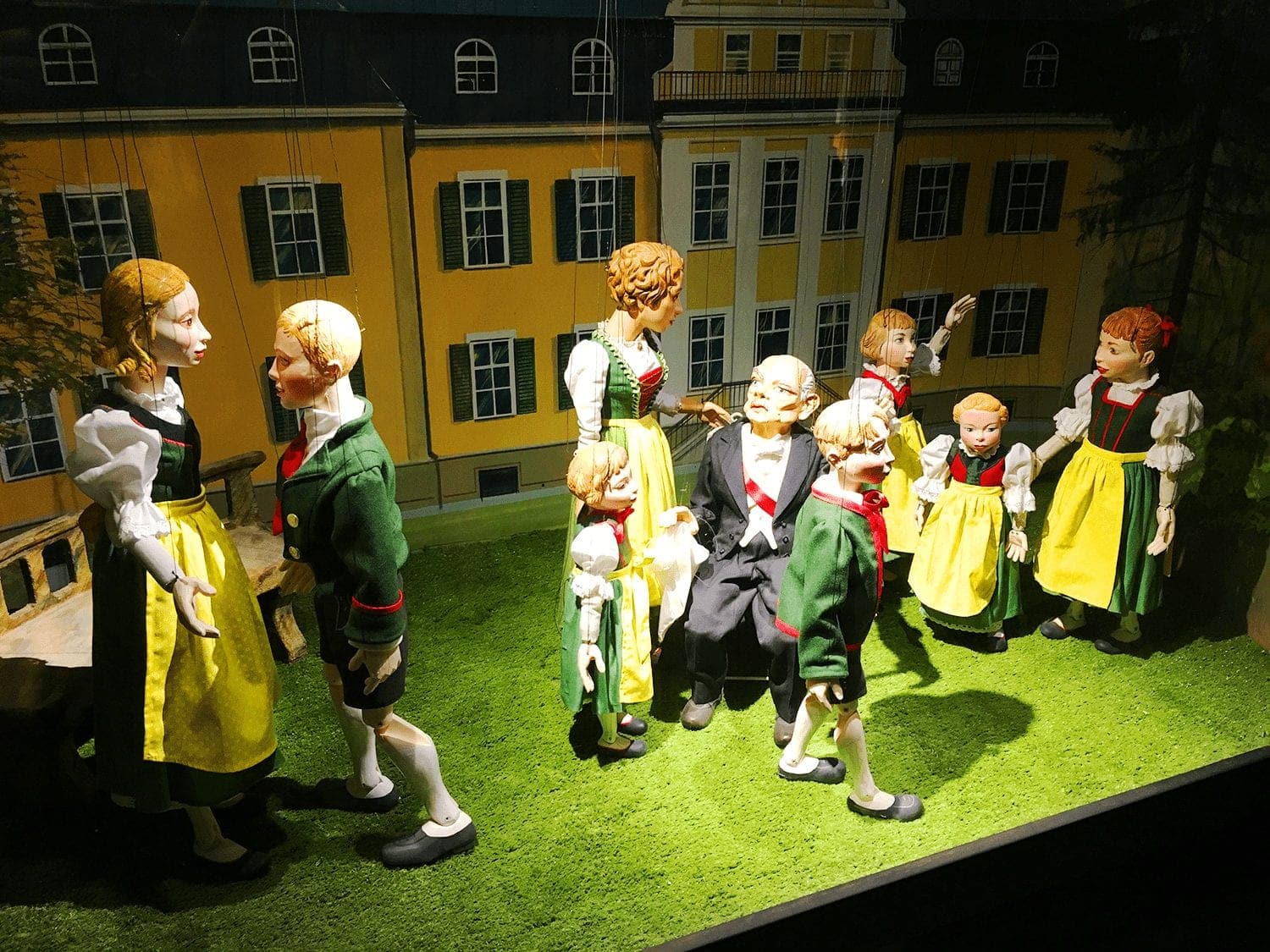 Visiting the Hohensalzburg Castle
The Hohensalzburg Castle is open year-round.
January-April*: 9:30 am-5 pm
May-September: 8.30 am-8 pm
October-December*: 9:30 am-5 pm
*Easter and Advent weekends: 9:30 am-6 pm
Dec. 24: 9:30 am-2 pm (last admission 2 pm)
Ticket Prices: Valid from February 1, 2020
Tickets are available at the fortress and online. These prices are valid as of posting, but you should check the official site before you go. If you choose not to go with the Salzburg Card, here's what to expect…
Basic ticket – Roundtrip Funicular ride, guided tour with an audio guide in eleven languages (salt storeroom, torture chamber, look-out tower, 'Salzburg Bull' – mechanical organ), Fortress Museum, Rainer Regiment Museum, Marionette Museum, fortress precincts, Alm passage, historical Zeughaus.
Adults € 12.90
Children (6-14 years) € 7.40
Families € 28.60
People with disabilities greater than 50% receive a reduction
Groups (of 10 adults or more) per person € 11.90
Groups (of 10 children/youths or more 6-19 years) per person € 6.80
All-inclusive ticket – In addition to the basic ticket, it includes the Princes' Apartments in the main castle and the Magic Theater (Golden Hall, Golden Room, the bedchamber of the prince archbishop Keutschach † 1519).
Adults € 16.30
Children (6-14 years) € 9.30
Families € 36.20
Groups (of 10 adults or more) p