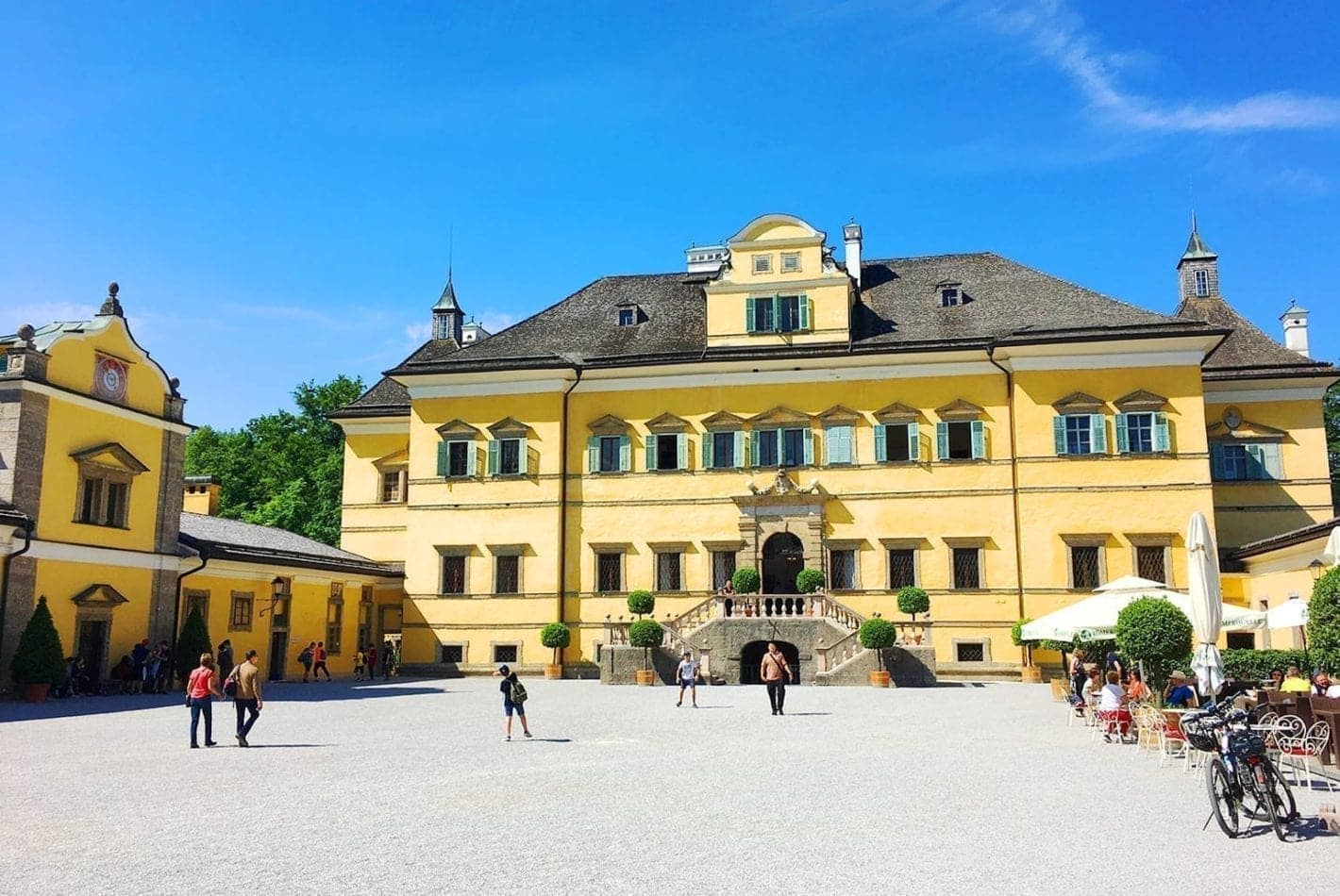 Schloss Hellbrunn, Touring the Palace & Musical Trick Fountains
Schloss Hellbrunn, made famous by its trick fountains and the Sound of Music, has been around for more than 400 years. Hellbrunn Palace (or in German, Schloss Hellbrunn) is the most surprising of the castles I have visited. As a whimsical and entertaining palace that leaves its visitors with a sense of wonder. Established as an early Baroque villa, like the Baroque Austrian National Library in Vienna, this marveling palace is located near Morzg, a southern district in Salzburg, Austria. Making it an excellent day trip from Salzburg and a must for any Sound of Music fan!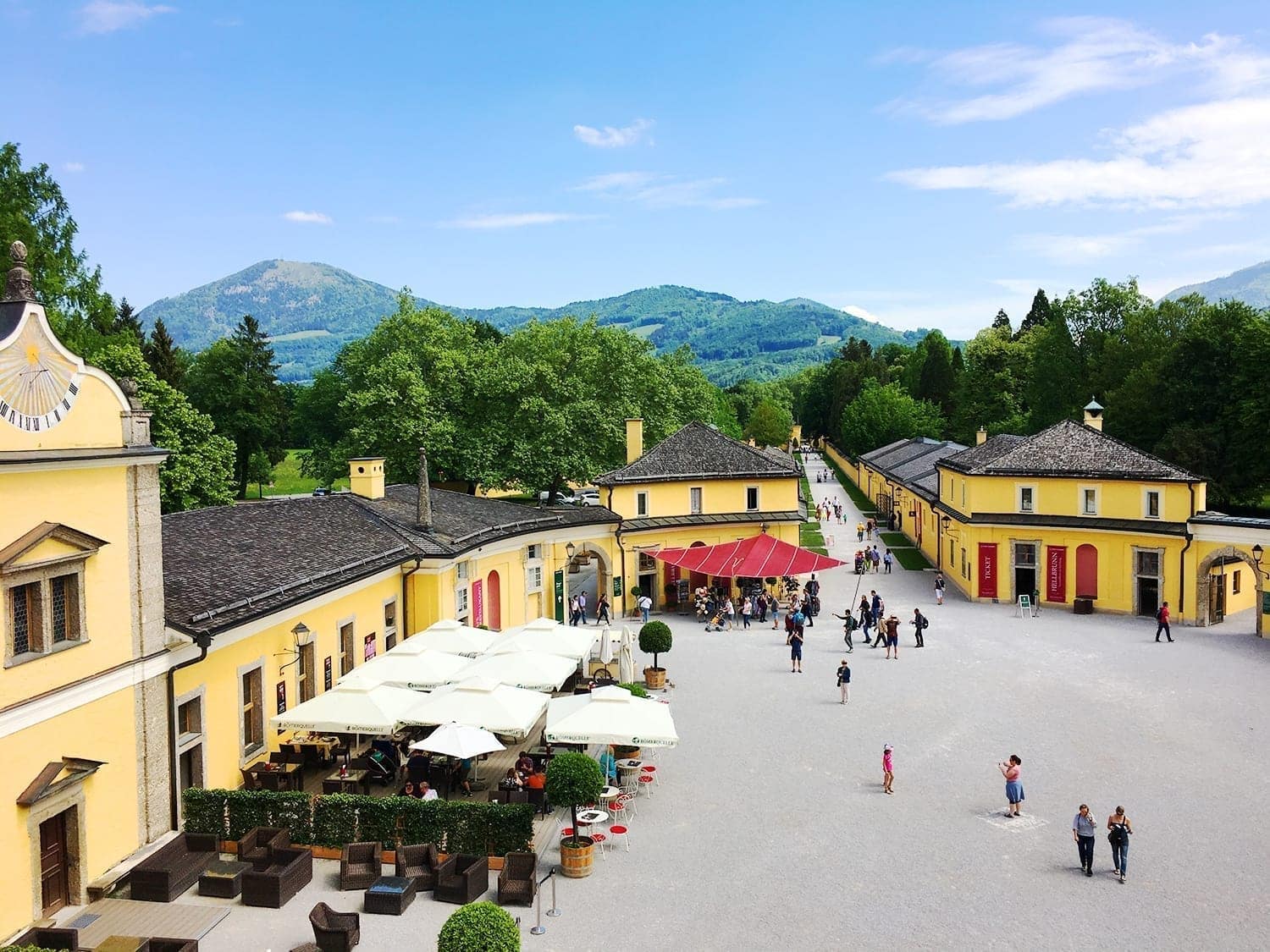 The History of Hellbrunn Palace (Schloss Hellbrunn)
Constructed between 1613 and 1619 by Markus Sittikus von Hohenems, the Prince-Archbishop of Salzburg, it's name comes from the German for "clear spring" that provides the palace with its source for the wonderous trick fountains. Solely used as a day residence in summer, it was a respite and oasis of pleasure for the Archibishop and his confidants away from the city. In fact, there are no bedrooms at Hellbrunn Palace at all! Now before your mind wanders into the gutter, the palace was built for celebration, for pleasure, and recuperation. Pleasure palaces were highly fashionable around 1615.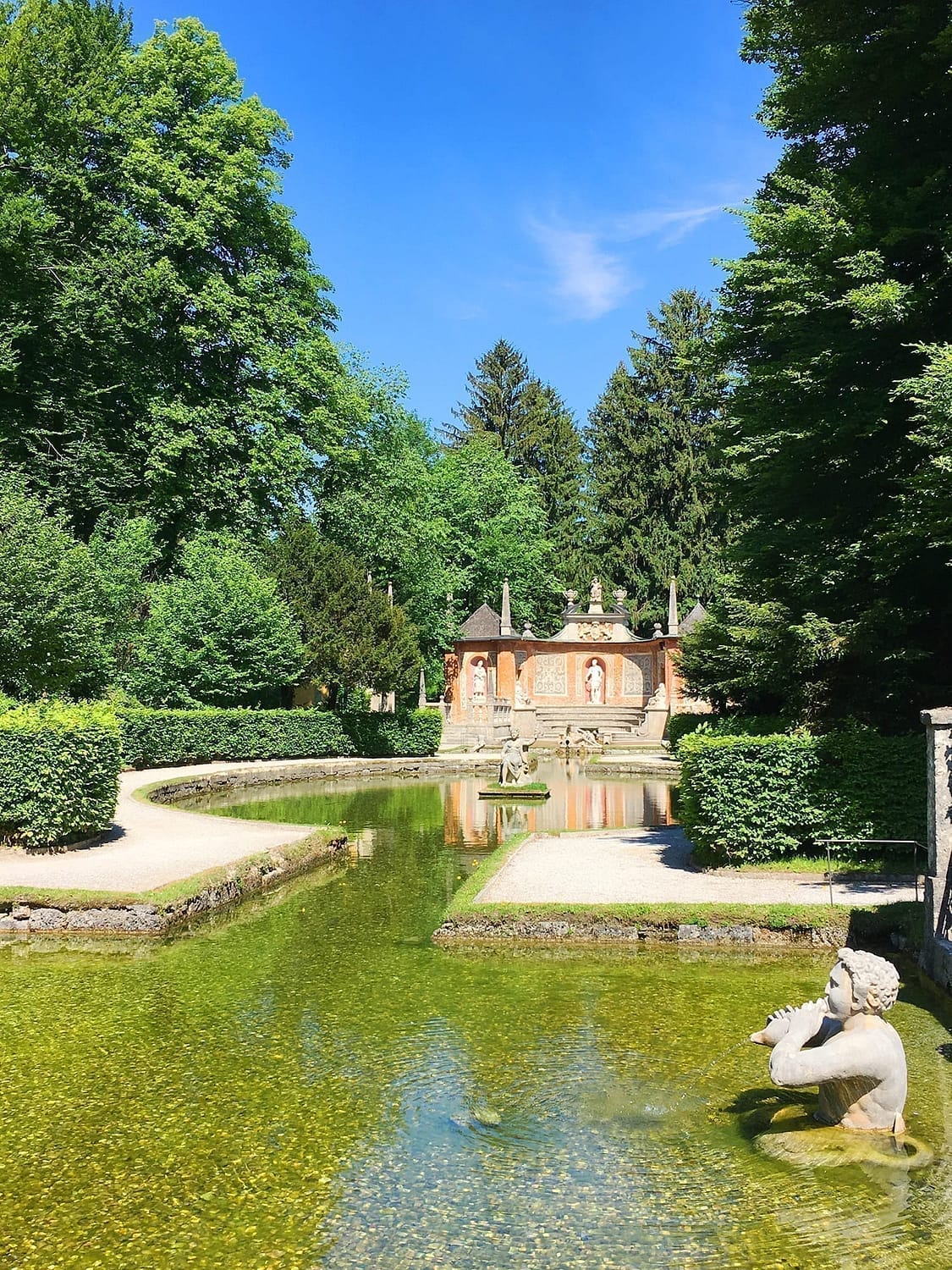 The Salzburg Water Games (Salzburger Wasserspiele)
The Salzburg Water Games (or in German Salzburger Wasserspiele) refers to the trick fountains that Schloss Hellbrunn is so famous for! Conceived by the Prince-Archbishop of Salzburg, he was known for his sense of humor, which is easily seen when visiting these whimsical fountains. Spending time at Hellbrunn leaves you with a feeling of elation at the magical fountains. Adults and children alike running through the waterworks, like kids running through sprinklers on a hot summer day. It was lovely to see how much joy it gave all the visitors.
The trick fountains (Salzburger Wasserspiele) were designed as a series of practical jokes to be performed on the Prince-Archbishop's guests. Providing not only a beautiful place to spend the day away from Salzburg but a place to be entertained. Think 17th century home water park.

A Guided Tour of the Trick Fountains
The first trick fountain (Salzburger Wasserspiele) on the 40-minute tour appeared as a stone table, with surrounding seats. Our guide asked for volunteers; some eager children stepped up and sat around the table. While the lovely tour guide spoke, who provided the tour in both English and German, she distracted them long enough to surprise them with water that shot up through the seats!
But it's not all gag seats on this tour; there's also a water operated mechanical theater accompanied by an organ built in 1750 that still works! It is the youngest part of the trick fountains and includes about 138 moving figures. Both the figures and the organ are powered just by water pressure. They depict the life of a small Baroque city to the tune "Give Me Your Hand My Darling," an opera song.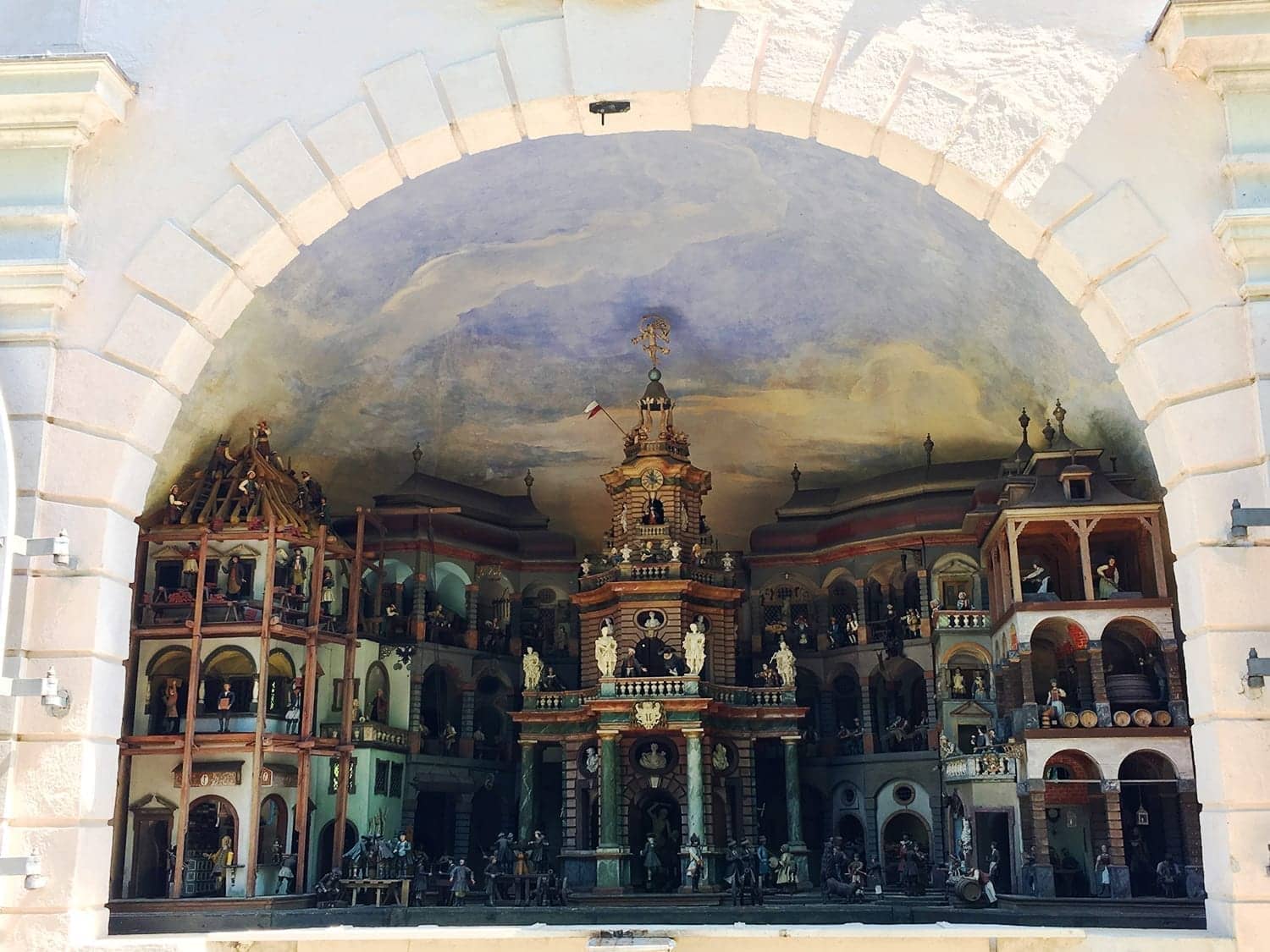 There are also several grottos, adorned with shells floor to ceiling, representing Greek mythology and it's honored Gods. One of the grottos even sings! The Midas Grotto, or Crown Grotto, propels a crown to float on top of a water jet, symbolizing the rise and fall of power. And there are so many more fantastic trick fountains at Hellbrunn Palace. I doubt these hydraulic marvels ever fail to captivate.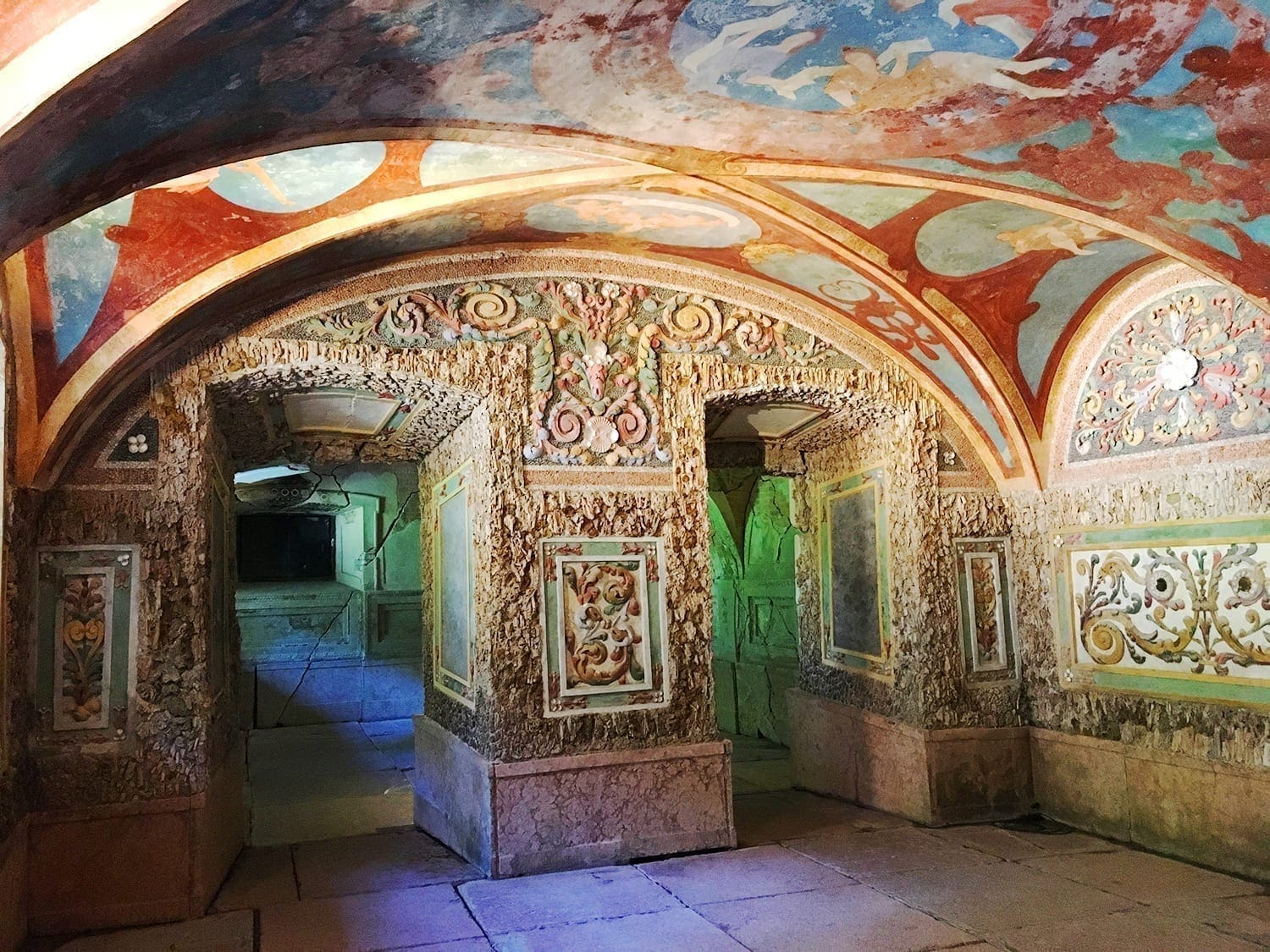 If you're not a fan of water, I'd advise sticking next to the tour guide, as she/he stays primarily dry. It's also where the Archbishop stood or sat to watch his friends enjoy the amusements.
Summer: Guided evening tours in July and August treat you to a magical mix of water, light, and music.
Winter: During Christmas, the palace courtyard and driveway are transformed into an Advent market. Christmas Markets in Europe are amazing sights to behold! Nothing like what we have in the US!
Hellbrunn Palace is situated on a large park (Schloss Hellbrunn Parken) with includes a nearby zoo, a stone theater, and a small building known as the Monatschlössl, or the "little month-palace." Having been built in one month, after a visitor commented to the Prince-Archbishop that a building on the hill would improve the view from one of Hellbrunn's windows. It now houses the ethnographical section of the Carolina Augusteum Museum of Salzburg. The unicorns around the park remind me of Scotland's Stirling Castle (since their national animal is the unicorn).