The Capilano Suspension Bridge Park is one of the most popular tourist attractions in British Columbia! So, what is it? It's a Suspension Bridge located in Vancouver, Canada, that crosses the Capilano River. The bridge is 460 ft (140 meters) long and 230 ft (70 meters) above the river. It draws over 1.2 million visitors a year, so if you're heading to VanCity, make sure to add the Cap Suspension Bridge to your to-do list!

Capilano Suspension Bridge Tickets
To get to the Capilano Suspension Bridge, you can take the shuttle. It's FREE and year-round! Yes, budget travelers, you heard me correctly.
However, there is an admission fee of $34.95 (edit: $41.95 as of July 2020) for students, which I was at the time. However, if you're not eligible for the student discount, Capilano Suspension Bridge tickets are $54.95 for adults, $49.95 for seniors, $29.95 for youth (13-16), $18.95 for children (6-12). If you're visiting with children six and younger, they are free! There are also family passes should you be going with a group of people.
Check the official site for the current pricing of Capilano Suspension Bridge tickets as it changed a lot between when I went (around 2010) and the update of this blog post.

Crossing the Suspension Bridge in Vancouver
The Capilano Suspension Bridge is merely incredible! All I can explain it as is, imagine being with mythical woodland creatures galavanting through a forest or Fern Gully (can't you feel it's pain?). I'm not B.S.ing you here. I'm afraid of heights, and I braved the bridge for this gorgeous sight! It was forest as far as the eye could see! And oh, so peaceful! With very few people there, the place was serenely silent amongst the trees. This also made my slow going on the bridge bearable because again, I HATE HEIGHTS!

The History of the Capilano Suspension Bridge
It was initially built in 1889 by George Grant Mackay, a Scottish civil engineer and park commissioner for Vancouver. The original bridge consisted of hemp ropes with a deck of cedar plants, then replaced by a wire cable bridge in 1903. In 1935 it's new owner invited local natives to place their totem poles in the park, adding a native theme.
Entirely rebuilt in 1956, it's next owner added the Treetops Adventures (which I enjoyed very much), which consists of seven footbridges suspended between old-growth Douglas Fir trees on the west side of the canyon. Creating a walkway up to 98 feet (30 meters) above the forest floor, providing "a unique squirrel's eye perspective of the forest."
Then in June of 2011, a new attraction called Cliffwalk was added to the park. Cliffwalk is a cantilevered walkway clinging to the granite cliff high above Capilano Canyon.

What is There to Do at Capilano Suspension Bridge Park?
The first thing to know is that all park attractions are included in the price of admission! In addition to Cliffwalk and the Treetops Adventure, there is a Story Center, guided nature tours on offer, a Kids' Rainforest Explorer program, and Living Forest exhibit that enhances this unique rainforest encounter. You can also enjoy seasonal musical entertainment, check out the Raptors, and experience the First Nations culture. Take photos at the Totem Park and with the Capilano Tramps. Then you can top it off with a visit to the gift shop full of merchandise from all over Canada and great homemade fudge!
A Capilano Suspension Bridge Christmas
Now, if you're lucky enough to visit Vancouver during the winter, then you should definitely check out the Canyon Lights, which is a Winter Festival held from late November to late January. Illuminated by hundreds of thousands of lights throughout the park, it is a magical experience. The Capilano Suspension Bridge during Christmas turns the Treetops Adventure, Cliffwalk, the rainforest, and canyon into a world of festive lights and visual magic.
The 30-ton Douglas firs of Treetops Adventure are lit, making these trees the eight tallest Christmas trees in the world! Who wouldn't want to have a Capilano Suspension Bridge Christmas? They also have a Snowy Owl Prowl, gingerbread cookies decorating, and sing-along carols with a holiday band. The Capilano Suspension Bridge lights are a must-see event if you're in Vancouver during the holidays. Looking for even more magical winter experiences? Check out the Ice Magic Festival at Lake Louise.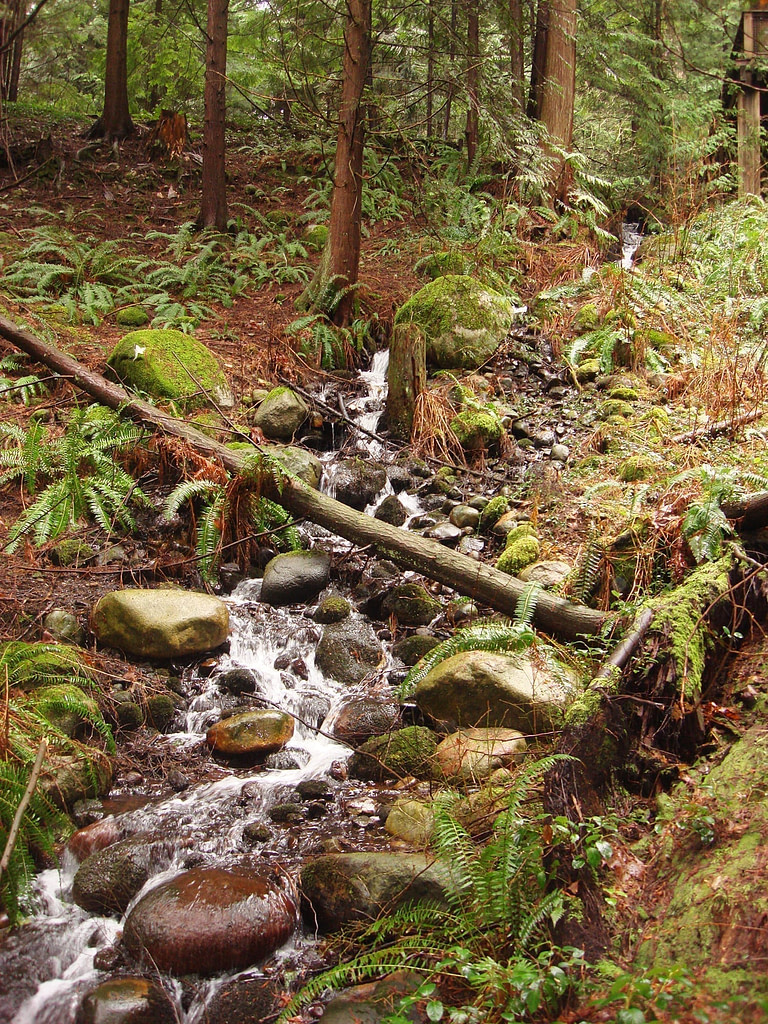 Capilano Suspension Bridge Hours
The Capilano Suspension Bridge is open every day of the year except December 25. Due to COVID-19, tickets and annual passes are only available for pre-purchase online for a specific date and time to limit contact upon entry. Expect to spend about 2.5 hours within the park.
Depending on what time of year you are visiting will dictate the Capilano Suspension Bridge hours.
January 25 – March 13 – 9:00 AM – 5:00 PM

March 14 – April 10 – 9:00 AM – 6:00 PM

April 11 – May 15 – 9:00 AM – 7:00 PM

June 19 – October 12 – 9:00 AM – 6:00 PM

October 13 – November 19 – 9:00 AM – 5:00 PM

November 20 – January 24 (Closed Dec 25th) – 11:00am – 9:00pm
Want to remember this? Post this The Magical Forest that is the Capilano Suspension Bridge article to your favorite Pinterest board!