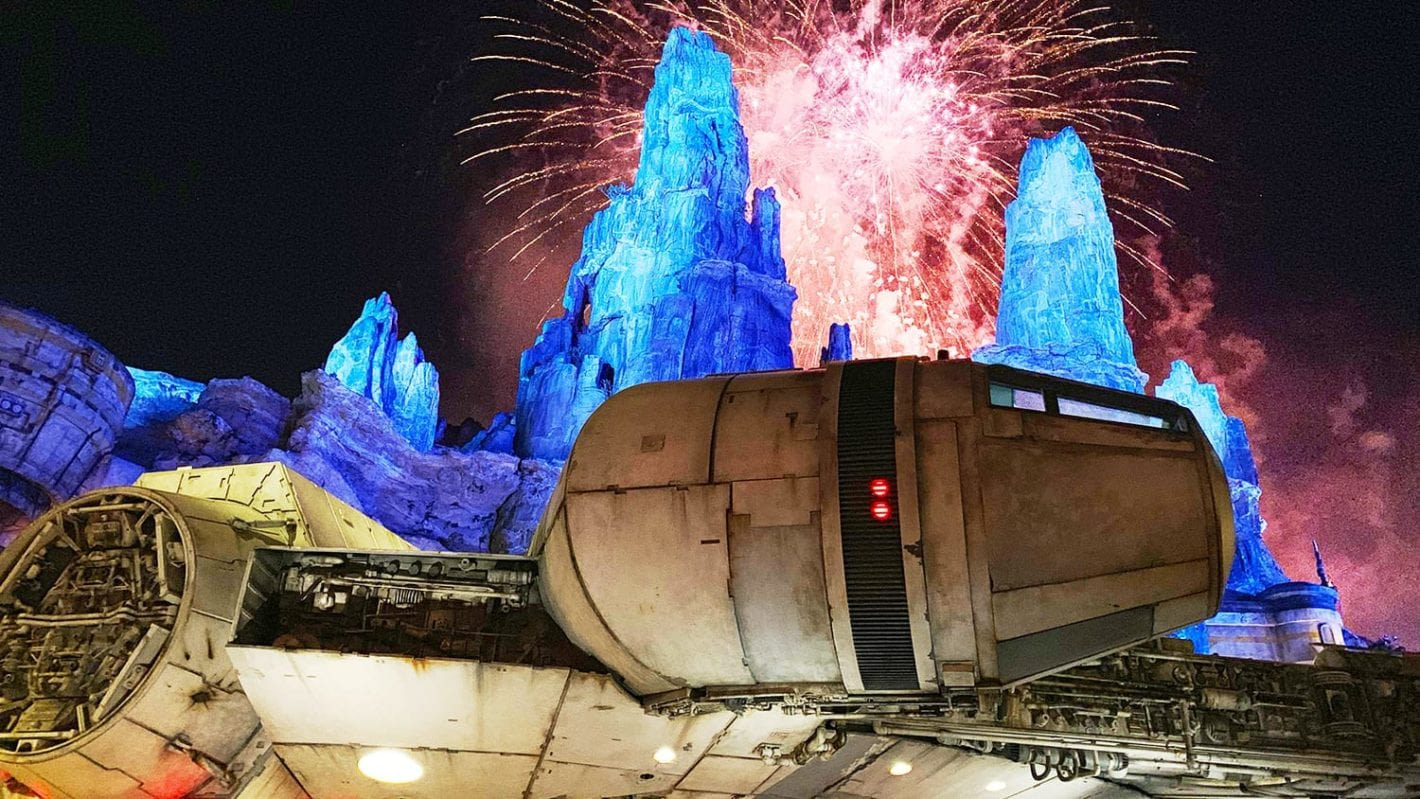 Star Wars Galaxy's Edge, The Best of a Galaxy Far, Far Away
Star Wars Galaxy's Edge is obviously the hottest theme park ticket this year! Disney's Star Wars land opened this month in Anaheim, CA and I was one of the few that had a reservation to get in early. Thanks to a lovely friend of mine, I was able to see the 14 acres of Star Wars at Disneyland the week it opened. The Black Spire Outpost is on the wild frontier planet of Batuu, with its time period set between the films The Last Jedi and The Rise of Skywalker. As I had a reservation between 8 pm – 12 pm I was able to see the park without insane crowds, though it was still very full at the park that day.
Star Wars Galaxy's Edge Datapad
Visiting Savi's Workshop
What would Disney's Star Wars land be without custom lightsabers? I truly don't know and that's why they have Savi's Workshop where you can build your own. If you've been to the Wizarding World of Harry Potter and seen the wand ceremony there, it's a similar concept. A group known as the "Gatherers" run a covert workshop to help Jedis built their custom lightsabers. With their help, you can select a kyber crystal and construct the lightsaber hilt with a variety of pieces from your chosen theme. When you go to make a reservation for Savi's Workshop you choose one of these themes:
Peace and Justice
Salvaged scraps from fallen Jedi temples and crashed starships in these Republic-era designs honor the galaxy's former guardians.
Power and Control
Originally forged by dark side warriors, this style features rumored remnants from the Sith homeworld and abandoned temples.
Elemental Nature
This theme embodies the Force—energy created by all living things, like Brylark trees, Cartusion whale bones, and Rancor teeth.
Protection and Defense
Hilt materials bear mysterious motifs and inscriptions that reconnect users with the ancient wellspring of the Force.

Building a Custom Lightsaber
Once you've selected a theme, you're given a cloisonné pin to identify your selection. Return to Savi's Workshop at your allotted time, ours was at 10:45 pm I believe, but we didn't get in until after 11 pm. This may have been since it is brand new and they are still working out kinks, but be aware there may be a waiting period. Upon entering, the Gatherers help you select a kyber crystal, which is available in red, blue, green or violet. Then you can begin to build the hilt of your custom lightsaber.
Hilt parts include:
1 hilt
2 emitters (pick 1)
2 pommel caps (pick 1)
4 sleeves (pick 2)
2 sets of activation plates and switches (pick 1 set)
Finally, the Gatherers connect your hilt to a 31" lightsaber blade! Please note, that you have to pay $199.99 per lightsaber, plus tax. You can, however, bring people in with you to watch the ceremony. That's how I was able to see it, as my aforementioned friend got the custom lightsaber. There is one custom lightsaber per builder per experience. Same-day reservations are required. Reservations are released daily beginning at 7:00 am and are nontransferable. I'd say if you really want a lightsaber, do it. However, if it's not worth the $199.99 to you, then you may want to pass.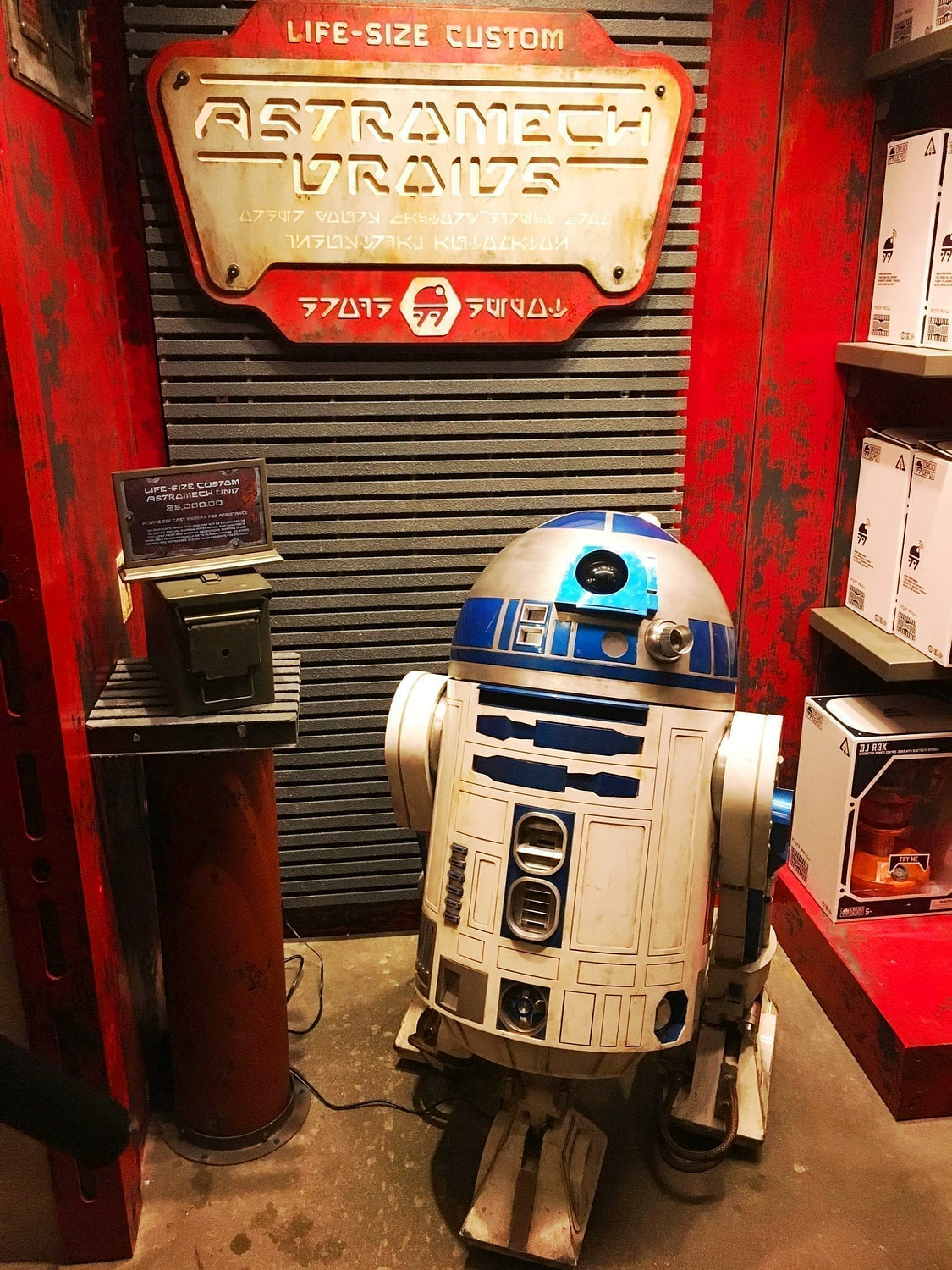 The Droid Depot
Since we were going to Savi's Workshop, we didn't opt to do the Droid Depot experience as well. I did, however, pop in just to look around which you're allowed to do. It is stocked with parts, chips, manuals and other items for constructing your very own droid. If you wish to, you can either build a BB-series or R-series unit. You're provided a blueprint and go thru stations to build the droid. When complete, you're given a remote control to activate it. To build a droid at the Droid Depot, it's $99.99 per unit, plus tax. Other personality chips and accessories are available for an additional charge.
Food from Far, Far Away
The minute we got into the park, the three of us split up so that one of us was in line for reservations for Savi's Workshop and another for Oga's Cantina. I was in line for Oga's Cantina for about 30 minutes before they told me that it was full. They take same-day reservations, and I think everyone else went for that line as well because it was wrapped around half of the land. I wish you the best of luck in getting in!
We ate dinner at Docking Bay 7 Food and Cargo, it's like a cafeteria setting in that you walk up to order, wait for your food, and then sit where you like. I have to say we all enjoyed the food we ordered. It wasn't my favorite Disneyland food of all time, but it was pretty good. I had the Ithorian Garden Loaf which is a plant-based "Meatloaf" with roasted vegetable potato mash, vegetables, in a mushroom sauce.
After dinner, we went by the Milk Stand. If you have the Disneyland app you can order some food in advance. The Milk Stand is one such place that does mobile orders. It tasted a bit like a fruity slurpee to me. I wasn't in love with it, but it was okay. I believe we tried the blue one. Before the fireworks, we went to Kat Saka's Kettle snack shop in the market. It's unusual popcorn in that it tasted like fruity pebbles to me. I don't think I would get it again as I wasn't thrilled about it.
Dok-Ondar's Den of Antiquities
One of the more interesting shops at Disney's Star Wars land is the Den of Antiquities. You can buy souvenirs in it just like the many, many other shops around Black Spire Outpost, but the decor inside is what I went in for. Every nook and cranny of the shop has nods to the Star Wars franchise. I'm told there's even an Arc of the Covenant hidden in there, but I didn't see it. As far as shopping in there, you can get jewelry, kyber crystals, statues, cosplay outfits, lightsabers, and more. It's a pretty good shop if you're looking for a gift or something for yourself.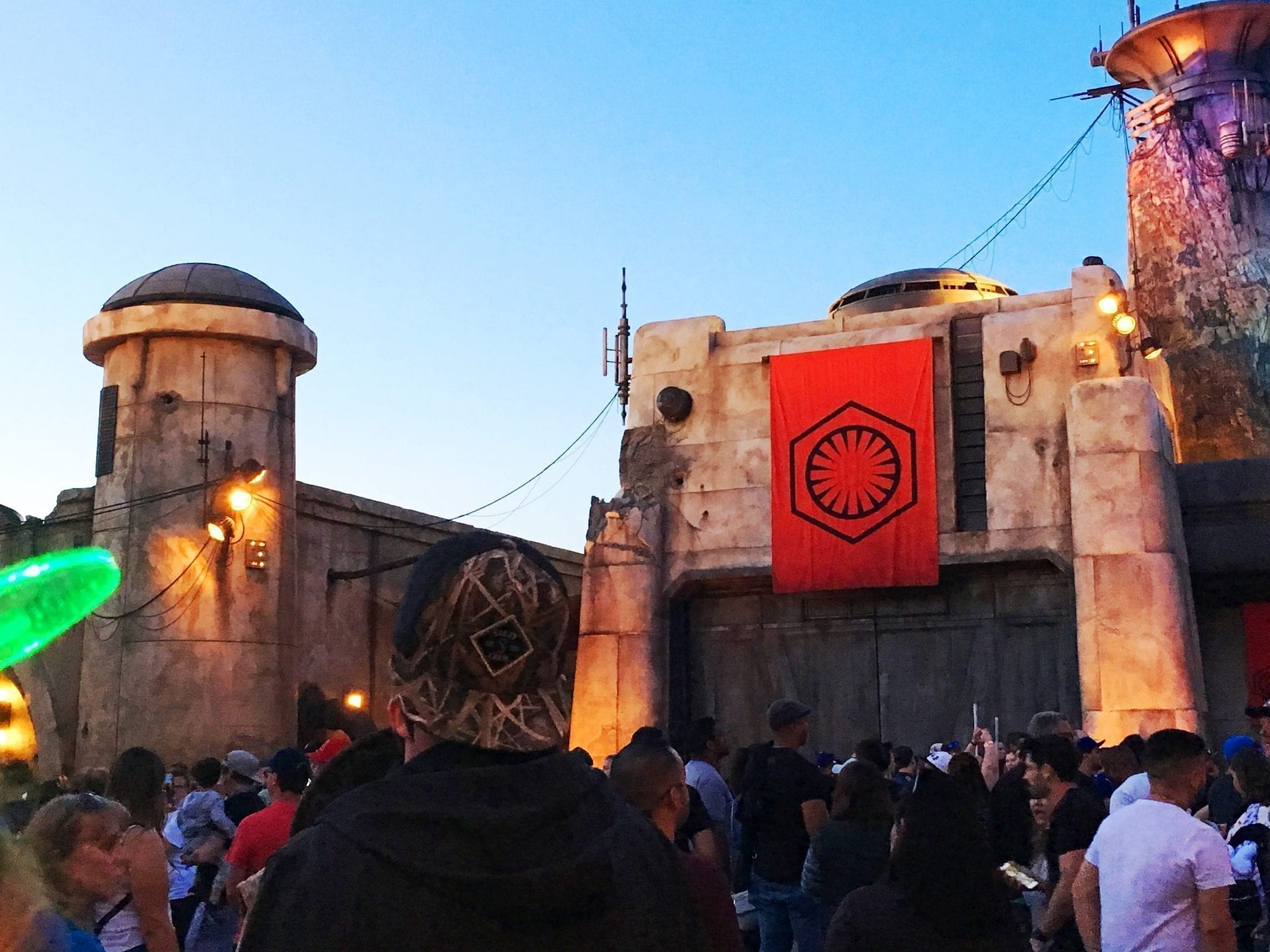 Black Spire Outpost Shopping
There are a number of other places you can shop as well. Honestly, I'd say there were more shops in the whole of the Star Wars Disneyland section than in other lands throughout the park. There's Black Spire Outfitters, First Order Cargo, Resistance Supply, Creature Stall, Toydarian Toymaker, and others. You will not be at a loss for shopping. However, I didn't find anything I really loved. If you're looking for some Star Wars Cosplay, they had some pretty good stuff. But I couldn't really find anything I wanted. A friend was looking for something with Han Solo on it, but we didn't see much of any merchandise with characters on. I'm sure the Disney Star Wars land merchandise will evolve and I'll wind up finding something to take home!
Millennium Falcon: Smugglers Run