Hampton Court Palace, once home to Cardinal Thomas Wolsey, Henry the 8th, William III of England, and many others. Below you'll find my Hampton Court tour of the famed Henry VIII palace as well as recommendations on how to get there by train, how long to spend, and other useful tips! I had wanted to visit Hampton Court Palace since 2006! I missed it yet again in 2013! But this year, the 500th anniversary of Hampton Court Palace, I finally made it! It was meant to be, clearly!
Hampton Court History
In the 13th century, Hampton Court Palace started as a manor for the Knights Hospitallers of St John Jerusalem. They eventually rented out the property and land to Cardinal Thomas Wolsey on a 99-year lease. Starting in 1514, he began transforming it from a private house, then into a vast palace complex. His goal was to build a palace to impress the whole of Europe. It was so opulent; it attracted the eye of King Henry VII. Once Cardinal Wolsey fell out of favor in 1528, the Palace was Henry's!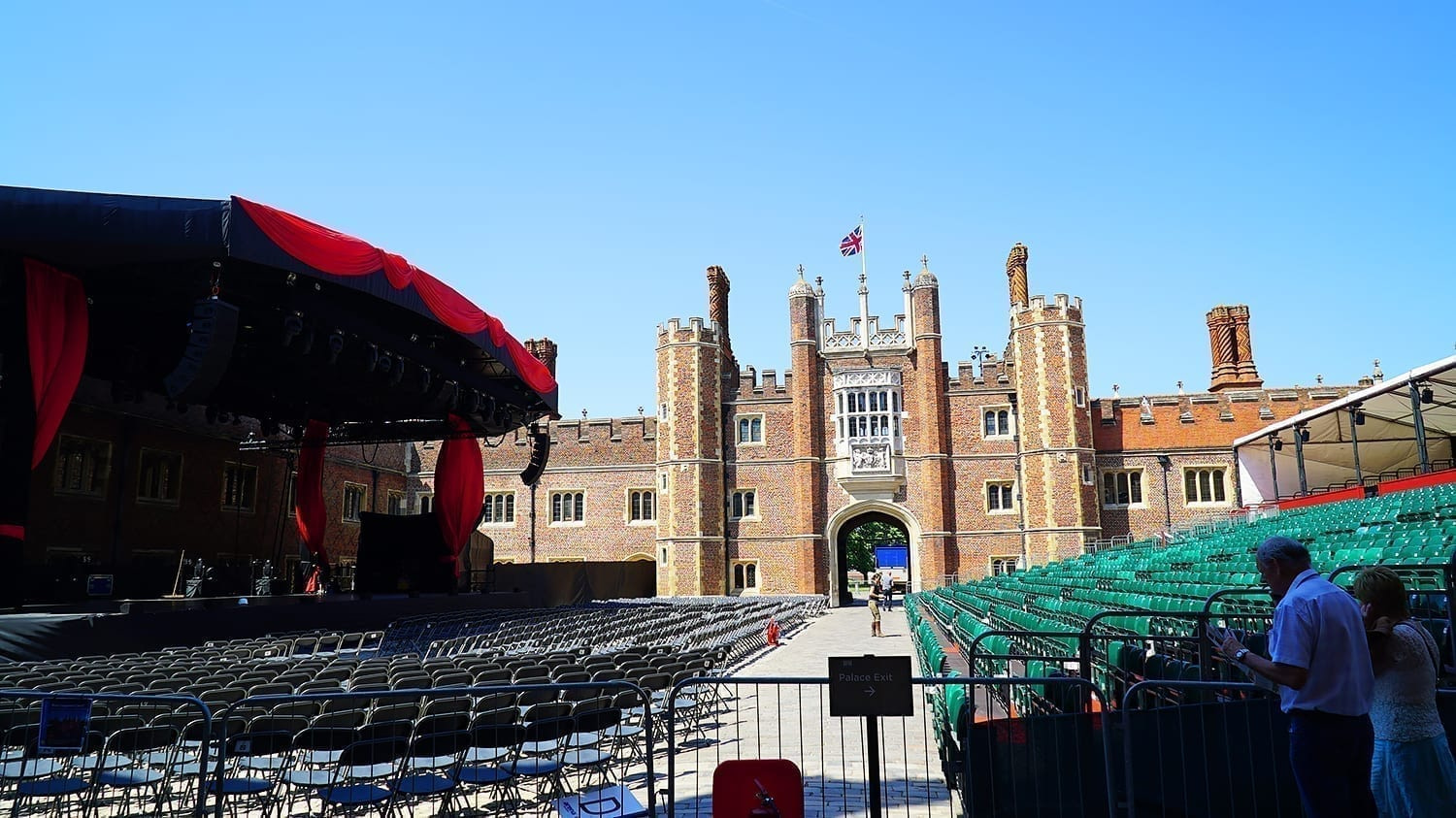 Train to Hampton Court Palace
Having gotten a discounted ticket to Hampton Court Palace from YHA London Oxford, I was on my way! It's a quick ride from the Waterloo train station to the Hampton Court train station, and I was there. It took about an hour and 15 minutes to get from London to Hampton Court Palace by train. The station is just across the road from Hampton Court, so it's completely walkable.
Edit: Do check the directions from wherever your accommodations are because the Waterloo start point may not be the easiest or quickest for you. I highly recommend the Maps.me app for directions! I have since mapped this out and no longer see this train arriving at the Hampton Court station, but instead, the Teddington train station, which is a 1.8-mile walk away. It certainly may have changed in the five years since I've been. Do check before visiting as taking the train to Hampton Court Palace may no longer be the best route!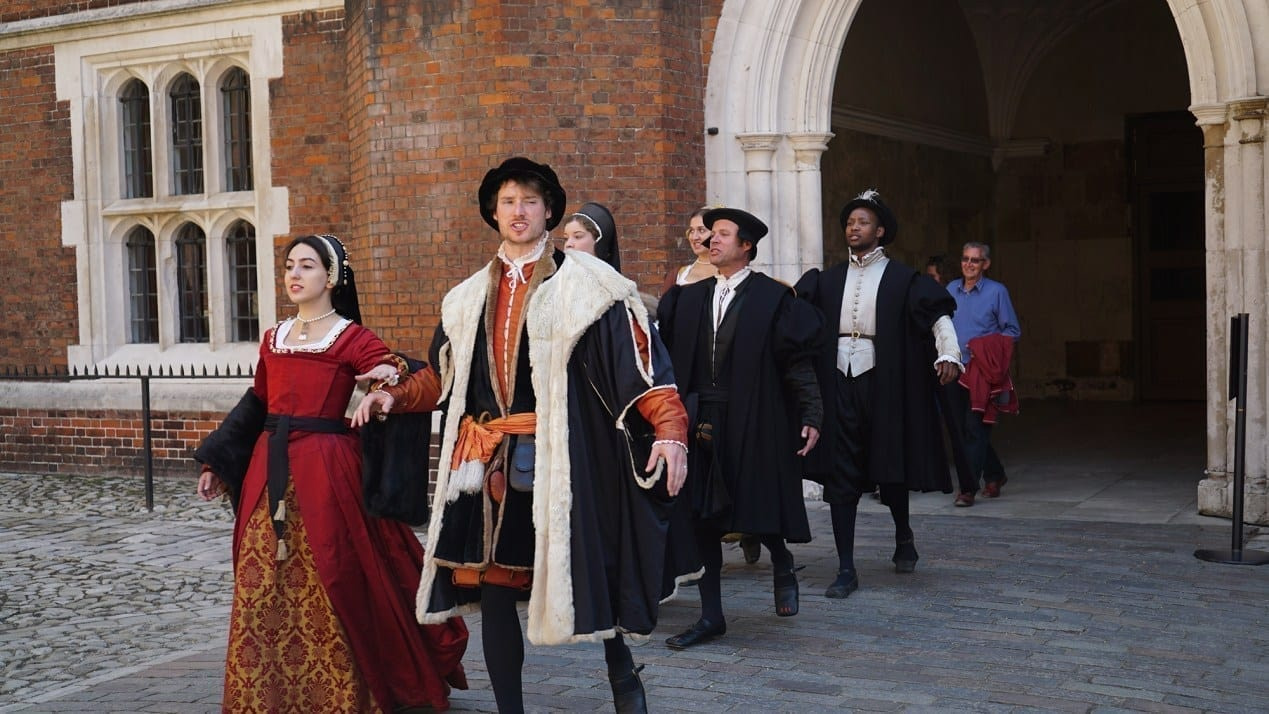 Starting My Hampton Court Tour
Walking up to Hampton Court Palace was simply magical; there are no other words for it. Maybe it was the fact that I've waited so long to see it or the fact that I'm a history nerd, but either way, it was simply breathtaking. So much so, that I actually stood in the middle of the road staring at it. Till a truck honked at me to move over. Oops!
I arrived around 10:30 am and was handed a guide of the palace and garden. As well as a schedule of events on the Hampton Court tour. Because it's the 500th anniversary, they've really outdone themselves. Before visiting Hampton Court, make sure to check their schedule for what's happening on the days you're in England. There may be something special going on certain days, so you can then plan around it.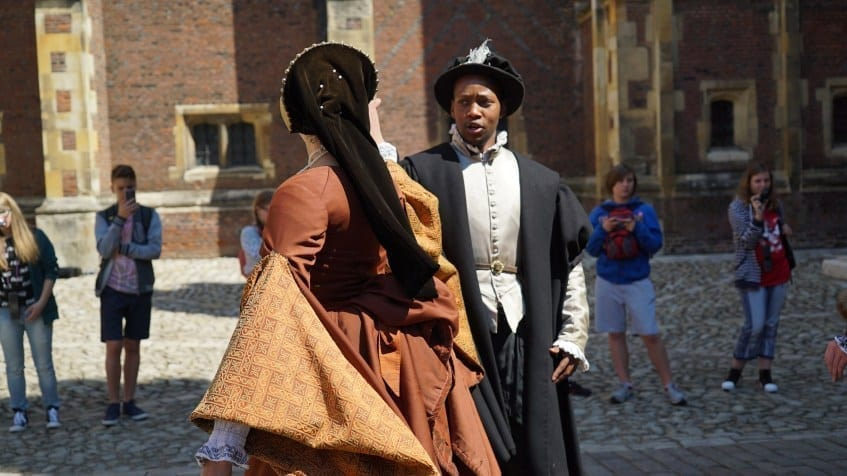 Hampton Court Tudor Reenactment
On the schedule at around 11 am was a Tudor Welcome time play or Tudor reenactment, which started below the great clock. Some fantastic actors came out in period clothing and performed as if it were still King Henry VIII's time. I'm not ashamed to admit that I was giddy. I love this sort of thing! The actress portraying Anne Boleyn was my favorite of the group. And thankfully, my stored knowledge of Anne's life from history class and the Tudors tv series kicked in. Spoiler: not everything in the Tudors was true.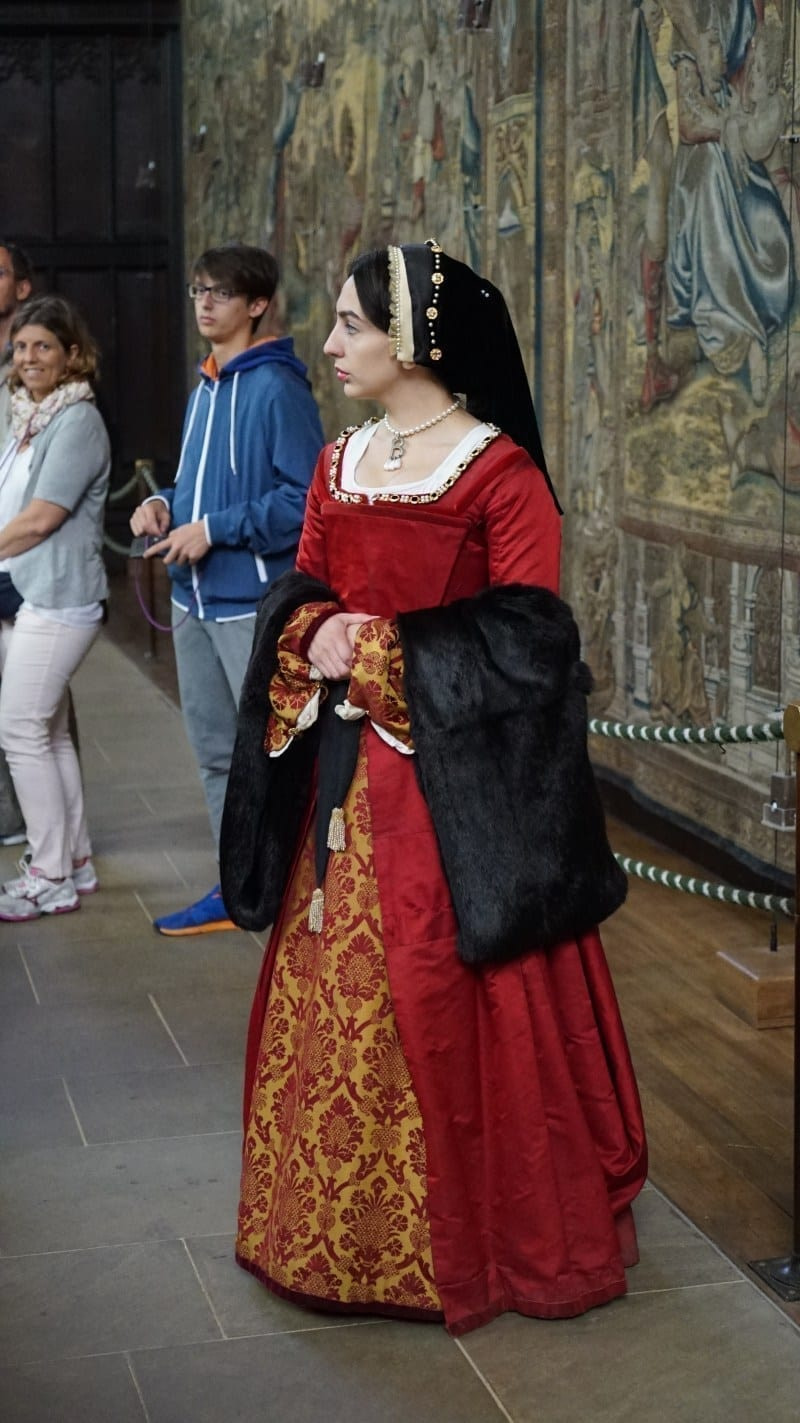 The Hampton Court Palace Great Hall
From the courtyard, under the great clock, we followed them into the Great Hall, where one of the actresses asked me 'if I'd heard the rumors' (though she might have used the word whispers, I can't recall now). I happily played along, though I only guessed it was about Henry and Anne.
We proceeded into the wine cellar where we were asked to keep quiet so we would not be heard by Anne and her 'boyfriend' (for lack of a better word) Henry Percy. Henry Percy is primarily remembered as the betrothed of Anne Boleyn, whom she was forced to give up before getting involved with King Henry VIII. As the scene unraveled, I came to realize it was the breakup scene. Sad, but marvelously performed. The actors they have at Hampton Court Palace are top-notch!
Anne Boleyn at the Palace
Henry VIII and Anne Boleyn had several plans for Hampton Court Palace. It is today estimated that he spent £18 million to extend and improve the Palace. He upgraded it by adding…
Tennis courts
Bowling alleys
Pleasure gardens
A 1,100 acre and hunting park
Kitchens which covered over 36,000 square feet
A chapel
The Great Hall
The Great House of Easement – a lavatory system which could seat 28 people at a time
Lead pipes to carry water from Kingston's Coombe Hill, 3 miles away, to the palace
Paintings – Henry VIII commissioned Renaissance artist Hans Holbein as his Royal painter
Surprisingly, there are very few remnants of Anne Boleyn's reign at Hampton Court Palace. I took photos of two such examples below. The H and A entwined was the symbol of their union. The first image is over a passageway, and the second is inside the Hampton Court Palace Great Hall. All others to my knowledge were erased when she was dethroned.
Source: The Anne Boleyn Files
Cardinal Thomas Wolsey's Apartment
After the time plays finished, I wandered around some of the galleries. There's some fascinating art on the Hampton Court tour, like this piece below. I liked how the water was painted. I don't think I've seen anything like that before. From the gallery, I then found myself in Cardinal Thomas Wolsey's apartments. There's some graffiti in his fireplace that says 'Who tries it, knows it.' Not quite sure what to make of that. Though It gave me something to think about while I made my way through the rest of the gallery.
A Seat in a Royal Chair
One of the best things about Hampton Court is that they allow you to feel like you're part of the palace. Allowing you to take a walk in Tudor shoes as it were. Or more correctly, take a seat in a royal chair. There were wooden thrones throughout the gallery, giving you a moment to take in what each notable resident was feeling during their time there.
While the audio guide went through lots of fascinating information and stories, it was genuinely lovely to sit and absorb. It just so happened that when I was going through this gallery, there was not another soul around. So I took that as my cue to relax and let it sink in. What must it have been like in Tudor times? For Henry, Catherine, and Anne.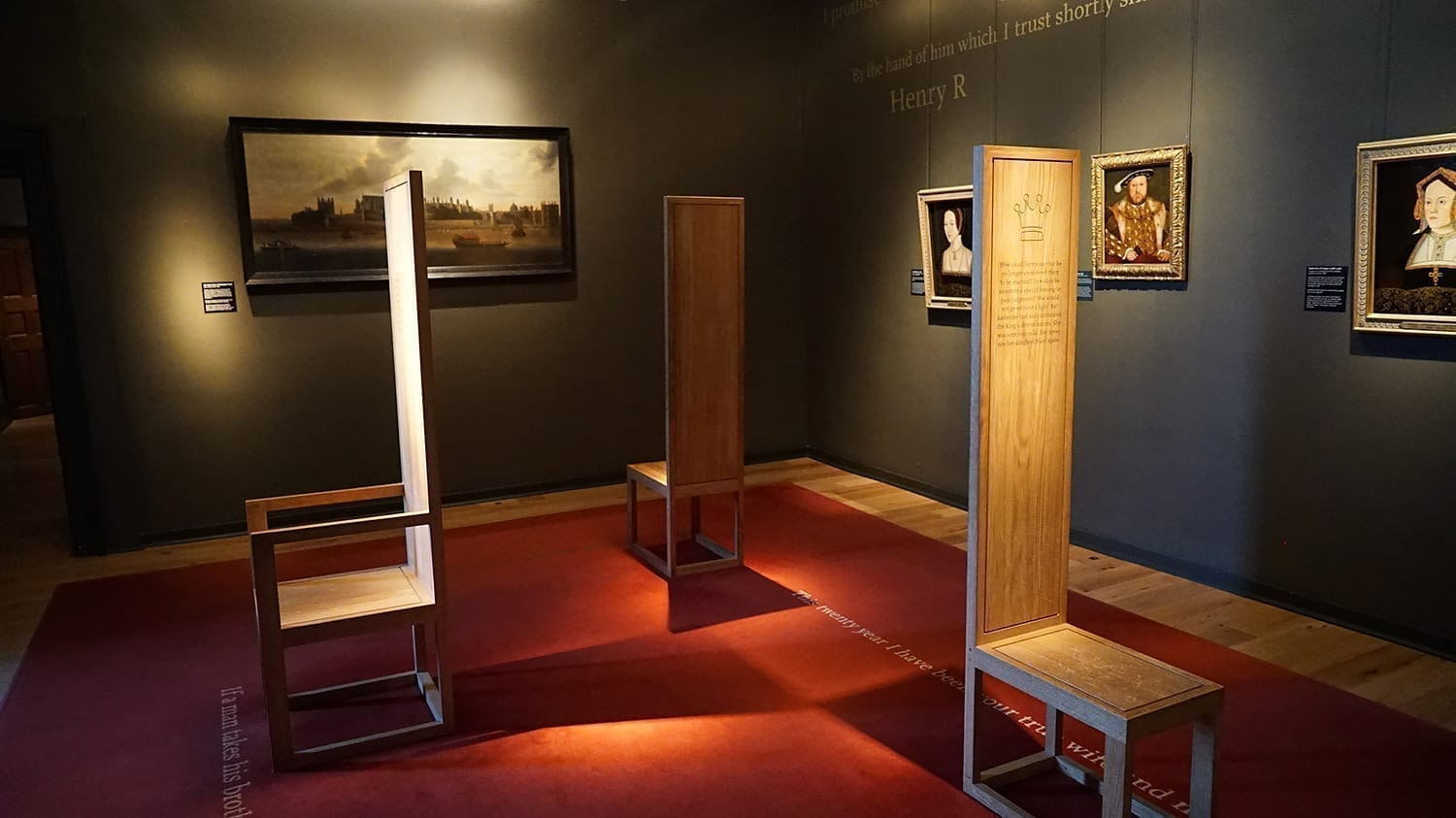 The Hampton Court Palace Wine Fountain
If any of you watched the Tudors, you'd know this Hampton Court Palace wine fountain. The motto faicte bonne chere quy vouldra ('let he who wishes make good cheer') is on the gorgeous ornate fountain. The original was created in Henry the 8th's time, where it used to have wine pouring from it.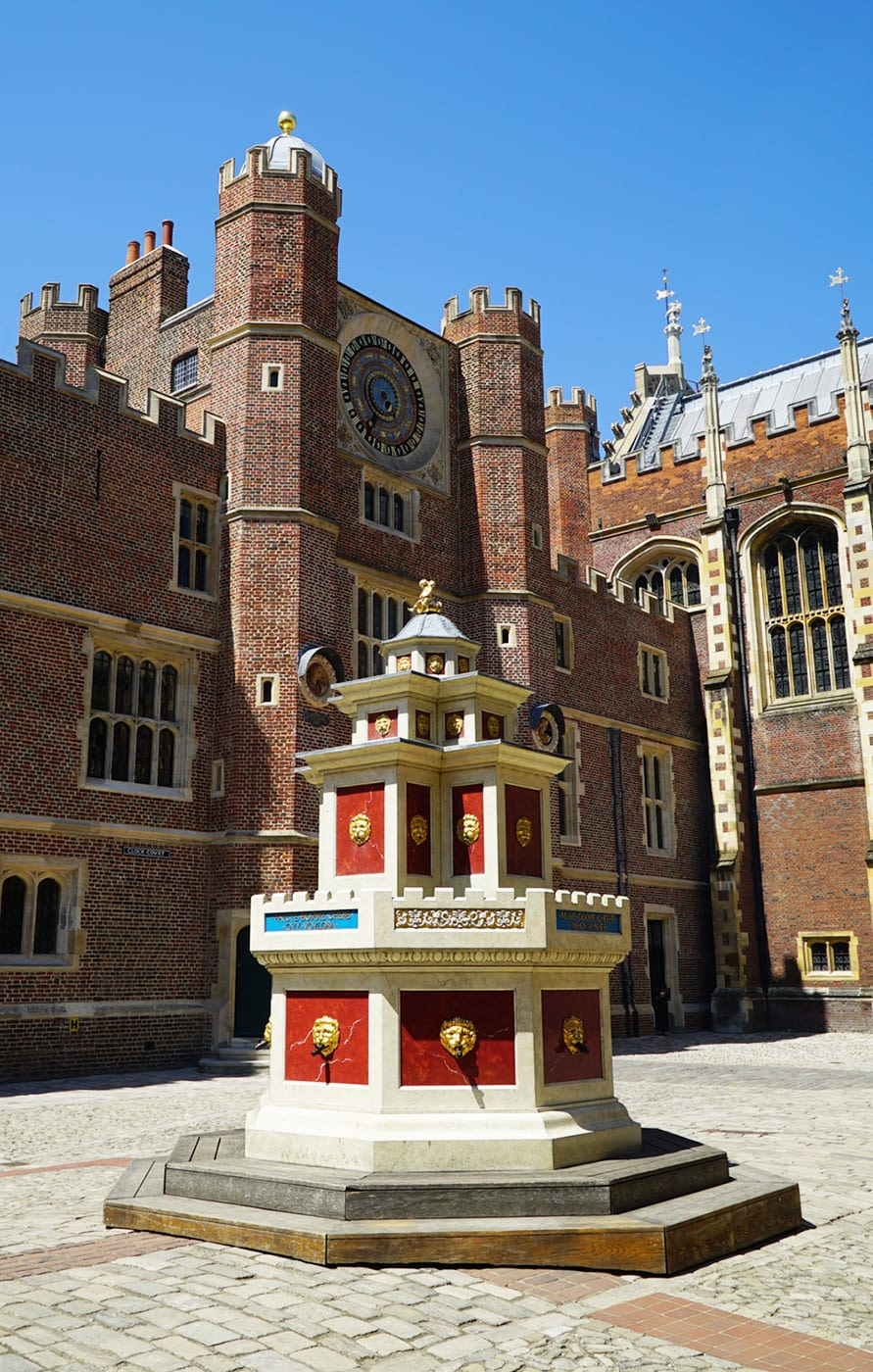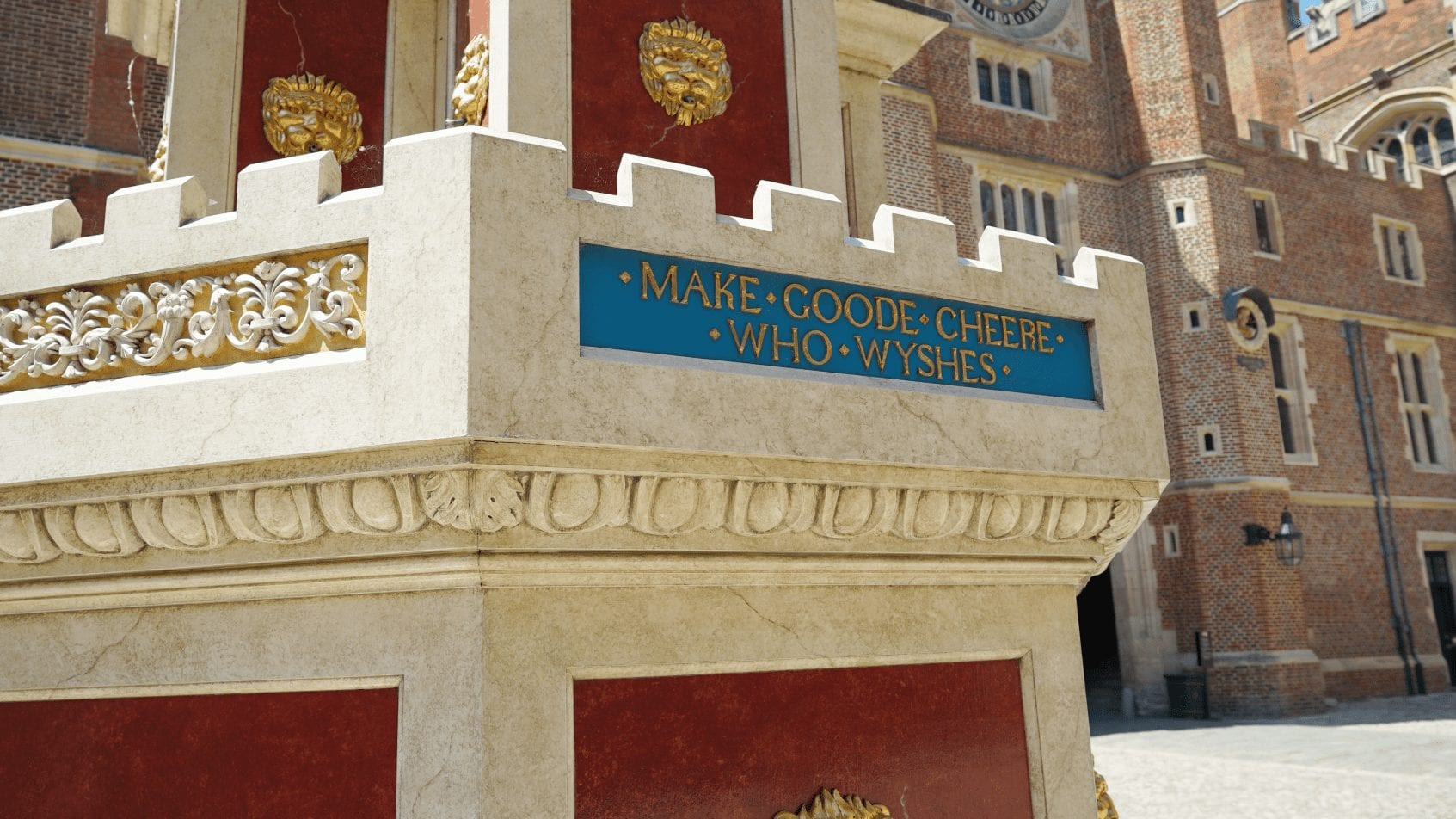 Though the original is no longer in existence, in 2010, a working recreation of the famed wine fountain was unveiled.  'Inspired by the discovery of the remains of a 16th century conduit (or fountain) during a major archaeological dig at Hampton Court Palace in 2008, the new fountain's design is based on detailed historic research into wine fountains that were commonly used during festivals and celebrations by Henry VIII (reigned 1509 – 1547).' On weekends and bank holidays, red and chilled white wine run from this replica.
Can I get one installed at home?!?
Visit the Henry VIII Apartments & Great Hall
Next on the Hampton Court Palace tour was the Henry VIII Apartments and Great Hall. Don't let the name 'apartments' fool you. It looks nothing like my studio apartment in Los Angeles. Upon entering through the Great Hall, you begin the tour of the Hampton Court Palace Apartments. Again, if you watched Tudors or any of the Henry the VIII based movies, you've seen something like it. That or you can imagine a smaller version of the Hogwarts Great Hall, minus the floating candles. Even without the wizard magic or the King himself, the hall is magnificent.
I had been in the Hampton Court Palace Great Hall earlier for the time play, but this time I got the chance to look around and explore. The tapestries and stained glass are so ornate it's mind-blowing. Click on the photos for a closer look. If only the walls could talk in this room.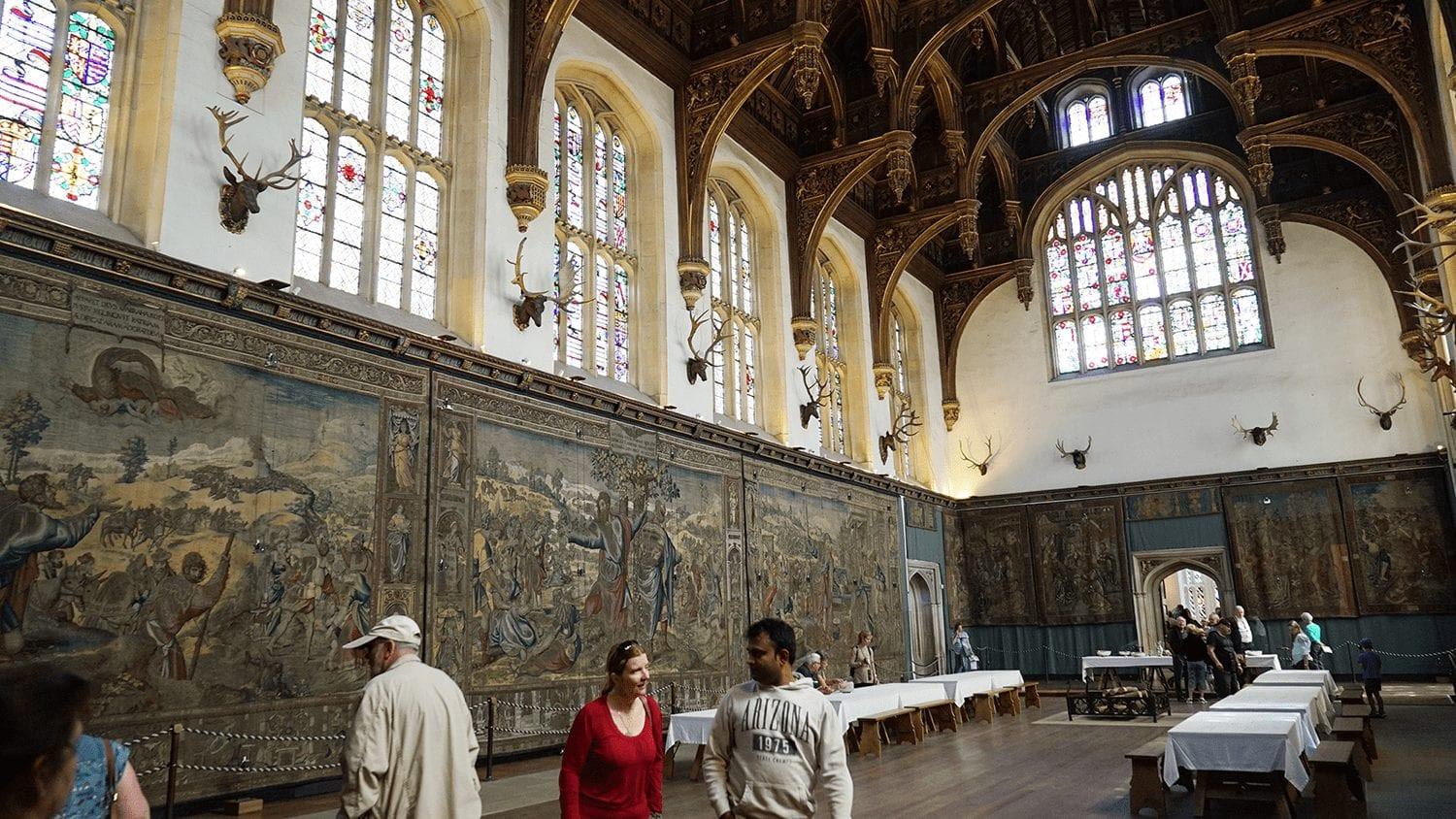 The Haunted Great Watching Chamber
Once you're past the Great Hall, you'll find the Great Watching Chamber next on the Hampton Court tour. What's extraordinary about this section is the ceiling work. The letter (a copy) that damned Catherine Howard to the executioner can is here. Apparently, it's the most haunted part of the palace as well. Catherine Howard's ghost has been said to roam the halls. I overheard a Hampton Court tour guide say that an unusual amount of people faint in this section of the Hampton Court Palace. I luckily escaped without passing out!
The Great Watching Chamber is also where you'll find the famous painting of Henry VIII in the palace. He must have been an extremely imposing man. Especially with that renowned temper.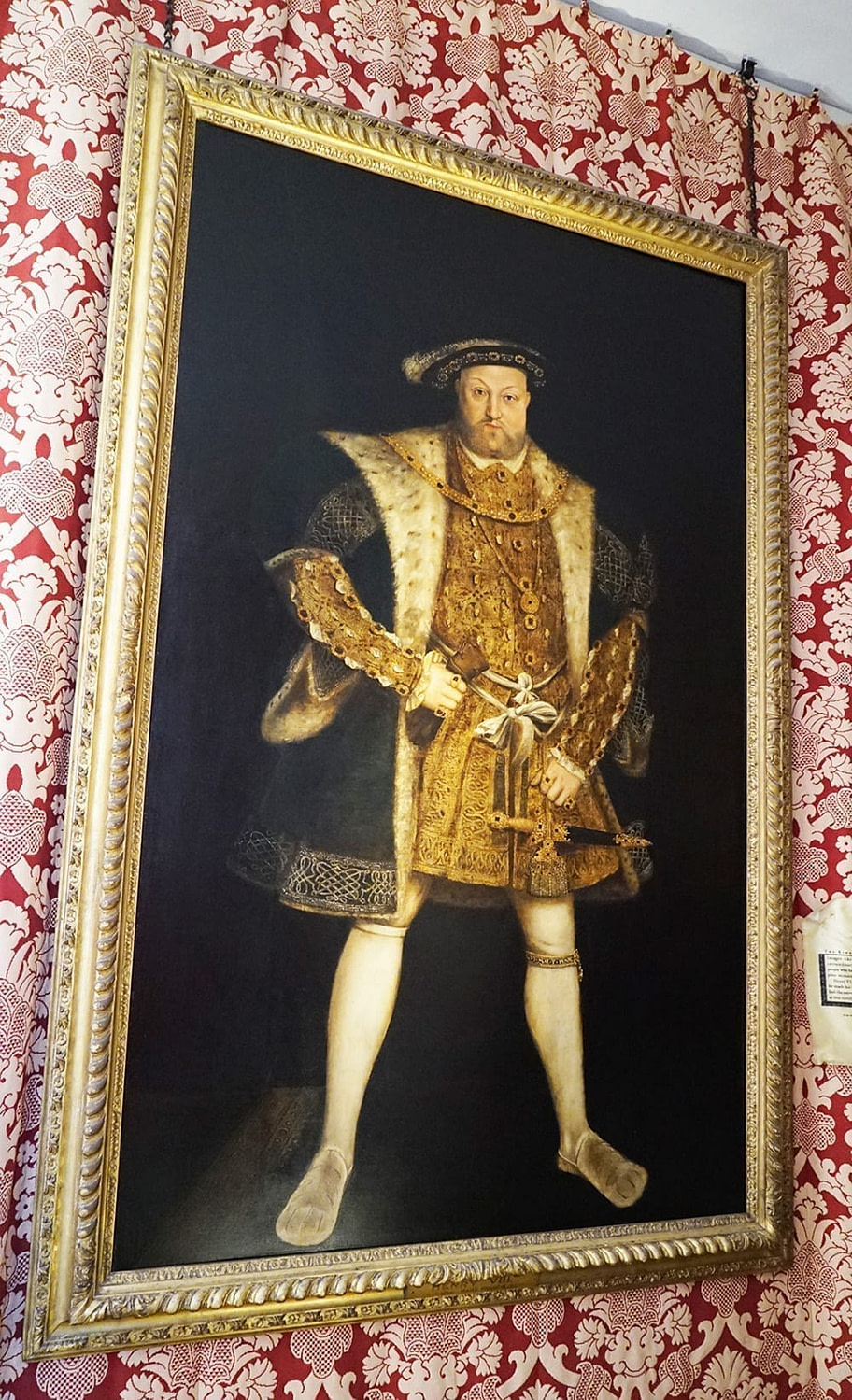 Want to remember this? Post this Going on a Hampton Court Tour of Henry VIII's Palace article to your favorite Pinterest board!