Hever Castle, the childhood home of Anne Boleyn, is just outside of London, but not far. So taking a day trip from London to Hever Castle is perfect if you're visiting England soon! Sometimes known as Anne Boleyn Castle, it is a quiet estate in comparison to the bustle of other English Heritage locations in the UK. When I was there, I was able to see the estate without the massive crowds you'll find at some of the other destinations. As a castle in Kent, Hever Castle's history goes back more than 700 years.
The History of Hever Castle
Hever originated as a medieval defensive castle with a gatehouse and walled bailey built in 1270. During the 15th and 16th century it became home to the Boleyns, which was one of the most powerful families in England at the time. They were the ones to add the Tudor style home within the walls.
This home later came to be the childhood home of Anne Boleyn. As well as the place King Henry the 8th visited Anne while he was wooing her. Unfortunately, that didn't last long as she was Queen of England for just 1,000 days.

An artist's depiction of Henry VIII's first interview with Anne Boleyn
Anne Boleyn's Castle
If you aren't fluent in the wives of Henry the 8th, Anne was Henry's second wife. She was the reason for the break from the Catholic church. Henry needed a divorce from his first wife, Catherine of Aragon, and the Pope wouldn't grant it to him. Not to say this is all Anne's fault, there was plenty of gun-powder in the barrel well before Anne came into the picture. She was also the first wife to be beheaded; there's more on that when I get to the Tower of London.
I have never had better opinions of woman than I had of her. — Thomas Cranmer, Archbishop of Canterbury, Anne Boleyn's pastor and Boleyn family friend
After Anne's passing, Hever Castle's ownership went to another of Henry VIII's wives, Anne of Cleves. Then from 1557 onwards, this Kent Castle was owned by several families, including the Waldegraves, the Humphreys, and the Meade Waldos.
It then started to decline until William Waldorf Astor invested in the castle. With his investment, Hever Castle was restored with a new 'Tudor Village,' now called the 'Astor Wing' and the construction of the gardens and lake.

Photo by Yanny Mishchuk on Unsplash
How to Get to Hever Castle
Now that you're versed in the history of Hever Castle let me tell you how you too can visit! At just 30 miles from central London, you can drive there, and the parking is free! However, if you're like me and usually take public transportation, I'd recommend going early as it's just over an hour each way. Had I done this, I would have been able to visit the home of Winston Churchill as well, which is just down the road! I'd recommend booking a taxi if you plan to do both as it's a 10-minute ride if you have a car, but a 2-hour ride on public transport between the two!
London to Hever Castle
So, how to get from London to Hever Castle via public transport! Take a train from London Victoria or London Bridge (via Oxted or East Croydon) to Hever Station. As this station is unmanned with no taxis, you'll have to walk the 1.1 miles to the castle. It's not a difficult walk, and there are red and white wooden posts guiding you. It's actually a rather lovely walk, with some beautiful homes along the way. However, if you'd prefer not to do that, you can get off at the previous station, which is Edenbridge Town Station.
From that station, it's 3 miles to Hever Castle so you'll want to book a taxi. Relyon Taxis are near the station, telephone 01732 863800. "We suggest that you book a taxi in advance for both legs of your journey." There are no regular bus services to Hever Castle, so this is your only choice.
Upon arriving and before even going in, make sure to visit the chapel right off the road. I would have missed it had a nice Englishman not stopped his car and told me about it. If I remember correctly, Anne's father is buried in there.

Walks Around Hever Castle
Inside the Hever Castle grounds are gardens, a small village, and activities. As it was raining, I didn't take part in anything but this castle in Kent. However, they do have several walks around Hever Castle you can tour. Including their award-winning gardens set in 125 acres, a Pompeiian Wall, a giant topiary chess set, and 4,000 rose bushes in an English Rose Garden. You can even stroll through their Tudor Garden, Blue Corner, or Rhododendron Walk. In addition to these, there's also an Anne Boleyn's Walk, with an impressive collection of trees planted more than 100 years ago.

An artist's depiction of King Henry and Anne Boleyn Deer Shooting in Windsor Forest
Inside Hever Castle with the Boleyn Family
Hever Castle is a lovely place to visit, and it's a lot bigger on the inside! Joking aside, it's true, there's a lot to see in this marvelous castle. It tells not only a lot about Hever Castle's history but also of Anne, her family, and Henry VIII and his wives. There's also a section dedicated to the families who owned it after the Boleyns. The most recent of which used to have Winston Churchill visit.
If I recall correctly when I was there, there was no photography allowed. From the looks of their website, this has now changed. However, that means I don't have any interior photos to show you, so you'll have to visit the official Hever Castle website to view them. There you can see such exhibitions as Anne Boleyn's bedroom, the Book of Hours room, the Queen's chamber, King Henry the 8th's bedchamber, and more.
Letters from King Henry VIII
Even though I have no photos, I do strongly recall the surprising amount of actual possessions still at the home of Anne Boleyn, as opposed to recreations. I liked reading the letters between Henry VIII and Anne because it provided a tangible connection to their relationship. It's hard sometimes when you just read about people, instead of seeing something real they once held. If you're into fashion or period clothing, they have a lot of clothes there as well.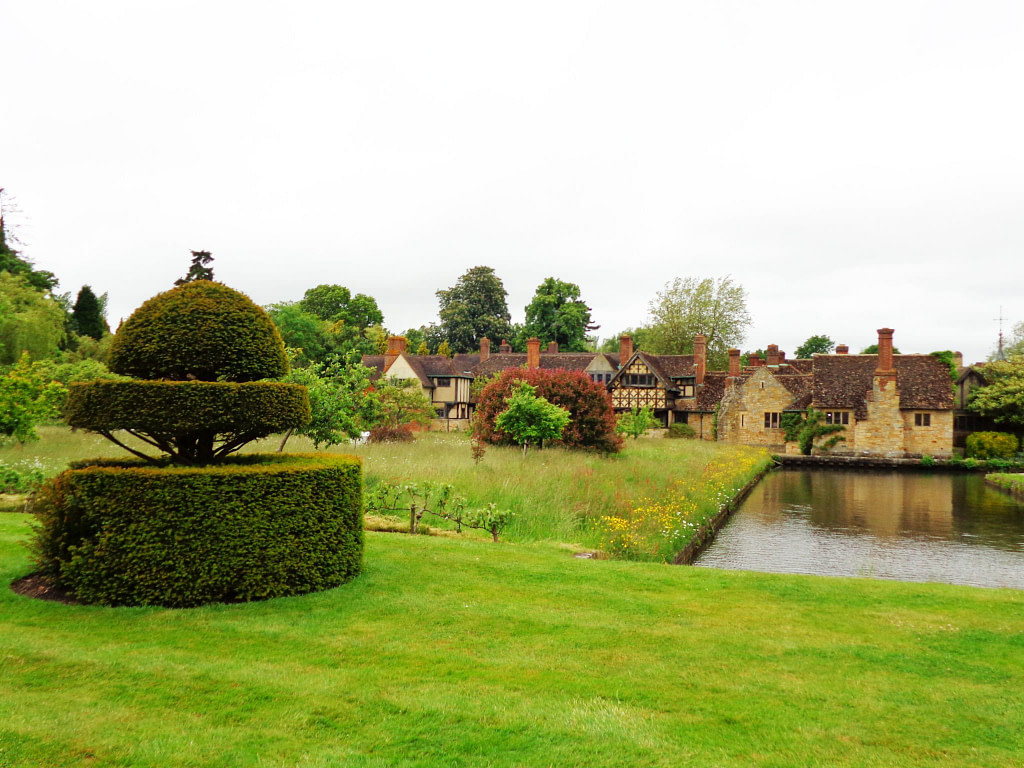 Hever Castle Prices
At the home of Anne Boleyn, there are two types of tickets available: Castle & Gardens and Gardens Only. You can purchase Hever Castle tickets at the castle or online. You can save some money by booking online; however, online tickets cannot be purchased on the day of your visit. Entrance to most attractions is included in all ticket prices, except for special ticketed events. Check their calendar to get the most out of your visit.
Castle & Gardens: Adult £18.80, Child (5-17) £10.70
Garden Only: Adult £15.55, Child (5-17) £9.75
There's also Senior, Student, and Family discounts on these Hever Castle prices.
EDIT: Interactive audio guides are now included with Castle entry and last about 45 minutes. They are available in English, French, German, Dutch, Russian, and Chinese. A children's interactive audio guide in English is also available.
Want to remember this? Post this Visiting Hever Castle, The Childhood Home of Anne Boleyn article to your favorite Pinterest board!