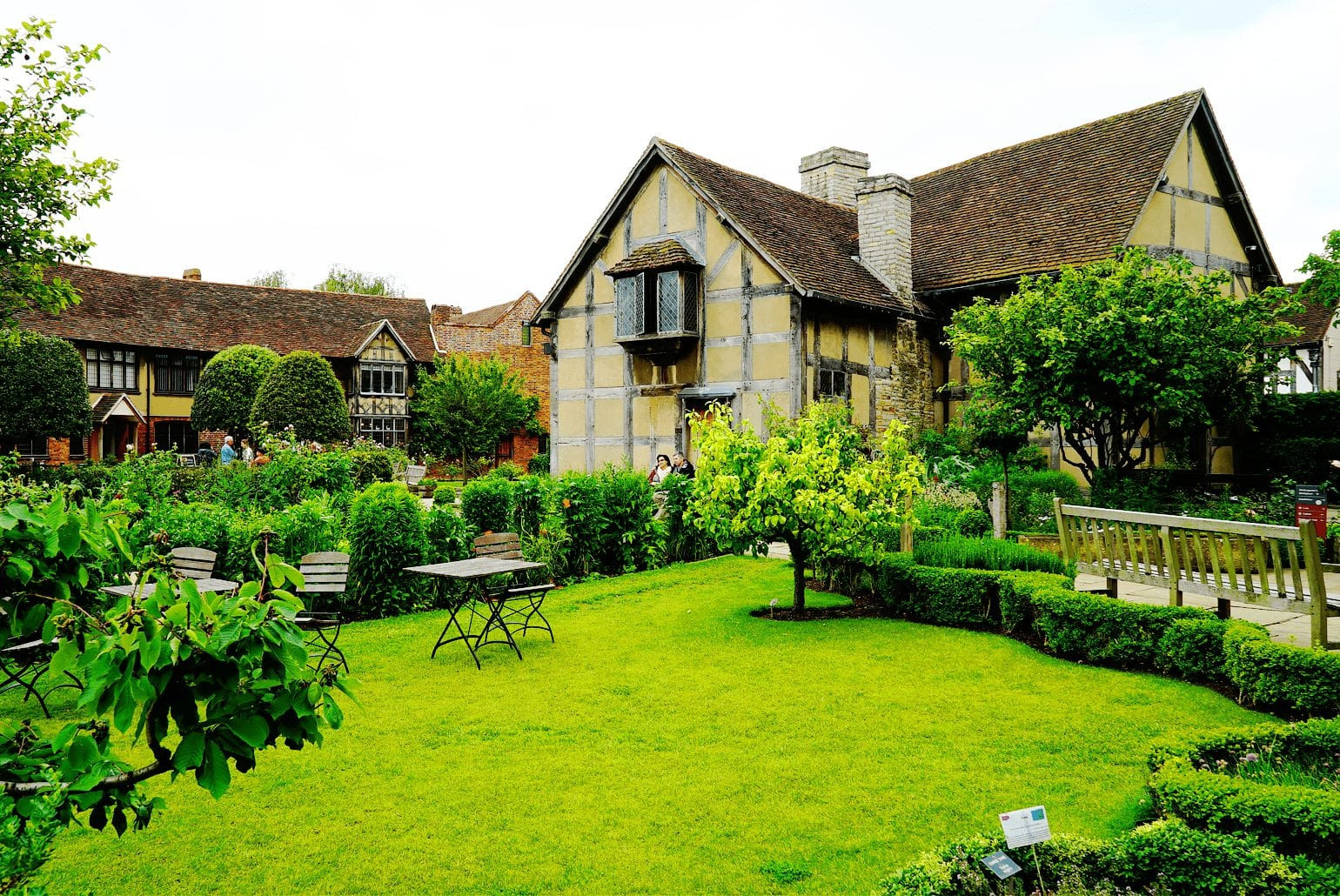 I went back to visit Shakespeare's Birthplace after attending the guided Stratford Town Walk. Shakespeare's hometown and birthplace are located in Stratford Upon Avon in England. Using the voucher I had received on the walk, I got a two for one discount to enter this fantastic historical location overseen by the Shakespeare Birthplace Trust. If you plan to do the Stratford Town Walk and visit his home, I advise you to do the walk first. This way, you get that coupon making visiting a steal on the Shakespeare Birthplace prices. To enter the birthplace of Shakespeare, you head just to the left of the actual home and begin the tour by walking through a small exhibit on William Shakespeare.
Starting the Shakespeare's Birthplace Tour
One of the first things you see when entering the exhibit is the First Folio (seen below). This piece of history awed me. The First Folio is Mr. William Shakespeares Comedies, Histories, & Tragedies. It is a published collection of William Shakespeare's plays from 1623. The fact that it's survived this long and in such good shape is merely incredible.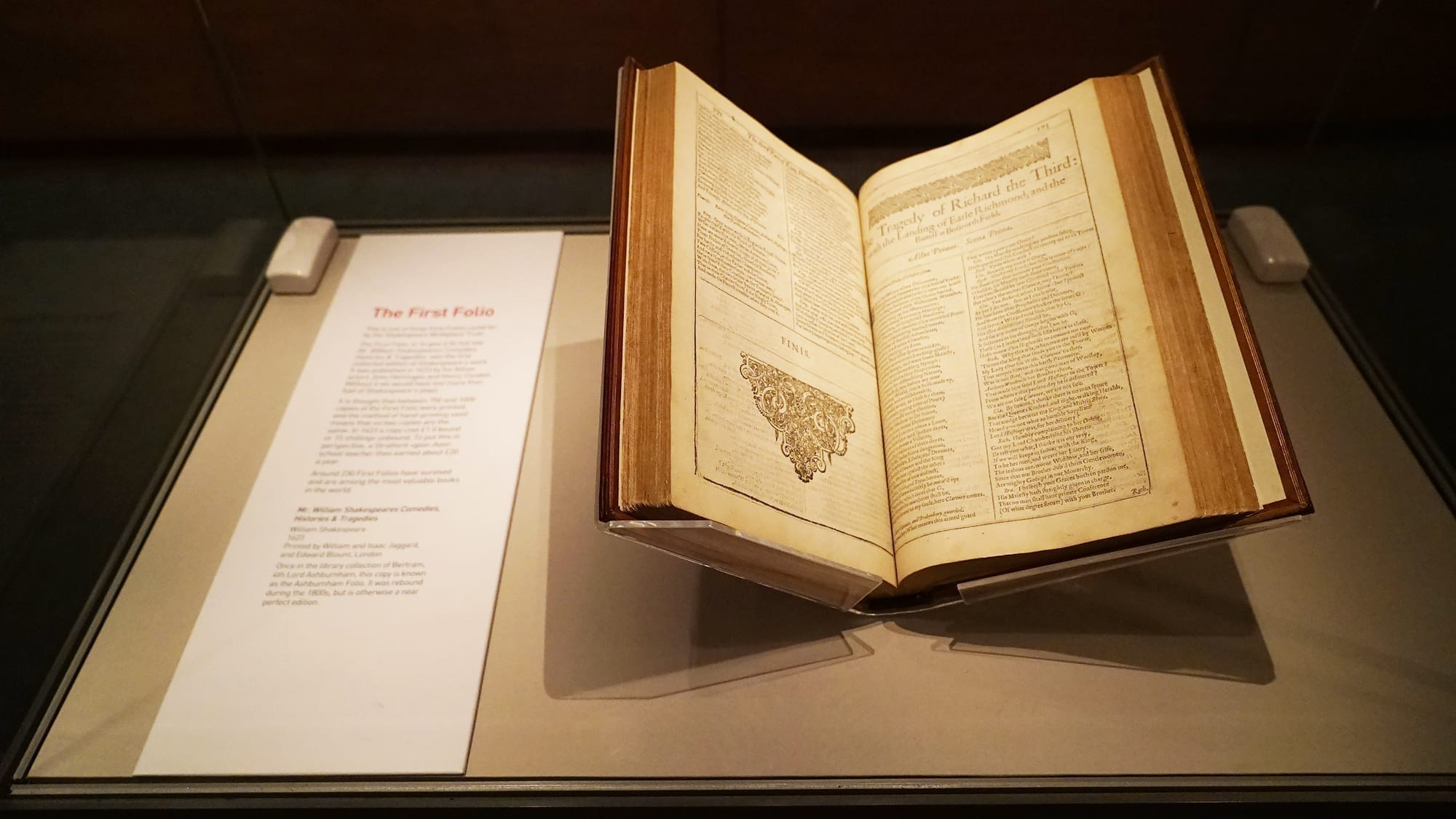 Inside the Birthplace of Shakespeare
When you visit Shakespeare's house, it is set up as if you were visiting during his time. They have retained how it would have looked back when he lived there in the 16th century. The ground floor has a parlor, a central hall, and a service/work area. His Father used the service area for his work as a glover. The exhibit they have showcases the steps of making gloves in the 1500s. Likely, there was once a separate kitchen and brewhouse in the back of the house. As well as an additional workshop area.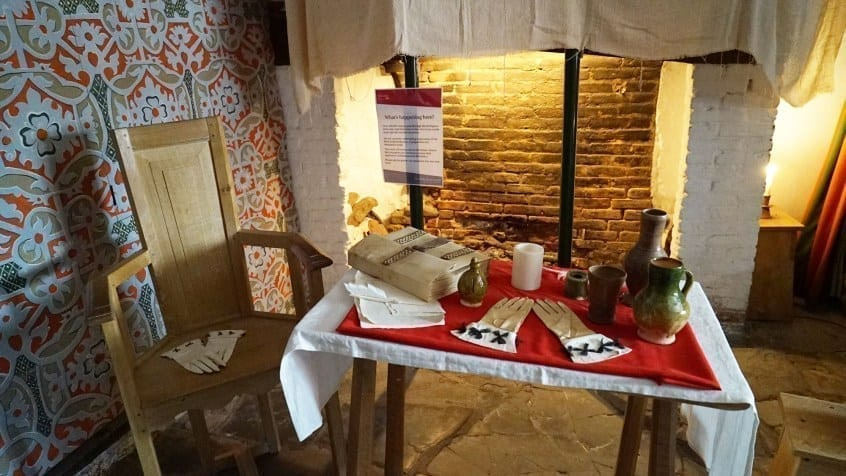 Ever wonder how you can ward off those pesky evil spirits? Check out the Witch's Bottle on the table above! They were used to make charms and spells to get rid of evil spirits. You would fill the bottle with items such as pins, pieces of bone, hair, nail clippings, and urine. Once they were full, they were often buried outside by the doorways of the house. YUCK! I'll stick with my Celtic necklace thank you very much!
Saving the Shakespeare Birthplace Trust
Did you know that Phineas Taylor Barnum of Barnum and Bailey Circus once had an interest in buying Shakespeare's home?
"While in Europe I was constantly on the look-out for novelties… I obtained verbally through a friend the refusal of the house in which Shakespeare was born, designing to remove it in sections to my Museum in New York; but the project leaked out, British pride was touched, and several ….. English gentlemen interfered and purchased the premises for a Shakespeare Association…" – Phineas Taylor Barnum
As much as it would be nice to have a bit of Shakespeare over here in the US, keeping it in its original location of Shakespeare's hometown is where it belongs. The US does have the most extensive Shakespeare collection, however. Housed at the Folger Shakespeare Library, located in Washington, DC. Fortunately, the removal of Shakespeare Birthplace to New York did not happen.
Instead, in 1847, William Shakespeare's birthplace was purchased for £3,000 by public subscription. Charles Dickens was one of the leaders of the campaign to save the building. He even raised money for the purchase through performances of Shakespeare's plays.
Famous Visitors to the Hometown of Shakespeare
Once you head upstairs, you'll see a window panel that used to be on the top floor. It has since been removed since so many visitors over the years have scribbled on it. Some of the scribblers are even famous! Scottish writer Walter Scott, philosopher Thomas Carlyle, and two great Shakespearian actors, Ellen Terry and Henry Irving (his scribble can be seen in the image on the right).
The Birthplace of Shakespeare
Walk further into the house in Shakespeare's hometown, and you come upon a bedroom and a loft above. Like most of the Stratford Upon Avon buildings in the 16th century, the house was built using local materials; oak and stone. There have been alterations and restoration work on the home, but most of the original structure of the house survives.
The next room you enter is the actual room Shakespeare was born in. I'm not being dramatic here. I got chills in this room. It's bigger than some of the apartments I've had in Los Angeles! It was also the birthplace of his other siblings. He was the eldest of eight children, of which five survived into adulthood – William, Gilbert (1566-1612), Joan (1569-1646), Richard (1574-1613), and Edmund (1580-1612).
The Swan and Maidenhead and Shakespeare's Descendants
When William's Father, John Shakespeare died in 1601, as the eldest son, he inherited the home. As Shakespeare had other properties and was sometimes in London, he leased part of the property. It then became an inn called the Maidenhead (and later the Swan and Maidenhead). The inn occupied the eastern two-thirds of the main house. The inn continued until 1847.
After Shakespeare's death, he left the house to his eldest daughter Susanna. It then passed onto her only child, Elizabeth. The house in Shakespeare's hometown remained in the ownership of his direct descendants until 1670 when his granddaughter died. Having no children, it passed onto his great-nephew. Joan Hart's, Shakespeare's great-grandson, descendants lived in the other part of the house until 1793.
Leaving My Mark
Boy, this was a small doorway! I'm 5'8," and I could barely go through without grazing my head! You can even see it pushing up my hair in the photo. Just before exiting the house, they had a guestbook for visitors to sign. I love writing in guestbooks while I'm traveling. Even if it's something short, it's a way to leave your mark with Shakespeare's Birthplace Trust. Without scribbling on the window pane!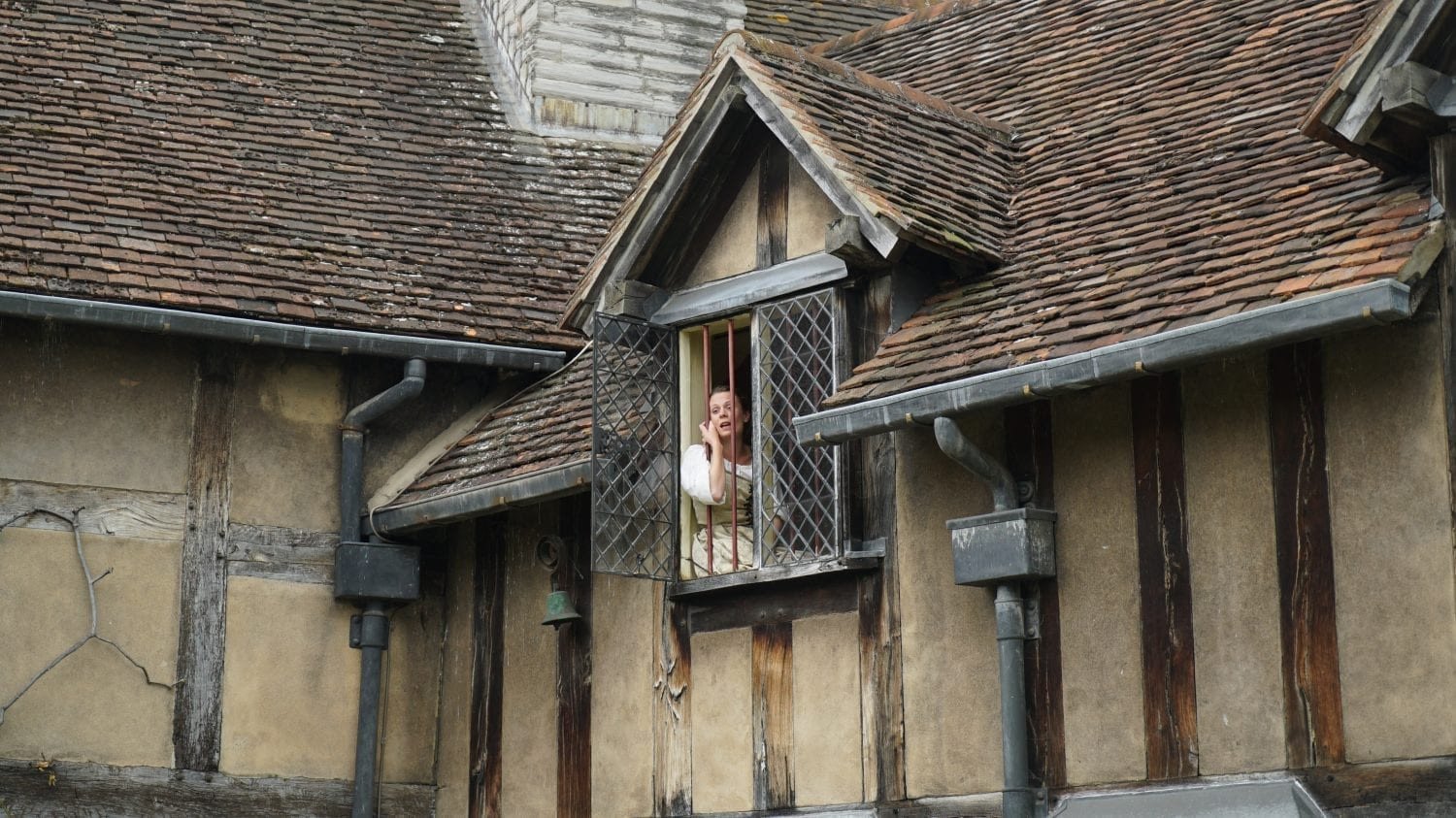 Performances at Shakespeare's Birthplace
After touring the house, you exit into Shakespeare's garden. I'm glad that I was there during the summer as everything was in bloom. I was also just in time to catch some live theatre! These two lovely actors were performing bits of Romeo and Juliet and Macbeth. Both of them were wonderful and interacted with the crowd that had formed. I had requested the bit from Lady Macbeth, one of Shakespeare's best characters, in my opinion! There is nothing like theater in England, especially at the home of a legend!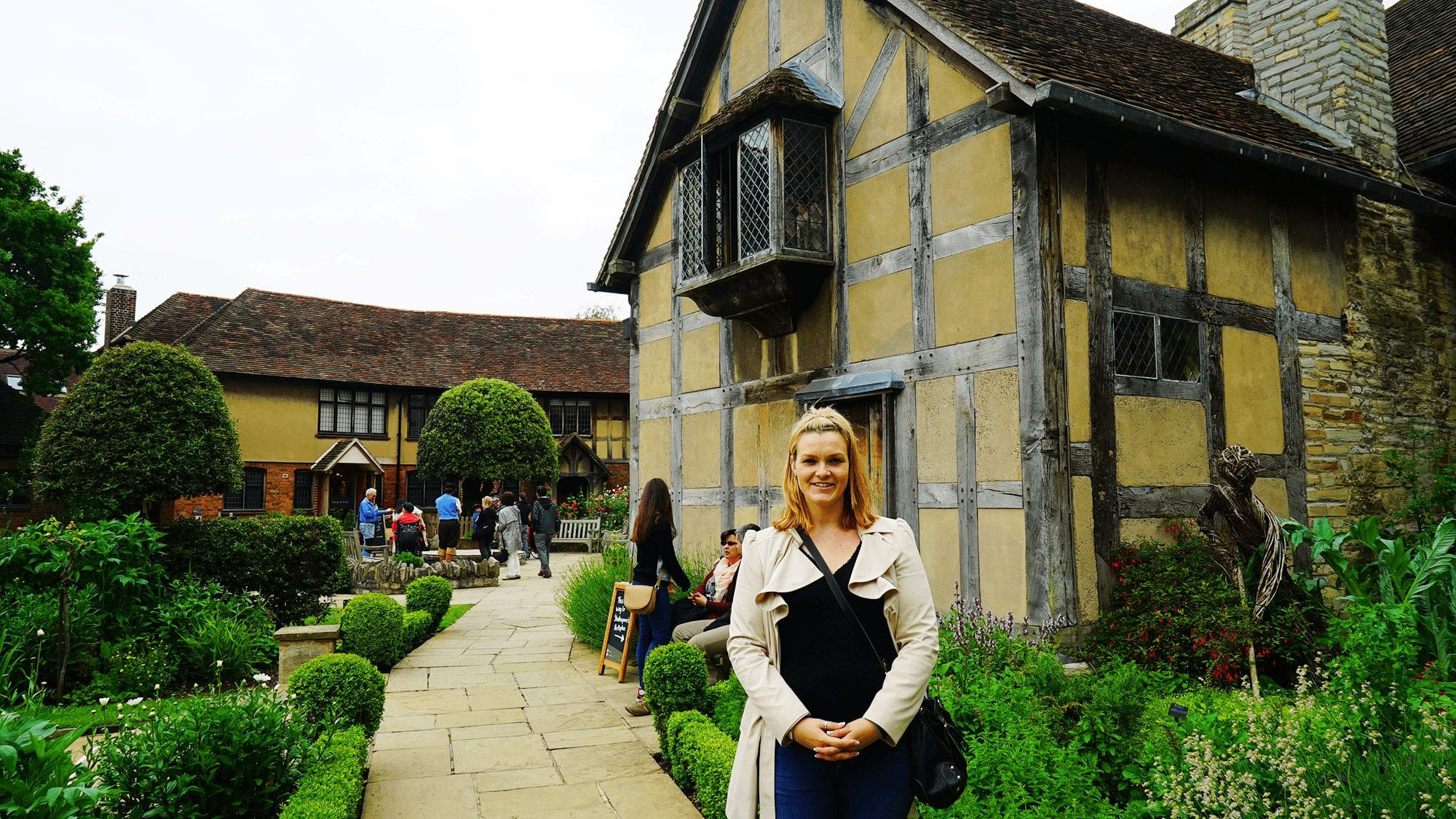 William Shakespeare Birthplace Garden
I strongly suggest visiting the Birthplace to anyone visiting the UK. You don't have to be a history or theater expert to enjoy the experience. It's more about seeing where he came from. Like Shakespeare himself, many greats come from humble beginnings, so take the time to visit Shakespeare's Birthplace.
Since I was only in Stratford Upon Avon for one day, I didn't do anything other than the events mentioned above. However, if you have more time, make sure to check out the events held by Shakespeare's Birthplace Trust. They also have several workshops, tours by costumed guides, and other special exhibits.
Shakespeare's Birthplace Prices
As I mentioned above, if you plan to do both the Stratford Town Walk and visit Shakespeare's Birthplace, I'd say do the guided walk of Stratford Upon Avon first. When you take the tour, they give you a coupon to local places, one of which is to the birthplace of Shakespeare. It's a great way to save you some extra cash on the Shakespeare's Birthplace prices.
Full Story Ticket: 12 months of unlimited visits to all five properties.
Adult:

£23.00

Child:

£15.00

Concession:

£21.50
Single Property Ticket:
Adult:

£18.00

Child:

£12.00

Concession:

£17.00
Recommended Visit Time: 1 hour
Shakespeare's Birthplace Address:
The Shakespeare Centre
Henley St
Stratford-upon-Avon,
Warwickshire,
CV37 6QW
Want to remember this? Post this Shakespeare's Birthplace in Historic Stratford-Upon-Avon article to your favorite Pinterest board!