For a while now, I had wanted to visit Stratford-Upon-Avon, the hometown of William Shakespeare. So taking a guided Stratford Upon Avon walking tour with the one day I had was a great idea! There are a few walks around Stratford Upon Avon, but I landed on the Stratford Town Walk. On the tour, you walk in Shakespeare's footsteps and get to see a glimpse back in history.
I wouldn't call myself a Shakespeare expert by any means, but being from the creative world of TV and film, I've always had an invested interest in his work. My favorite theater performance was The Tempest at  Shakespeare's Globe Theater in London. Stratford-Upon-Avon was a short ride from Stow on the Wold where I had been for my friend's wedding. I traveled by car as taking the three trains it would have required to get there on a Sunday would have cost time and more money. After dropping my bags at the local YHA hostel, I hurried over to the Stratford Town Walk starting point for my tour.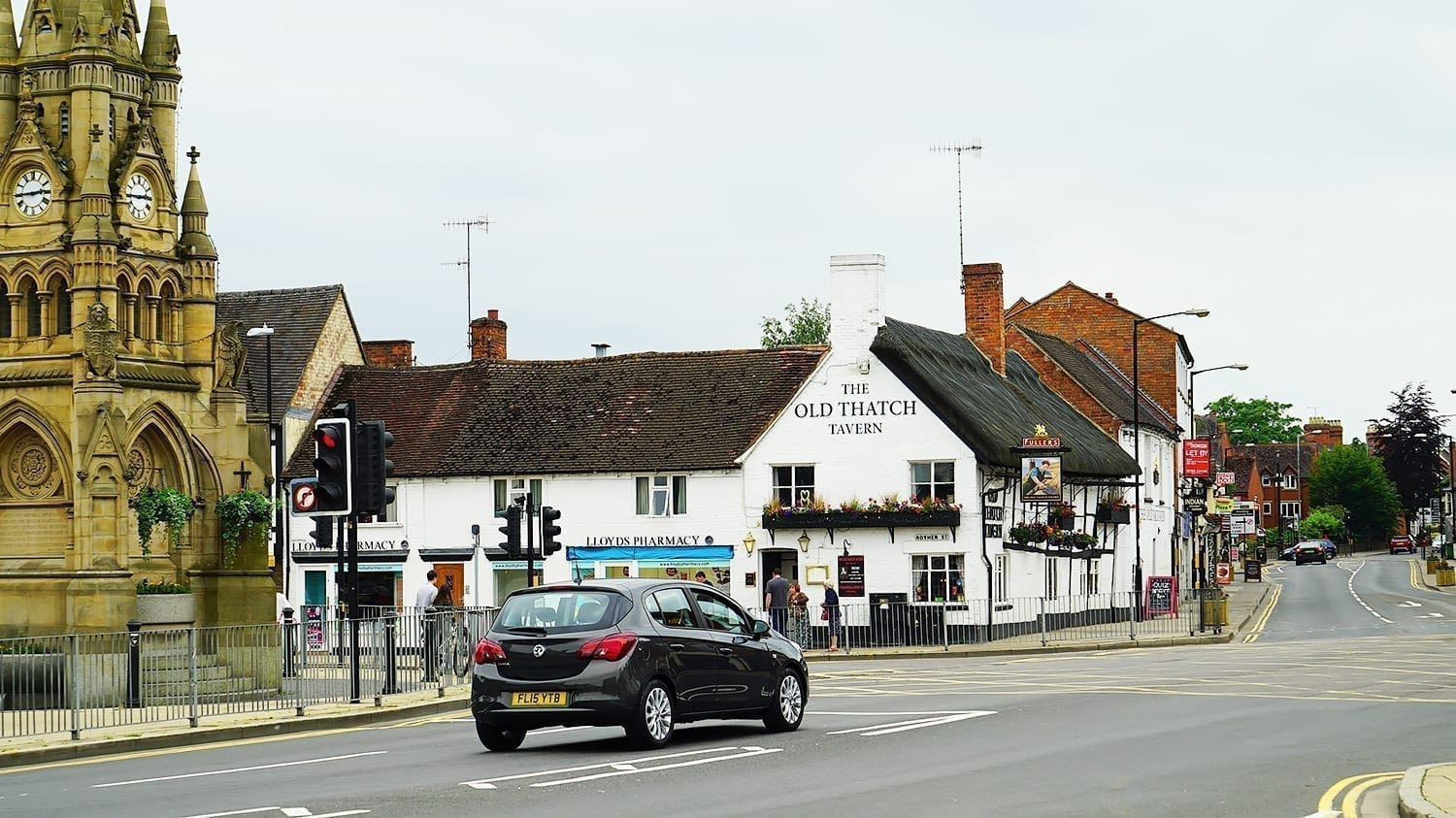 Starting the Stratford Town Walk
I had discovered the Stratford Town Walk online and figured it was an affordable way for me to see a lot in a short amount of time. I had only given myself one day there, so time was of the essence. The meeting point for the walk was in front of the Royal Shakespeare Theatre by a little yellow sign. Though it is small, it was easy enough to find. It was a populated area during the day, so I felt entirely safe traveling solo. At only £6, this Stratford Upon Avon walking tour is a bargain!
When you buy your ticket, you get a set of vouchers. They give you discounts at local shops, restaurants, pubs, and attractions (I wound up using the one for Shakespeare's Birthplace and a local eatery called The Dirty Duck). As a bonus, you don't have to book in advance!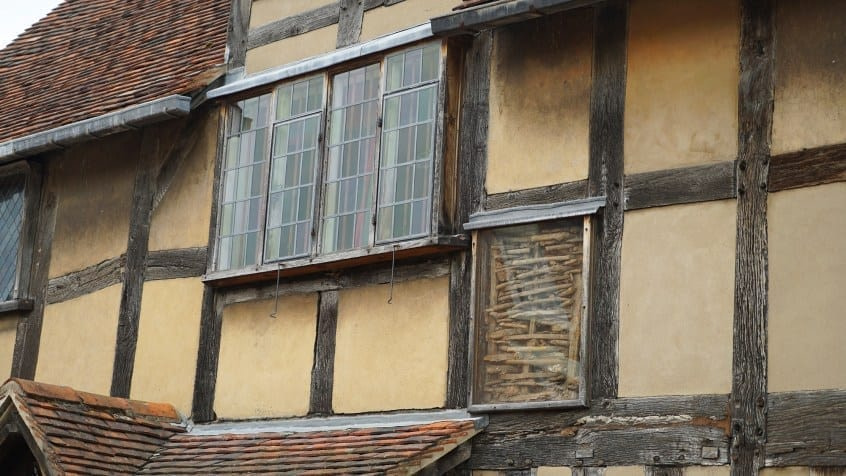 William Shakespeare's Birthplace
Our lovely guide began our tour with some history of Stratford Upon Avon. The name is a combination of the Old English strǣt, meaning "street," and ford, indicating a site at which a road forded a river. The "street" was a smaller Roman road connecting the larger roads Fosse Way and Icknield Street.
Stratford Upon Avon is a medieval market town located in England's West Midlands. It's most famous resident was William Shakespeare, as it's the location of his 16th-century birthplace. Naturally, we headed to Shakespeare's Birthplace next on the tour!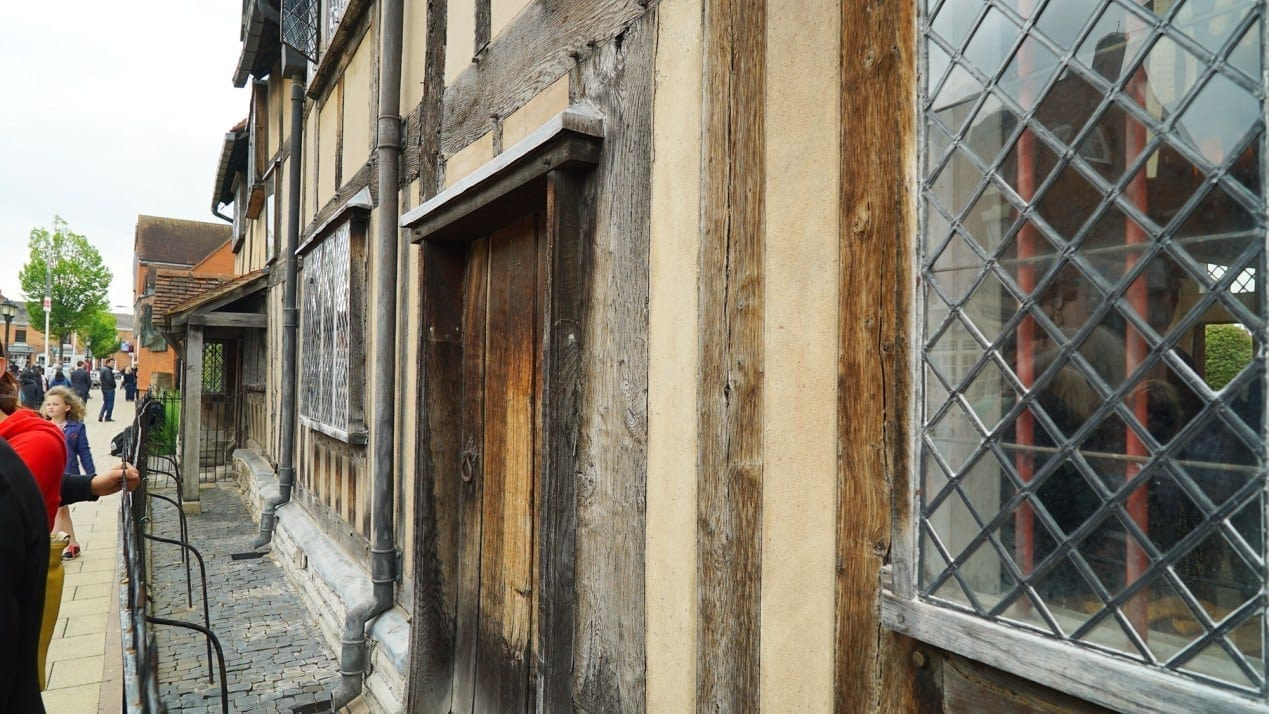 You can see in the photo above how the building was made. If I remember correctly, it's pretty much interwoven sticks, cow dung, and clay.
The panels consisted of oak staves, with the top rounded off and inserted in a similar sized hole drilled on the underside of the upper horizontal beam, with the bottom fashioned into a chisel shape and wedged into a 'V' groove cut into the upper side of the lower horizontal beam. Split hazel rods were then woven around these staves to create the wattle panel we see above, over which the daub was applied, usually consisting of cows dung, straw, clay and lime. The rough surface was then allowed to set and a coat of lime plaster was applied and over painted with limewash when dried. – Early Oak Reproductions
We only stayed for a quick moment here, and then moved onto some other local points of interest. Again, as I only had a limited time, it was nice to have someone who knew their way around! I would have otherwise been spending time trying to find these locations on my own.
Want more on Shakespeare?: Check out my article on visiting Shakespeare's Birthplace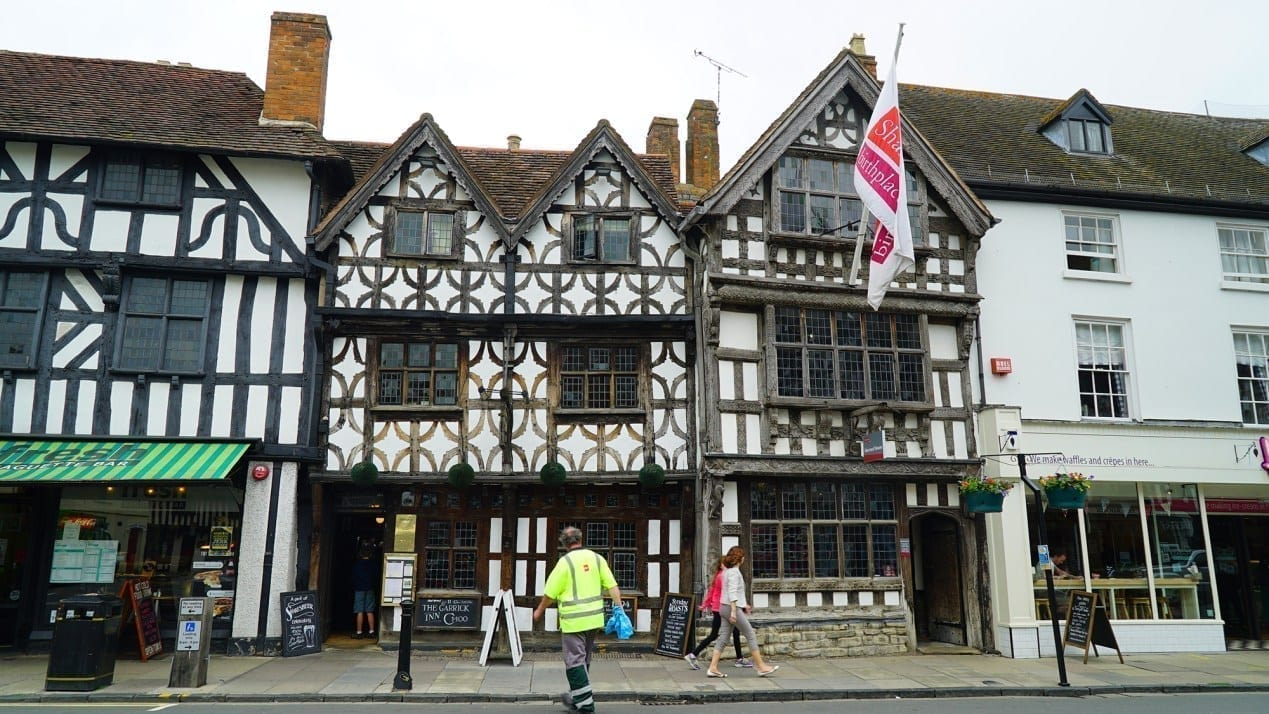 Harvard House
Harvard House was on my list of must-sees, so I was excited that it was already on the Stratford Upon Avon walking tour! It was once known as the Ancient House and built-in 1596 by Thomas Rogers, grandfather of the benefactor of Harvard University, John Harvard. If you click on the photos, so they expand, you can see there is a lot of intricate carvings on the house. It's a beautiful building!
The Stratford Upon Avon Walking Tour
Stratford-Upon-Avon, though it was chartered in 1196, has continued to grow over its 800 years. You can see evidence of that in the image below. There are three clearly different styles of architecture in just one corner of the city. Making for a multidimensional town within the English countryside.
Walking in Shakespeare's Footsteps
We then ventured onto Guild Chapel and a grammar school, both of which Shakespeare attended. A short walk away from the grammar school; we came upon Hall's Croft, which was the home of Susanna Shakespeare and her husband, Dr. John Hall. I didn't have time for a look inside, but I did snap a photo of the outside. Susanna Hall was the oldest child of William Shakespeare and Anne Hathaway.
Our guide was full of interesting little facts like the word "disease" coming from dis-ease. As well as "bonfire," derived from the fact that bonfires were originally fires in which bones were burned. When graveyards filled up they would move the bones to a separate building, when that filled up, then they burnt them to get rid of them. All this trivia made for a fascinating tour! On our Stratford Upon Avon walking tour, we next headed to the Holy Trinity Church, which is the final resting place of William Shakespeare.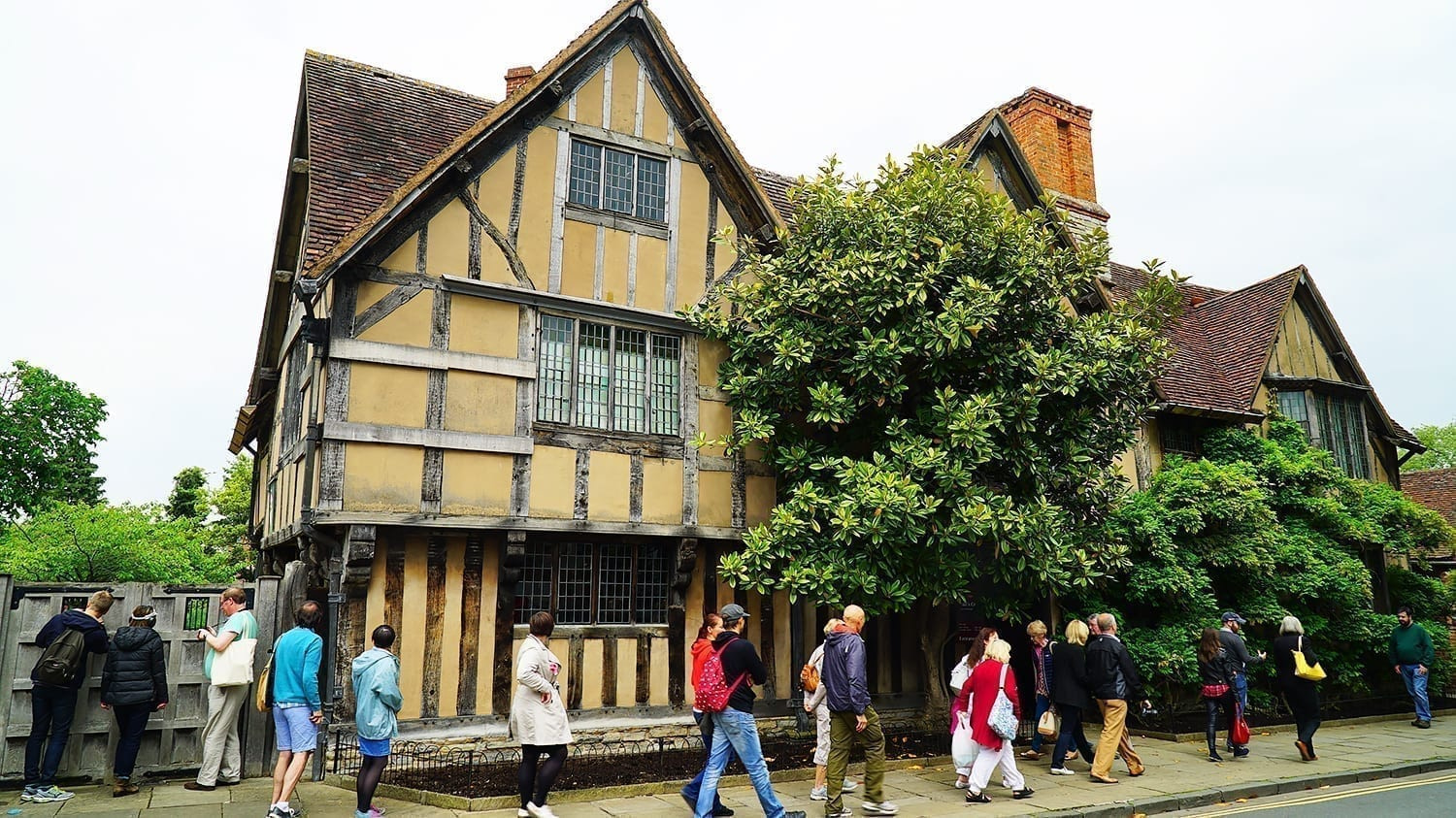 The Holy Trinity Church
The last part of the Stratford Town Walk takes you to the Holy Trinity Church, which is where you'll find Shakespeare's Grave. It's a lovely looking church with a unique character. You can almost feel the age of the place. It was probably my favorite stop on the Stratford Upon Avon tour. The people who must have come and gone throughout the years. I also adore graveyards. I've always felt peaceful when walking through them.
Visiting Shakespeare's Grave
William Shakespeare was born and died in Stratford-upon-Avon, both of which happened on St. George's day (April 23rd). Though those dates are up for debate. His baptism is recorded on April 26th, 1564, with his burial on April 25th, 1616, both of which are from the Holy Trinity Church, where both events took place. Within a few years of his death, a memorial to Shakespeare was erected. This memorial (see below) is thought to be a good likeness since it was made shortly after his death. Many of the most well-known images of Shakespeare are from people who did not know him. So they are merely guesses at what the playwright looked like.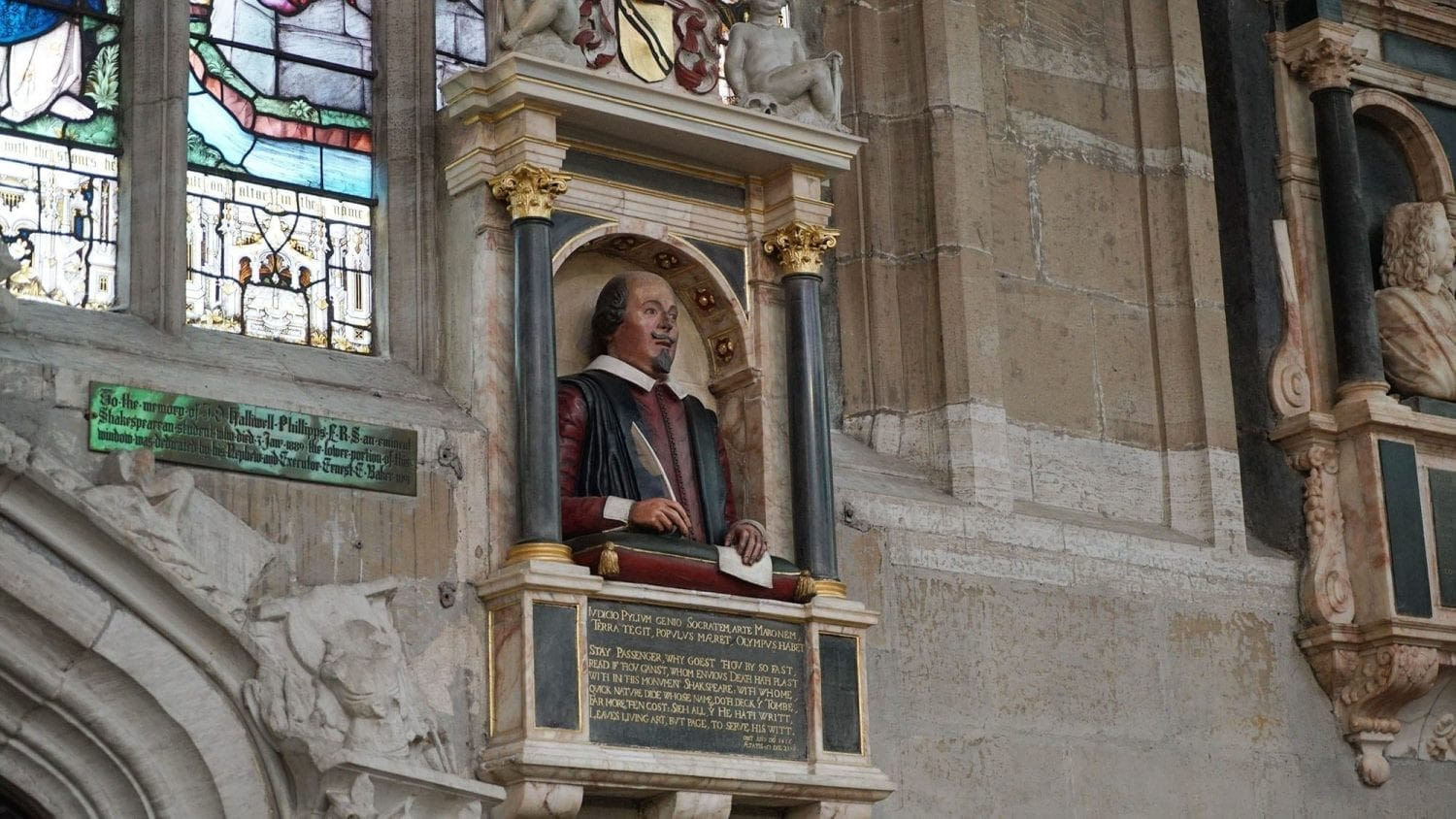 Shakespeare's grave reads:
GOOD FRIEND FOR JESUS SAKE FOREBEAR,
TO DIGG THE DVST ENCLOSED HERE.
BLESTE BE YE MAN YT SPARES THESE STONES,
AND CURSED BE HE YT MOVES MY BONES.
It's thought to be a warning to anyone who'd wish to removal Shakespeare's body to Westminster Abbey or the exhumation of his body for examination. It seems he really wanted to stay home in Stratford Upon Avon!