After finishing the Stratford Town Walk and visiting Shakespeare's Birthplace, I walked back to the YHA Stratford-Upon-Avon hostel. I won't lie, it was a bit of a walk, but after the amount of food and alcohol I had ingested at my friend's wedding, I needed the exercise. This accommodation in Stratford upon Avon was about a 2-mile walk that took me 40 minutes. However, if you do not need the exercise, especially after doing the guided Stratford upon Avon walking tour, then you can find a taxi to take you from the center of town to this Stratford upon Avon youth hostel.
Gower Memorial Statue
Before checking out my accommodation in Stratford upon Avon, I happened upon the Gower Memorial. There really should be a drinking game in this town. Every time you see Shakespeare, you take a swig. This memorial was more of interest to me than others I had seen during my one day in Stratford. The Gower Memorial is focuses on some of the most memorable Shakespearian characters (Prince Hal, Lady Macbeth, Falstaff, and Hamlet).
"In 1769, Garrick's Stratford Jubilee Festival in honor of William Shakespeare started a growing public appreciation of the Bard in Stratford-upon-Avon, an appreciation which is reflected in the grandeur of this memorial statue. Given to the town in 1888, it is the work of Lord Ronald Gower who spent ten years sculpting it and funded much of the work from his personal fortune.

Hamlet represents Philosophy with ivy and cypress; Lady Macbeth is Tragedy with poppies and peonies; Comedy is represented by Falstaff with hops and roses, and History is represented by Prince Hall with English roses and French lilies."
The nerd in me saw Prince Hal and immediately thought of Tom Hiddleston in The Hollow Crown….#sorrynotsorry
A Lovely Place to Stay in Stratford upon Avon
Moving along from this lovely memorial, I came upon what I can only describe as a Downton Abbey moment. Literally, I was dumbstruck by this enchanting place, and the photos don't do it justice. It was like I was able to stay in the Crawley family abode. The YHA Stratford-upon-Avon hostel was once a mansion. For those who want the Downton Abbey experience on a budget, I would strongly recommend this hostel. The elegant building has its own name, Hemmingford House. As far as accommodation in Stratford Upon Avon goes, you can't get much better!
Hemmingford House was initially built in 1784 and became the home of YHA in 1947. It was a private residence until WWII when it was commandeered by the British Iron and Steel Corporation. YHA bought the property and turned it into the lovely hostel it is today. An extension was added in 1975 to add a new dining room and extra bedrooms. It is on a 3.5-acre site, which includes stables and coach houses.
Stratford Upon Avon Youth Hostel
Look at this photo; this place is gorgeous! I felt as if I was walking through time as I made my way to my room. I hung out in my room for the night as I was exhausted and had a huge travel day the following morning. That bed was the best thing in the world to me that night. So comfy and just what the doctor ordered after my long day of walking.
I thoroughly enjoyed the hot shower I had. The entire room was spotless, immaculate even. My room overlooked the St. James' Church as well as part of the estate. I couldn't have asked for a better room or view at this place to stay in Stratford upon Avon!
Amenities
Cafe
Restaurant/Bar
Free wi-fi
Parking
134 beds in 32 bedrooms – 16 with en suites
Camping experience
Glamping experience
Lounge
Luggage storage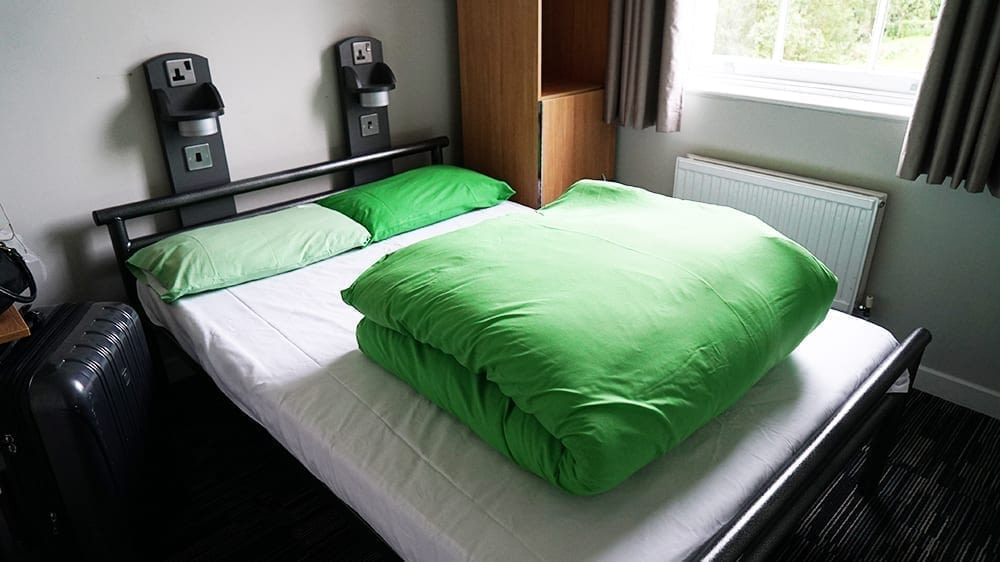 As per the usual with my stays at YHA, everything was in perfect working order. The only comment I have is that when I tried to use the payphone early the next morning to get a taxi, for some reason, I could hear who I was calling, but they couldn't hear me. I wound up using my cell phone, but other than that, I have no negative comments.
I would highly recommend staying at the YHA Stratford-upon-Avon hostel. It is one of the best places to stay in Stratford upon Avon. My only wish is that I could have stayed longer than one night!
Nearby Attractions: Two miles from Shakespeare's Birthplace
Address: Hemmingford House, Alveston, Stratford-upon-Avon, Warwickshire, CV37 7RG
Transparency: This was a complimentary stay at YHA Stratford Upon Avon but all thoughts and opinions expressed are my own.
Want to remember this? Post this YHA Stratford Upon Avon, Staying in a Georgian Mansion article to your favorite Pinterest board!