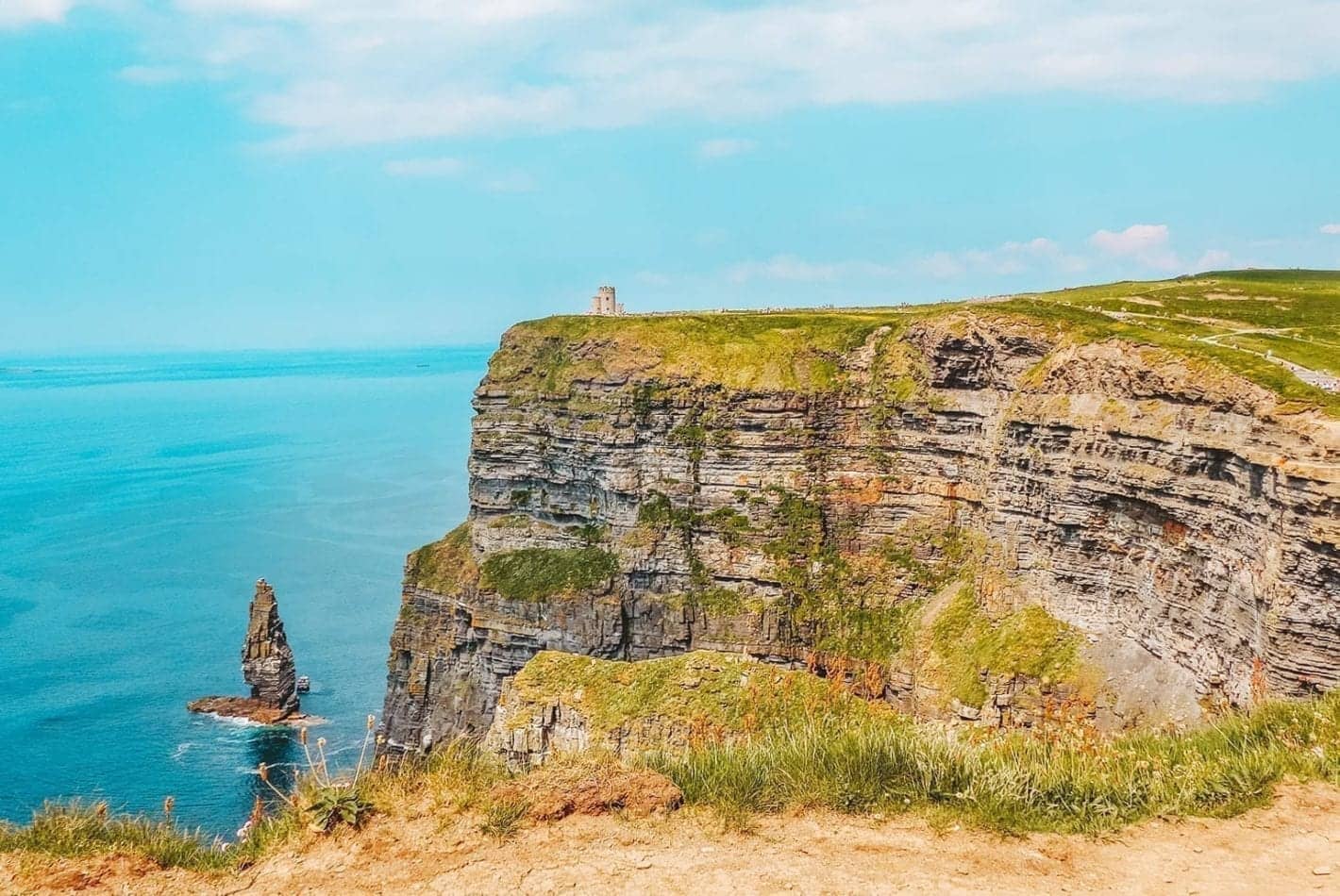 If you're looking for a Cliffs of Moher day trip from Dublin then the Paddywagon tour bus is for you! The Cliffs of Moher are one of the most visited tourist sites in Ireland, so it's a must while you're there. Did you know it's 66% as tall as New York's Empire State building for form part of the edge of Western Europe?
What Tour to the Cliffs of Moher is the Best?
For budget travelers, the Paddywagon Tour Cliffs of Moher is affordable but it is a longer day tour. Fair warning, you're on a bus for about twelve hours. I was lucky in that I made friends with the people next to me, so the time driving between locations was spent chatting with them and definitely helped to pass the time.
Paddywagon Tours to the Cliffs of Moher
On the way to the cliffs, the Paddywagon tour stopped at a few other locations, such as the Kinvara Fishing Village (famed for traditional boats called "Galway Hookers"). I wasn't impressed with this place much. Maybe it was because there was hardly anything going on for the 30 minutes we stopped there, but I could have done without it. Had there been more time, there may have been things to do, I'm just not sure.
If you're looking for something more impressive in this area, check out these free things to do in Galway. A great guide to this Irish city, especially for solo female travelers!
Benedictine Abbey
Another stop on the Paddywagon Tour was a Benedictine Abbey, this place was really gorgeous. No one lives here anymore, it's just ruins now but still incredible. It's surrounded by hills and greenery as far as the eye can see. The next stop was the Baby Cliffs or the "mini cliffs," not as incredible as the full-size cliffs, but still a nice stop along the way. The photo of me below is at the Baby Cliffs. There was a stop off for lunch then onto the Cliffs of Moher.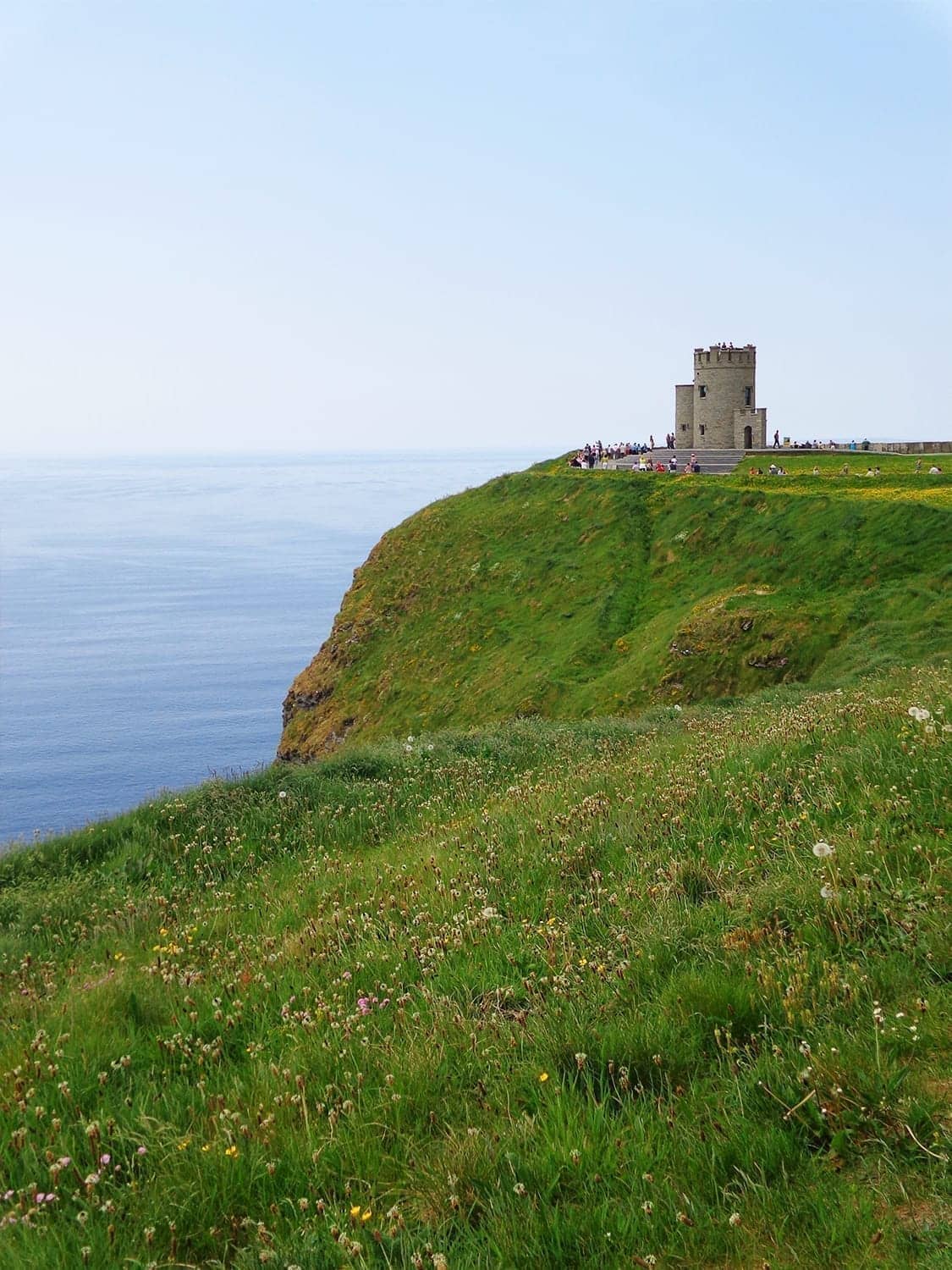 The Paddywagon Tour Cliffs of Moher
The Cliffs of Moher are stunning and were well worth the long trip. If you're lucky you'll get a day like I did that was really clear. I had heard that it can get pretty gloomy out there and you can't see too much when it does, so check the weather before you go. Also, wear good shoes, you'll be doing a fair amount of walking. They run for about 14 kilometers (about 8.7 miles). At the southern end, they reach a height of 120 meters (390 ft) above the Atlantic Ocean. Their maximum height of 214 meters (702 ft) is just north of O'Brien's Towmeters a round stone tower near the midpoint of the cliffs where the tour lets off.
A note about the Cliffs of Moher, don't lean on the electric fence to move out of the way for people coming along the narrow passage, you will get shocked! So much for being nice!
A Stop by Bunratty Castle
After the Cliffs of Moher, we went to Bunratty Castle, it was okay, but not worth the while to get there. Once again, if I had more time, it may have seemed more worth it. I've heard great things about Bunratty, but I just didn't experience it. It's surrounded by restaurants, as you can see, so it loses some of its majestic effect. However, it is the most complete castle in Ireland, and they have done a lot of restoration on it. After our stop at Bunratty Castle we headed back to Dublin!
The Cliffs of Moher Tour from Dublin
Again, the Paddywagon Tour Cliffs of Moher from Dublin is about twelve hours long, so it will be a whole day trip. However, I do feel that it was well worth the time and money spent. It should be noted that it appears the tour has changed a bit since I went on it. It now includes the "Burren" landscape near Galway Bay.
Make sure to check out the Paddywagon Tours website for the latest information. The Paddywagon tour company has student discounts and does go to other locations such as Giant's Causeway, Blarney Castle, Kilkenny, Galway, Kerry, and others. If you're a Game of Thrones fan, they have a tour for you as well!
A note, they say that the Paddywagon Tour Cliffs of Moher is a bestseller and is likely to sell- out. They recommend buying tickets at least 24 hours in advance whenever possible. To avoid the risk of overbooking during the high-peak season, you can book your seats directly on their page.
Looking for other Ireland Day Trips? Try the Wild Atlantic Way road trip.
Want to remember this? Post this An Electrifying Paddywagon Tour to the Cliffs of Moher article to your favorite Pinterest board!