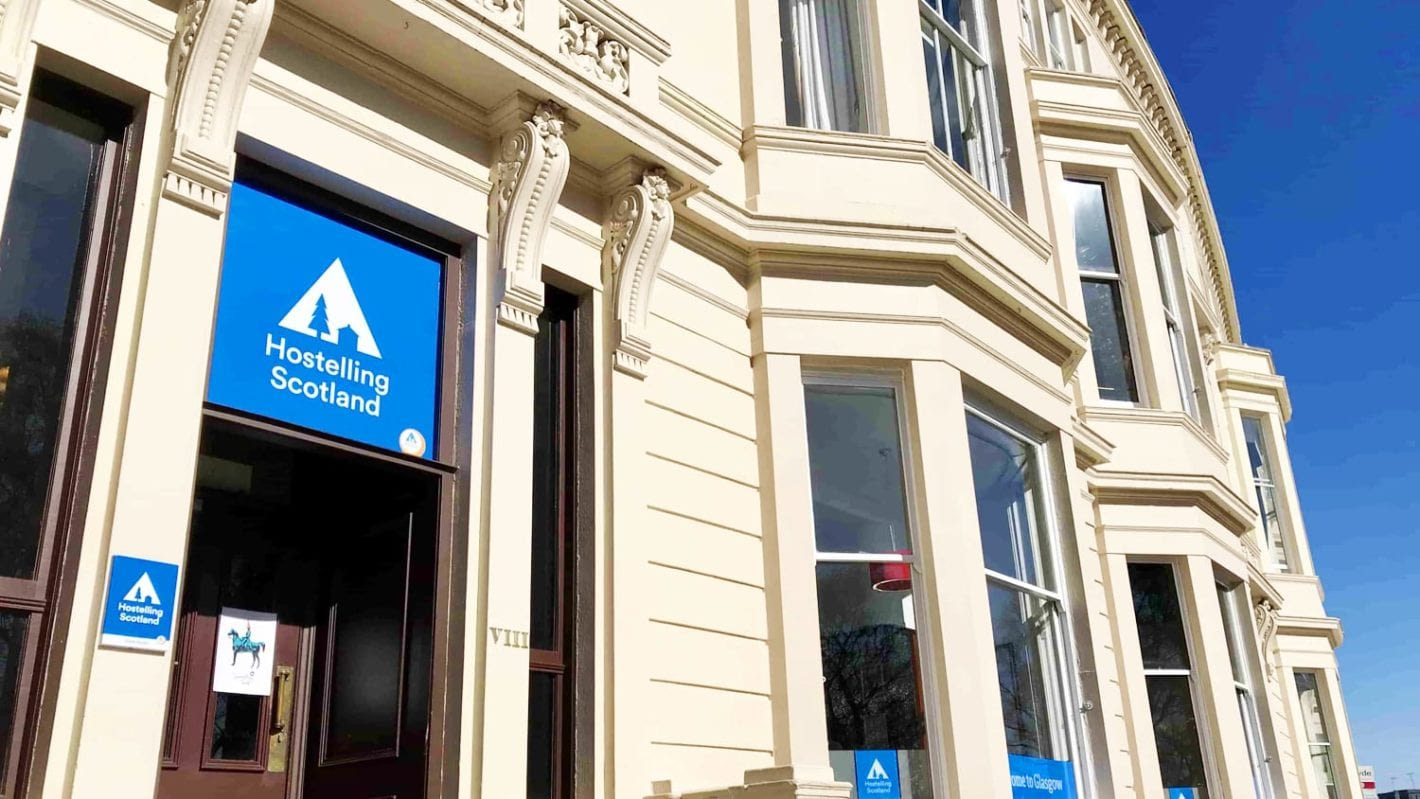 The SYHA Glasgow Youth Hostel is an incredible place to stay if you're looking for a hostel in Glasgow's city centre. A VisitScotland accredited accommodation, it is housed in a lovely Victorian townhouse that overlooks Kelvingrove Park. Being in Glasgow's city center, it is near the Kelvingrove Art Gallery & Museum, as well as a number of cafes, restaurants, and bars. I found a wonderful little pub my first night there just on the edge of the park. The hostel is part of SYHA Scotland, a charity that operates a network of nearly 70 youth hostels. If you're wondering, is Scotland expensive? Then know this is a budget-friendly way to stay in Scotland. And if you're looking for free things to do in Glasgow, I got you there too!

Hostels in Glasgow Scotland
I found out about SYHA Glasgow Youth Hostel from my contact at YHA Hostels. I reached out to see if they had any hostels in Glasgow, Scotland and that's when I was given the recommendation. As I didn't have a car while staying there, being close to the city centre was important to me. I didn't want to waste my 24 hours in Scotland getting to and from places. I wanted to spend it AT places.
SYHA Glasgow Youth Hostel
I was given a private room for my stay there and it honestly was just like staying at a hostel. The bed was comfy, and the bathroom and shower were clean. It also had a view of the Kelvingrove Park from my room. There was also a tea kettle in the room which is a nice touch. It was a bit rainy and gloomy while I was there so I rather appreciated the tea.
WiFi is free for all guests and worked really well. I hung out in the lounge that over looks the park after visiting the pub. There's also a television room, game room, laundry, secure bike store, and luggage storage for guests arriving early. Their reception is open 24 hours a day and they were very welcoming and helpful. While I was there I went to Stirling Castle and the receptionist was able to help me figure out how to get there. There's a number of tours you can go on and discounts are available. Some of them even pick you up from the hostel!
SYHA Scotland's Charity Work
Established in 1931, SYHA Hosteling Scotland is a self-funding charity which operates a network of nearly 70 youth and affiliate hostels. As a non for profit, they encourage guests to join SYHA Hosteling Scotland. It is free to everyone under 16 years old and students in full-time education. Members get access to a range of benefits including dual membership of Hostelling International, providing access to more than 4,000 youth hostels in 80 countries worldwide.
Hamish MacBear
A part of that wonderful work includes this adorable bear! This little fellow above is my Hamish MacBear I took home, but you can also take home your own Hamish MacBear. "As SYHA's furriest member of staff, Hamish regularly travels around the SYHA network stopping in at various youth hostels along the way to lend a hand (or paw)." All the profits from these little bears go to the SYHA Youth Program which helps young people in Scotland. Giving young people the chance to experience, enjoy, and understand the great outdoors and Scottish landscape. In addition to their Youth Program, they have helped young people to partake in STEM camps and apprenticeships at West College Scotland. As a charity, they rely on members and guests to continue their incredible work.
On my way out I took that rainy photo of SYHA Glasgow Youth Hostel. I, unfortunately, was there for only one night, but I would definitely return! It's perfect if you're looking for a hostel in Glasgow's city centre. If you're looking for tips for Scotland, check out this 8 day Scotland Itinerary!
With a 4.5 star rating (and my review) it's one of the best hostels in Glasgow, Scotland. All this in addition to SYHA Scotland's great charity work.