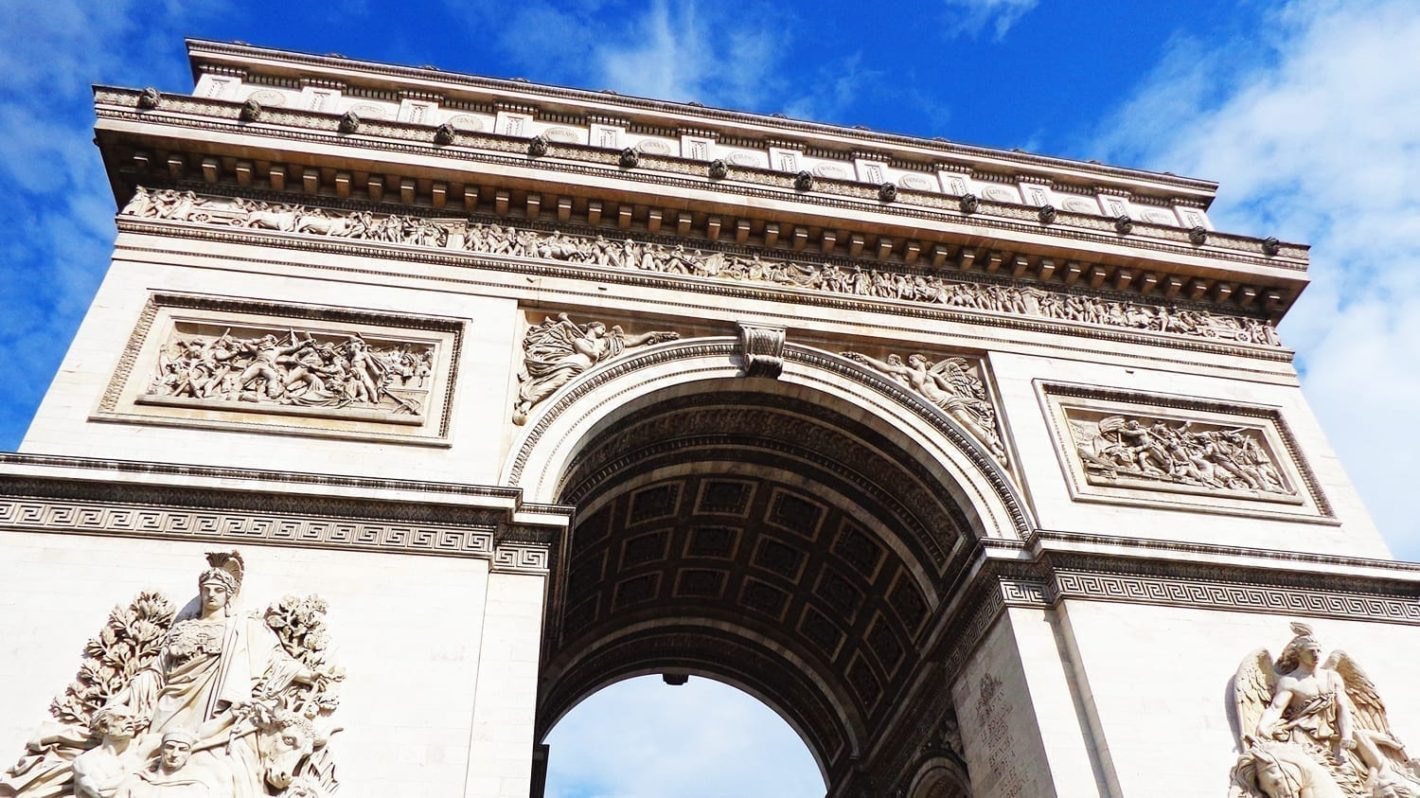 If you only have time for a long weekend in Paris, these are the must-see places I recommend. With four days in Paris, you can visit all of these places. Each one was spectacularly beautiful and took my breath away. Like literally. Four days in Paris is a perfect trip for any time of the year. As Audrey Hepburn says, "Paris is always a good idea." If you're looking even to dress a little Parisian, you should check this guide out. I spent eight days in Paris. That was a bit much for me. If I were to do it all over again, here's what I'd recommend for what to do in Paris in 4 days.
Visiting Notre Dame Cathedral
I went on the 
Notre Dame
 tower tour and climbed all the way up! I have to say climbing Notre Dame tower was a lot less scary than the Eiffel Tower. Partly because it is enclosed, so it wasn't as daunting. However, Notre Dame tower has a spiral staircase, so those were a bit tricky (I have no idea how the girl in a dress before me did it). There is an excellent view of Paris from up here, really worth it! So it should be at the top of your what to do in Paris in 4 days trip itinerary!
An interesting note, all the gargoyles are different, and there are thousands of them. They are so well crafted and have stood the test of time. They impressed the heck out of me. I don't remember being too thrilled with the interior of the church, but that's worth a look while you're there. You don't have to pay the Notre Dame Cathedral price if you've got the
Paris Museum Pass
. You can also go underneath and see some of the city ruins with the Paris Museum Pass.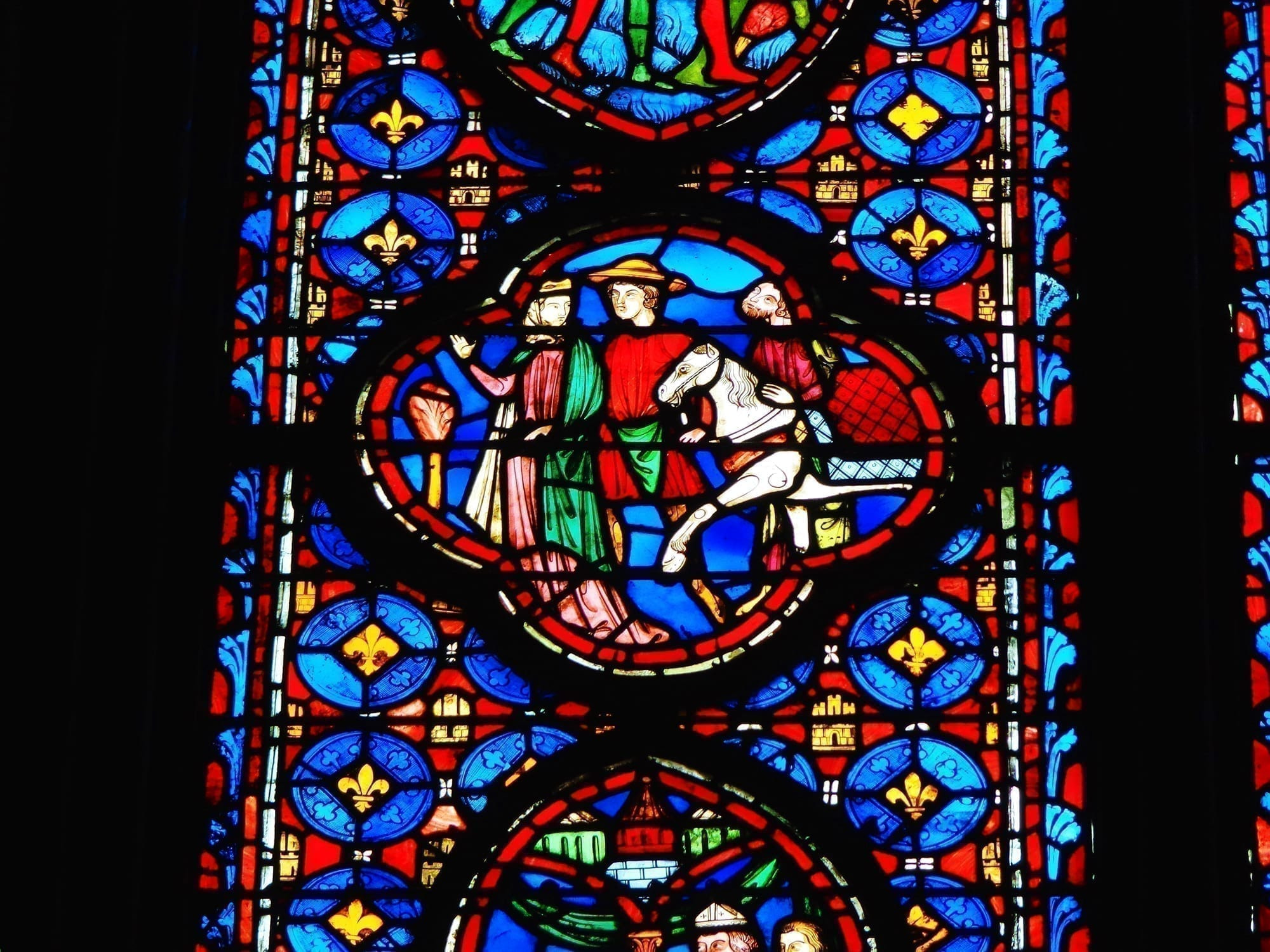 Sainte Chapelle's Incredible Stained Glass
After seeing so many churches while in Europe, I didn't think anything could surprise me, Sainte Chapelle did! It is honestly the most beautiful church I have ever seen. I would recommend it to anyone and everyone. The Sainte Chapelle stained glass surrounds the church, telling one of the Bible stories. It's hard to see in the picture, but each section has an image representing part of the story.
They have been restoring it by cleaning the stained glass with Q-tips! I wouldn't want to have that job. Try and go on a sunny day to get the full effect. If you have the Paris Museum Pass, you don't have to pay the Sainte Chapelle entrance fee. The church is super close to Notre Dame, making it easy to get to when you're limited on time during your long weekend in Paris!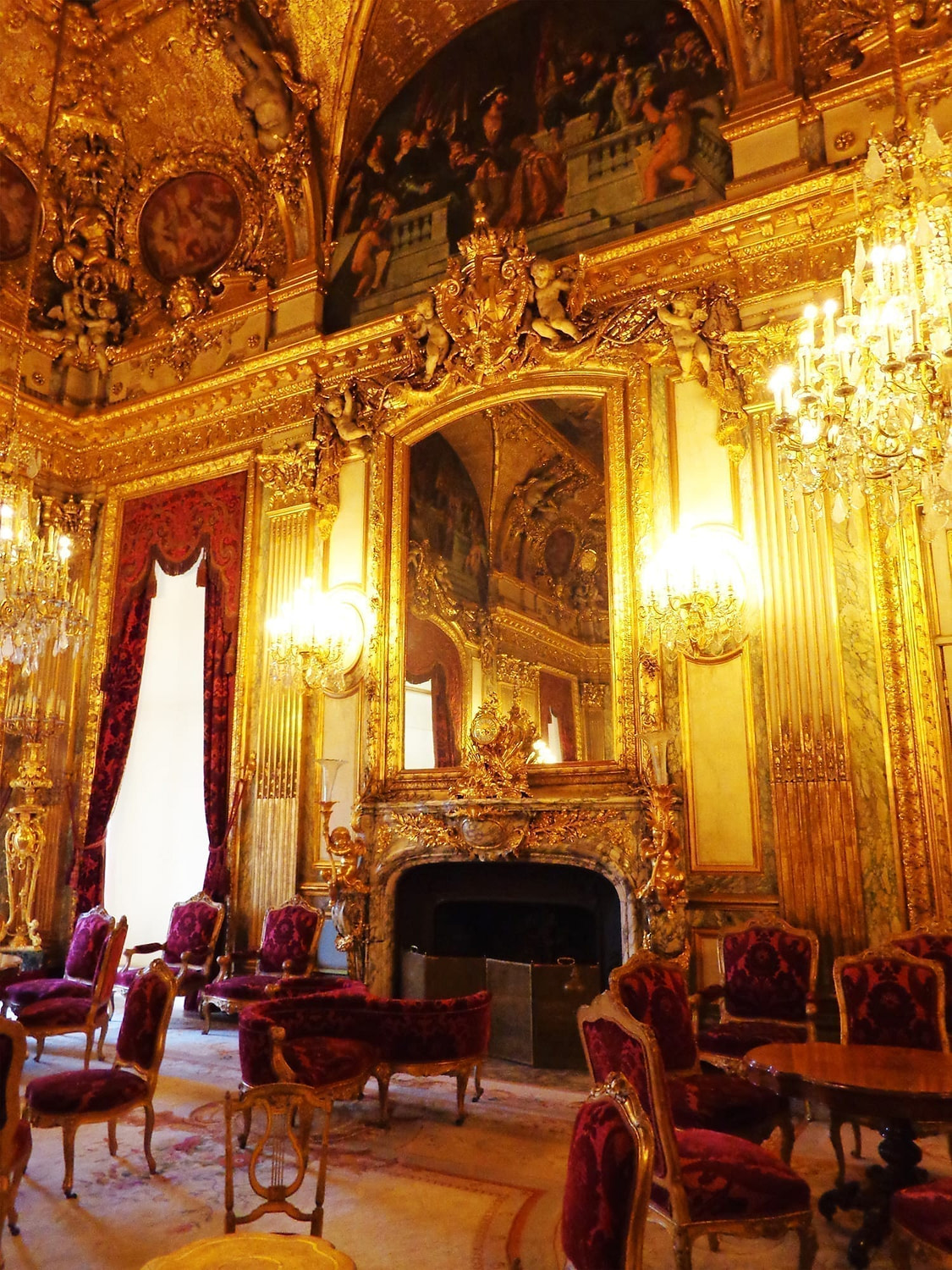 Napoleon Apartments at the Louvre
The Louvre, everyone told me to get there early, and they were right. I got there just after opening and hardly anyone was there. Headed straight to Da Vinci's Mona Lisa, then to Venus. I recommend doing that first since that's what everyone is there to see and it can get rather crowded. Don't forget to get a map at the front; else you'll get lost as I did.
I have to say I wasn't all that impressed by Mona or Venus. Probably since I've seen them in so many textbooks and across the interwebs. Jaded, I know. But I do have it as a must on my what to do in Paris in 4 days trip itinerary.
However, I was seriously impressed with the Napoleon Apartments. You could throw one heck of a party in there! The Napoleon Apartments were absolutely gorgeous! I didn't get the Louvre audio guide, which may have improved the experience. If you're really invested in art, I'd say get the audio guide.
The Louvre was also on the Paris Museum Pass. You could spend a fair amount of time here if you're really interested in art. I only went for the famous pieces. If you've got more than a long weekend to spend in Paris, you could probably spend at least a full day here.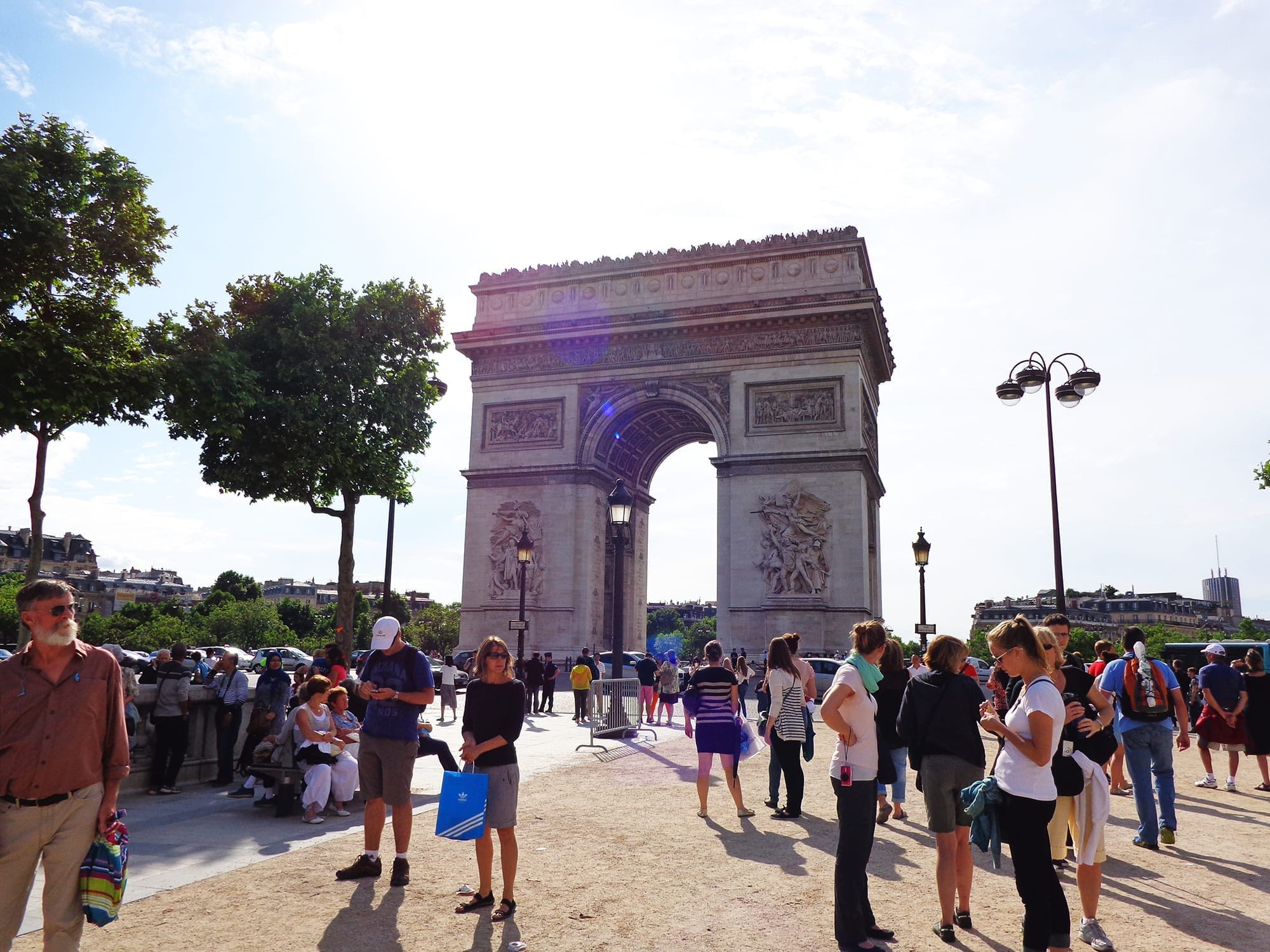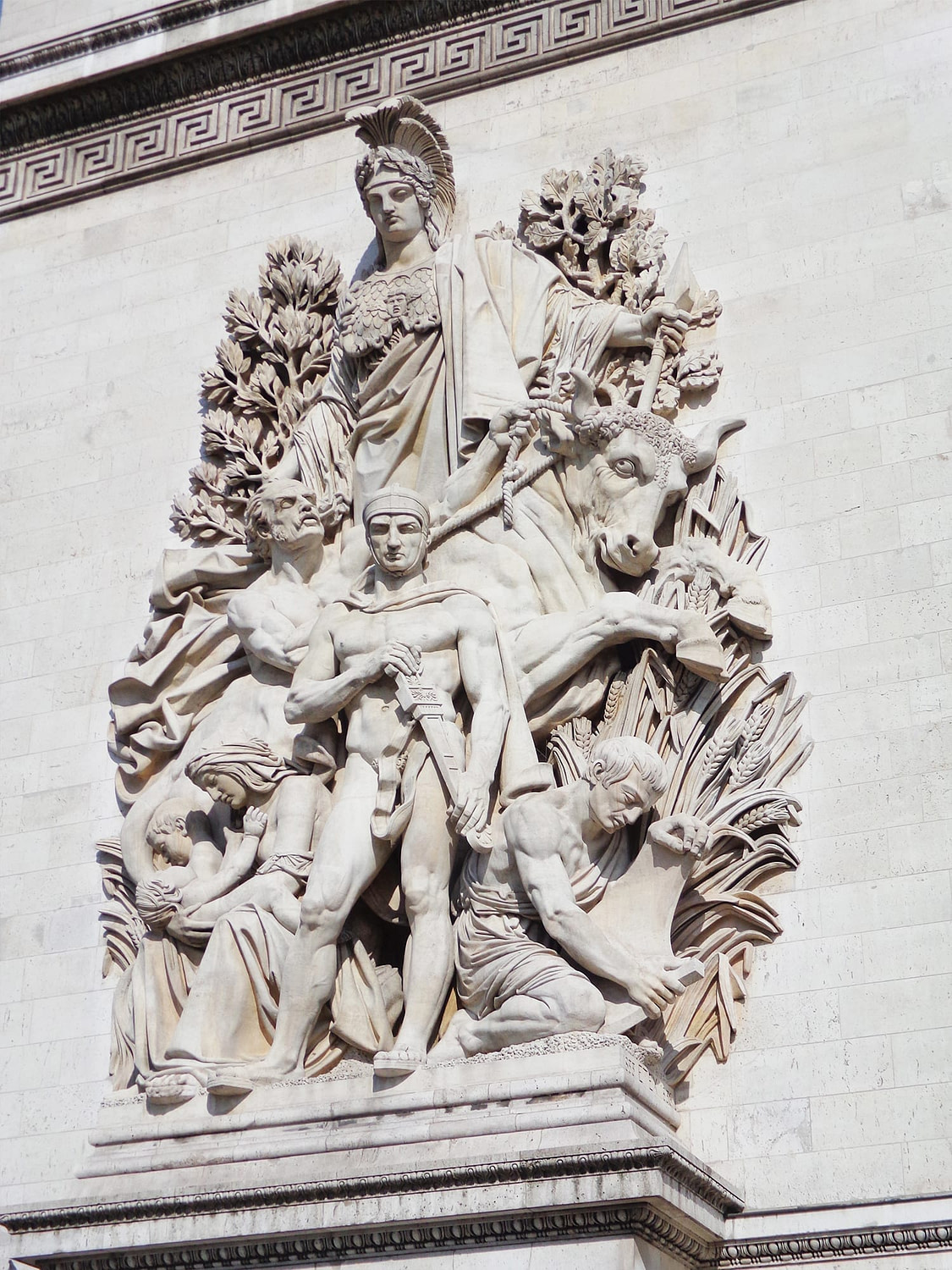 Arc de Triomphe
The Arc de Triomphe is beautiful, but a bit tricky to get to. You have to find the underground tunnel to get close to it. Please do not try to run across the traffic; it's way too dangerous. When I was there, they had a ceremony going on for the veterans. I didn't get too much info since it was hard to hear, and all in French.
You can go on top of the Arc for a fantastic view, but it's another set of spiral stairs. Tired of stairs, my Aunt and I opted just to enjoy it from the ground. The Arc looks bigger in person, which kind of shocked me. The architectural design on it alone is worth the stop on your what to do in Paris in 4 days trip itinerary. So much detail!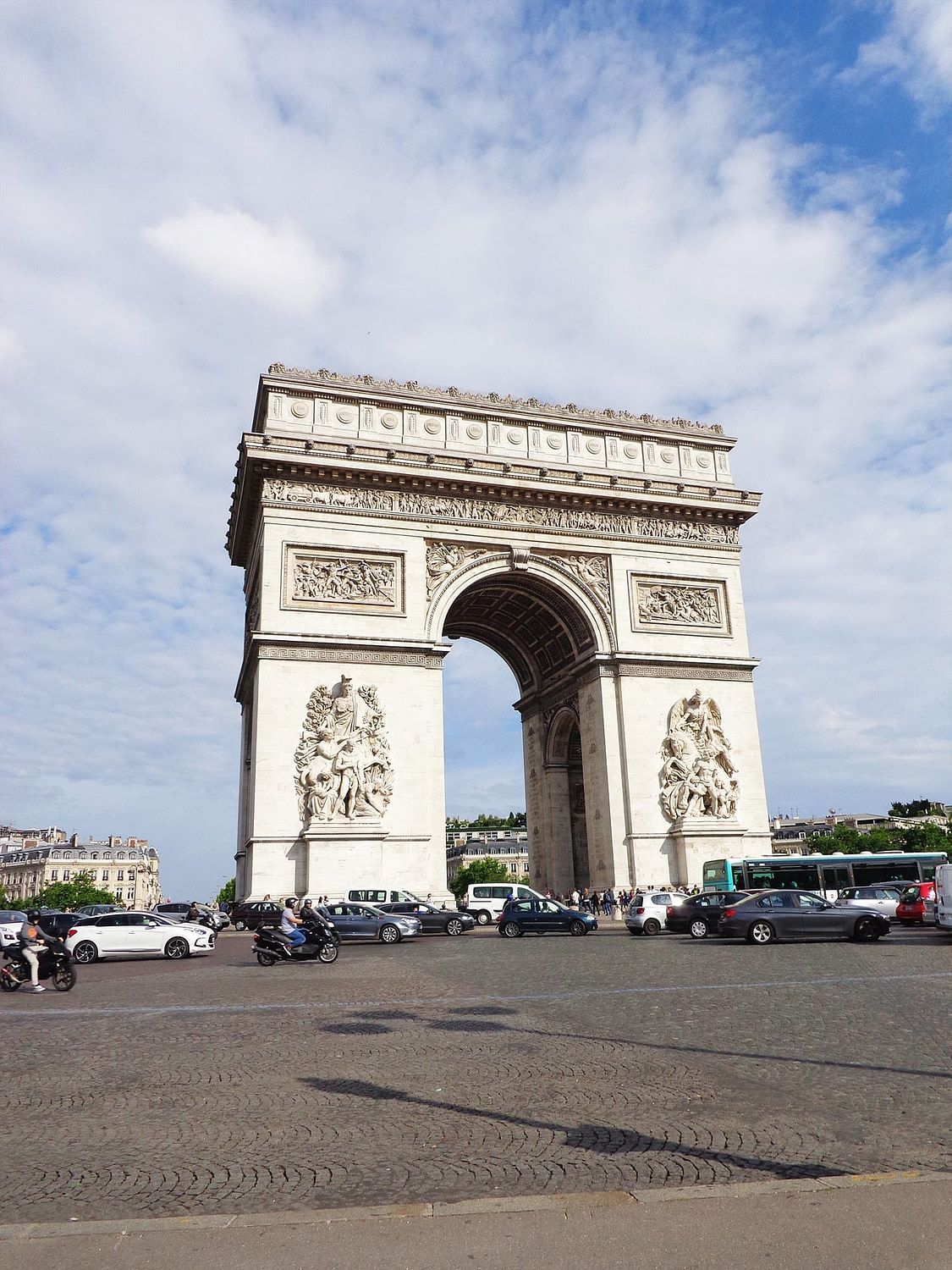 Visiting the Eiffel Tower
I had a wonderful, though partly traumatizing afternoon spent at the Eiffel Tower. For those of you who hate heights, like myself, suck it up and do it anyway. It's a must on my what to do in Paris in 4 days trip itinerary. This way, you won't ever have to do it again! Also, take the stairs, the line is so much shorter! It is stunning, though I didn't think it was brown since every image I've seen makes it look black. I had a glass of Lillet before going up to help my nerves.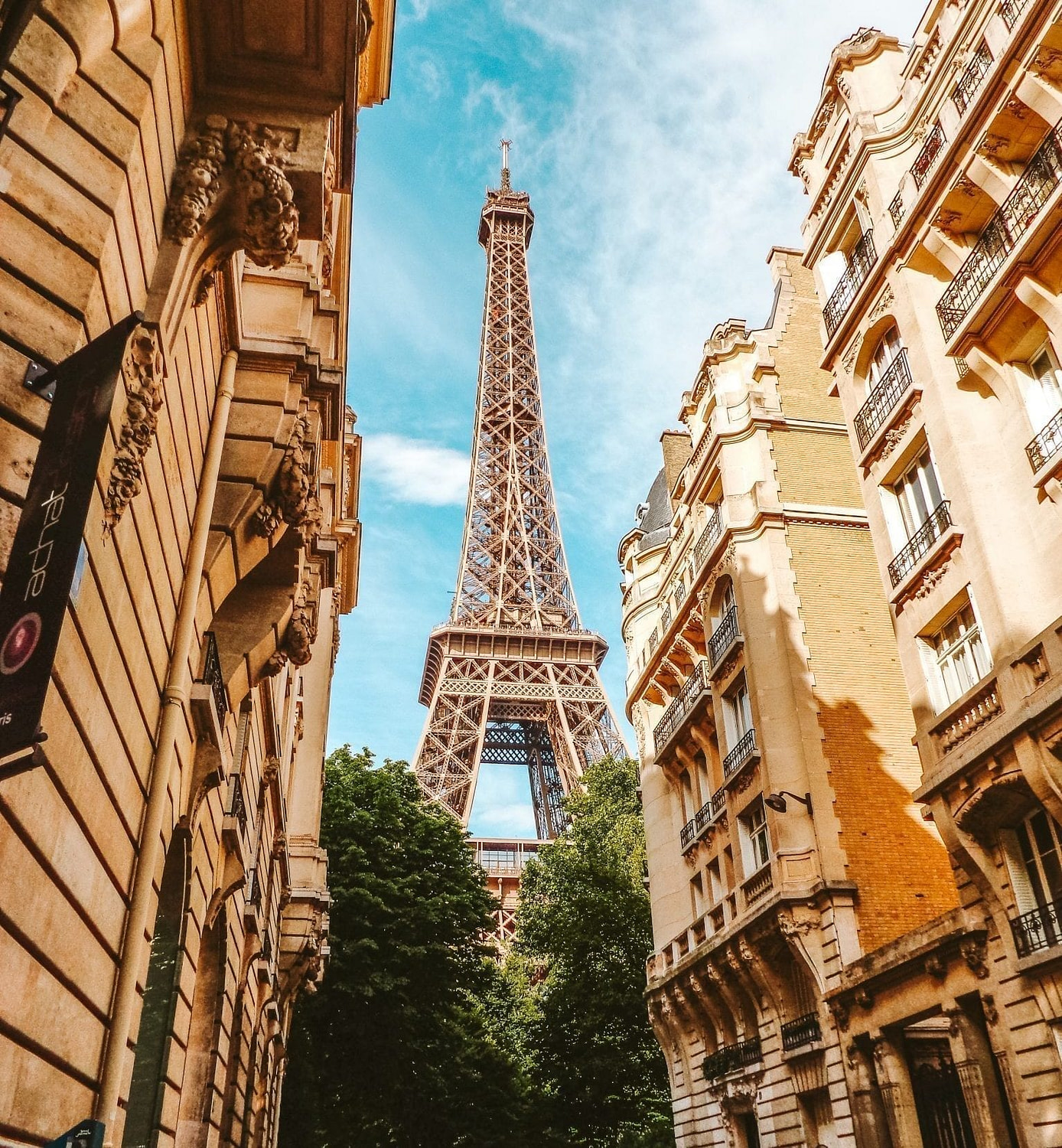 Eiffel Tower Admission
The Paris Museum Pass does not cover the Eiffel Tower so I had to pay to visit the Eiffel Tower. The cheapest Eiffel Tower admission was for a ticket with stair access to the second floor. You have to pay more to use the elevator, and more to get to the very top. I only went to the second-floor landing, as that was enough for me. I asked a lady who had just gone if it was worth it, she said no, that it was the same view.
However, when asking my Aunt, she said it was worth it. Make this decision for yourself. I don't regret going to the top. I would have had to been airlifted out of there from the massive panic attack it would have caused. And that wouldn't have faired well for the rest of my Paris trip itinerary.
Visiting the Eiffel Tower at Night
I recommend going in the evening, so this way you can see it in the daylight. Then shortly after the sun sets it lights up. Visiting the Eiffel Tower at night is a magical experience. It lights up every half hour and you can sit on the grass with a nice snack while waiting. There are loads of guys walking around selling alcohol and snacks, so don't worry if you didn't bring any.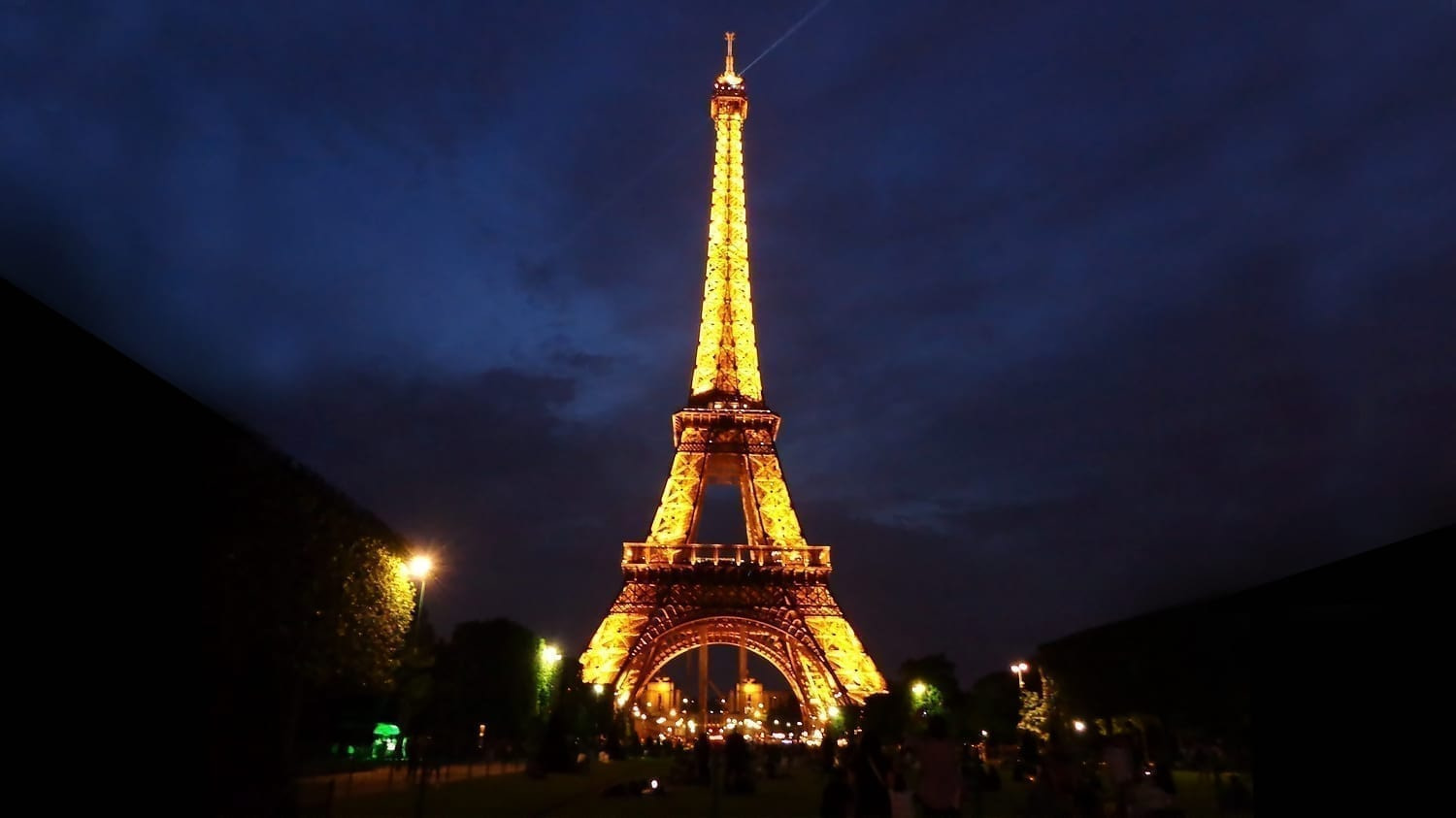 Snacking at the Champs Elysees
We, of course, stopped by arguably the most famous street in Paris, the Champs Elysees! It's akin to Los Angeles' Rodeo Drive, so if you're not into luxury shopping, then you may want to stick to just strolling by. We stopped for a quick dessert and then kept on with our Paris trip itinerary. I'd say you can skip this on your what to do in Paris in 4 days trip itinerary if you want to.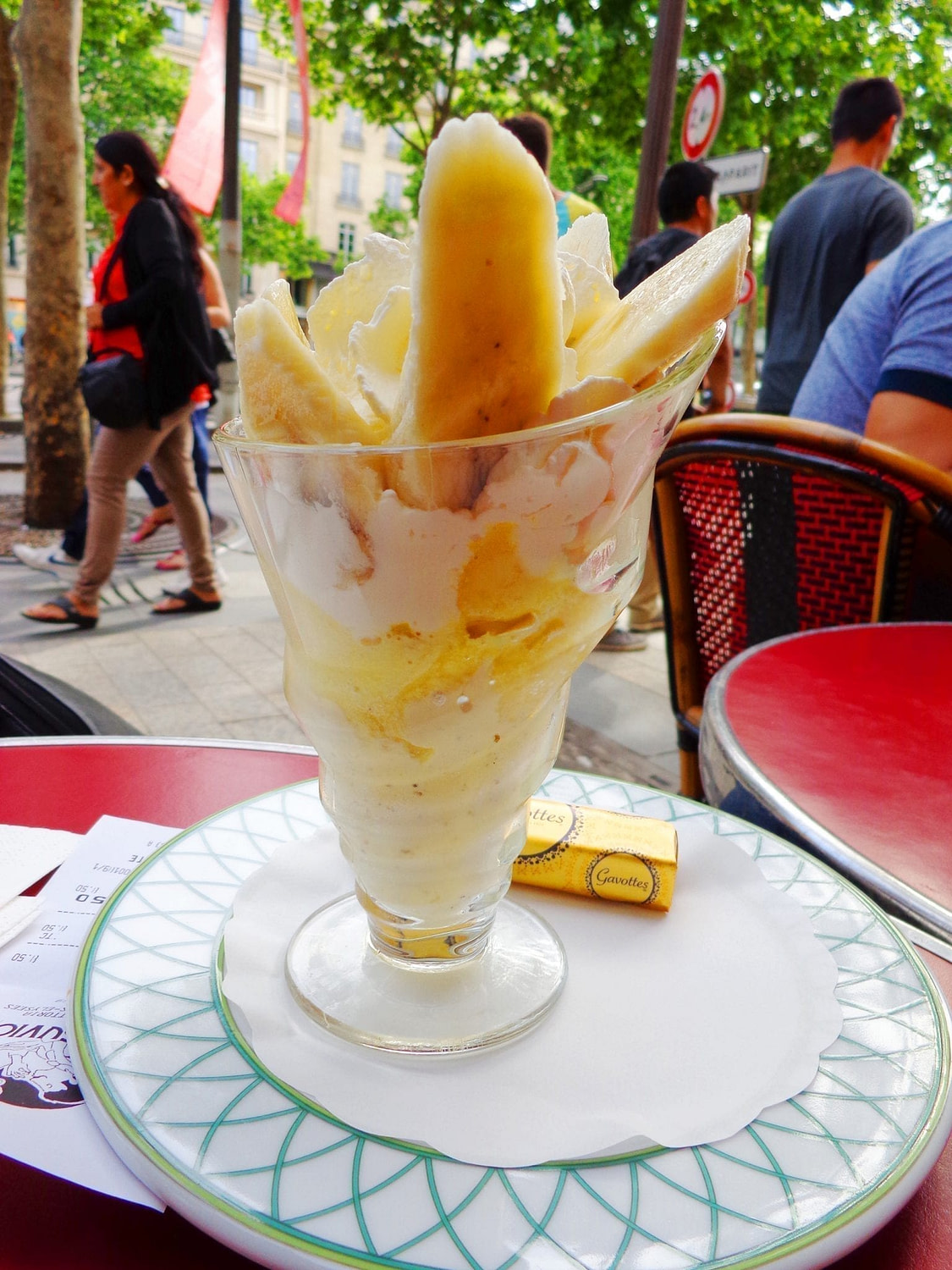 Take a Seine River Cruise
It was something my Aunt had requested. I say this as I'm not a big cruise person. However, I did wind up having a lovely time just sitting and relaxing as we passed some of Paris' most notable sites. Taking a Seine River Cruise is a low-stress way of seeing a lot during a long weekend in Paris! Some cruises also have commentary to go along with the tour and last about an hour. I do hope you get a more beautiful day than we got though, it was gloomy!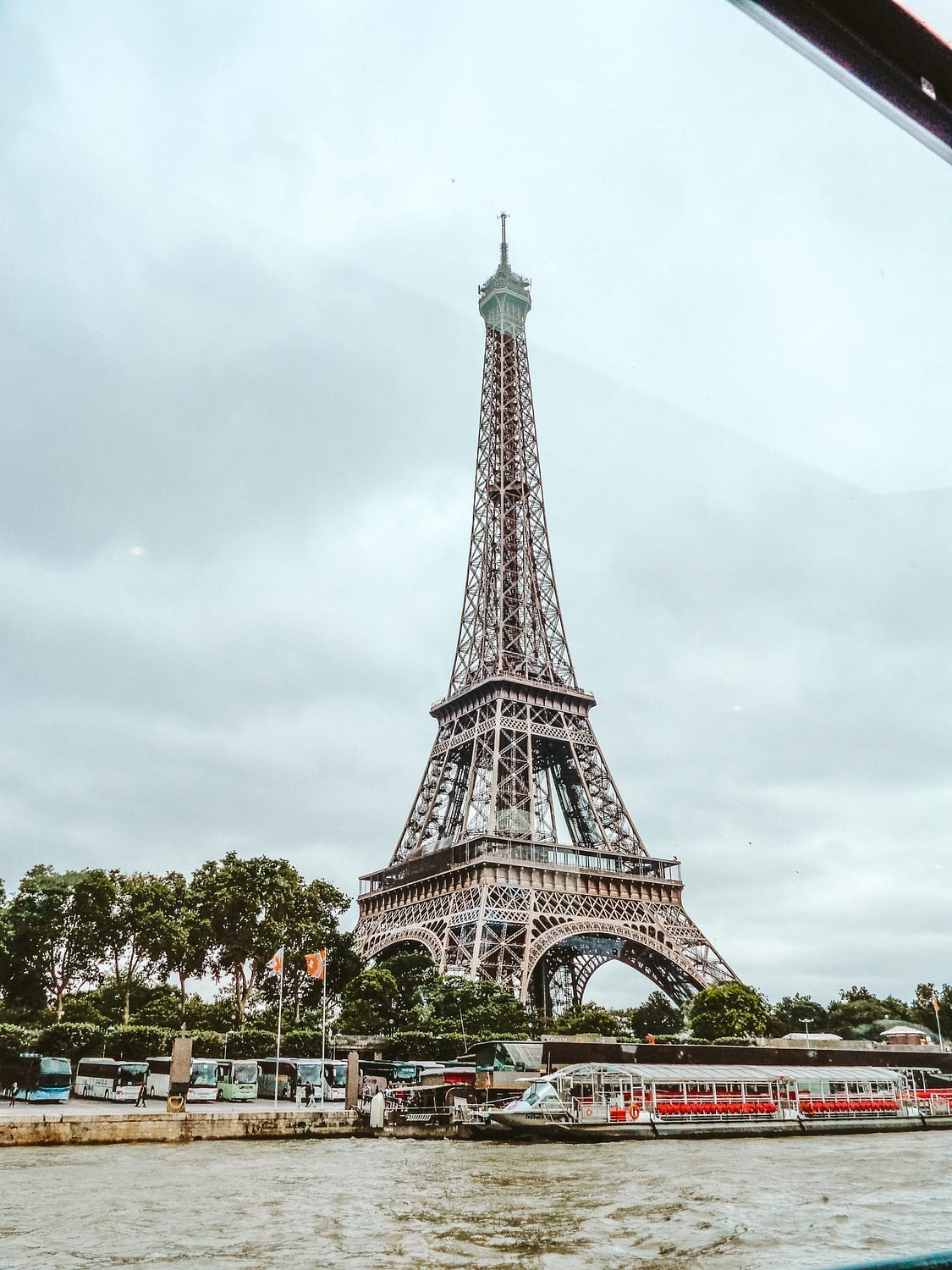 Best Paris Desserts
It's been over a year since I was in Paris but I can still remember just how amazing the food in Paris was. Once you'd tasted some Parisian food, there is nothing that will taste as good again. Trust me! Between French restaurants and places for Paris desserts. There is something for everyone! Some of the places to eat in Paris I've listed were recommended to me before my trip, some I had sought out, and some I stumbled across.
Who doesn't want to start with desserts from Paris? No one? That's what I thought! I'm sure you've already heard about how amazing the patisseries are in France. It. Is. ALL true! The thought of such delectables conjures up images of Marie Antoinette eating little cakes. Let me tell you, I could have eaten my way through these places and been perfectly happy about the 8,000 pounds I would have gained though that would have made completing the rest of my Paris trip itinerary difficult.
Angelina
Angelina may look like any old Parisian patisserie from the outside, but inside it's akin to walking into Willy Wonka's classy pastry department. I consider it the best bakery in Paris, though it is much more than that! The place is filled with fantastic, mouth-watering smells of chocolate, sugar, and creams. There's usually a line out the door, but there is a separate entrance for pickup orders. If you're just dropping by for some Paris desserts, you can go to that entrance. Your other choice is to go to the tearoom. I didn't because I was short on time as you may be during your long weekend in Paris.
Now, aside from all the amazing pastries, you can gawk at for hours, there is what I came for. The hot chocolate. When my friend recommended it, I thought how good can it actually be? It's hot chocolate for goodness sake! Boy, was I wrong! It is amazing! I don't know what they put in it, but it's like tasting heaven. No chocolate bar or hot cocoa will ever taste as good! They have a few locations, so make sure to check the website for your closest location. It is one of the best places to eat desserts in Paris!
Macarons at Laduree
Anyone who has watched Gossip Girl already knows what Laduree is, and if you haven't, you should. Laduree is the best place for macarons, my favorite of the Paris desserts! Trust me, I've tried the American macarons around Los Angeles, and they don't match up at all! The Laduree store is gorgeous and a must-visit during your long weekend in Paris! Think Sophia Coppola's Marie Antoinette scene with the desserts. Yep, it's that good!
A friend told me the Tea Salon serves fantastic food. I'll take his word for that since their macarons were terrific! I got the pistachio and salted caramel and thoroughly enjoyed snacking on them while walking around the right bank. They have locations in New York City, Los Angeles, and Miami for those not skipping across the pond anytime soon for some Paris desserts.
What to Drink in Paris: Lillet
Okay, it's not a dessert, but it may as well be! Let me start by saying that I'm afraid of falling. I'm not scared of heights like most people will tell you because I do just fine in an airplane. I am afraid of falling from a great height, so the impending trip to the Eiffel Tower wasn't my favorite thing on the list. Sure, when you're in Paris you have to go to the Eiffel Tower, and I knew I would, I just wasn't going to be thrilled about it.
Before I made the long walk up, my Aunt and I stopped for some Parisian food and a drink. I'll be frank about it. I needed liquid courage. I had never tried Lillet before, nor had I ever heard of it. But we saw a poster at the restaurant with a cold glass (it was HOT out) of Lillet with some fruit in it and decided to try it. It was wonderful, especially since it had been so hot that day! In the states, you can buy this at BevMo if you're not spending four days in Paris imminently but want to try Lillet. In Paris, many of the restaurants serve it.
Where to Eat in Paris: The Best French Restaurant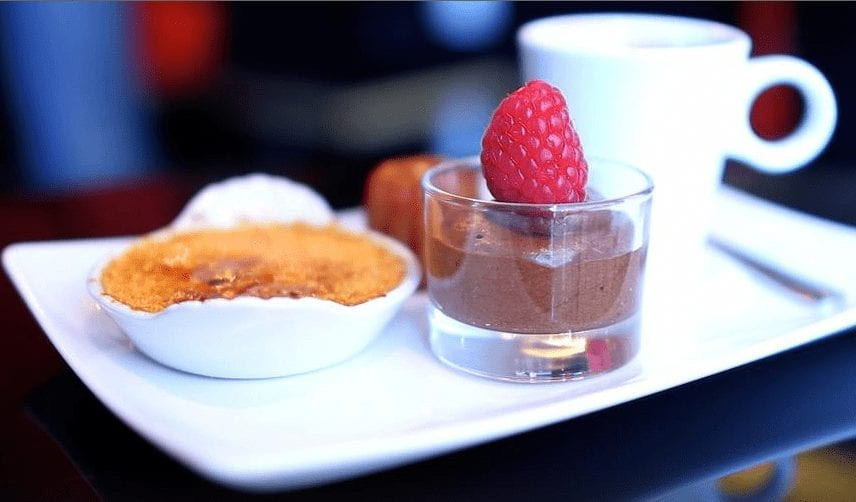 I stumbled across L'Imperial while looking for a place to eat that wasn't going to drain my bank account. Some places in Paris are costly, some have tiny portions, and some don't taste that great. L'Imperial is none of the above and is an excellent place for budget travelers looking for food in Paris. They were well-priced with hefty portions and had pasta to die for! Literally, I was stuffed, but because it was my second to last day in Paris and I knew I wouldn't be back anytime soon, I scarfed down the whole plate of pasta. It was a BIG plate!
Ending Your What To Do in Paris in 4 Days Interary
It was followed by a nap in a park, the only way to digest pasta properly in Paris, in my opinion. The interior design is a little too mod for my taste, but the waiters were very nice and prompt with the food. If I could ship their pasta to my door right now, I would, that's how good it was! It was my favorite of all the food in Paris I tried! If it's not already clear, I would highly recommend eating here during your long weekend in Paris.
Is Four Days in Paris Enough? A Long Weekend in Paris
These locations are somewhat close together, so doing Paris in four days is entirely possible. Make sure to build yourself a map to help you get around. I hope this helps you when you're on your way to your long weekend in Paris, as these are the highlights of what to do in Paris in 4 days. If you have more time, say one week in Paris, I would recommend getting out of Paris and seeing some of the rest of France, such as the Chateau Pierrefonds.
Looking for a day trip from Paris?: Visit the Palace of Versailles
Tips on where to stay in Paris?: Found out about European hostels
Looking for even MORE things to do in Paris?: Check out this perfect Paris trip itinerary
Want to remember this? Post this How to Spend Four Days in Paris article to your favorite Pinterest board!