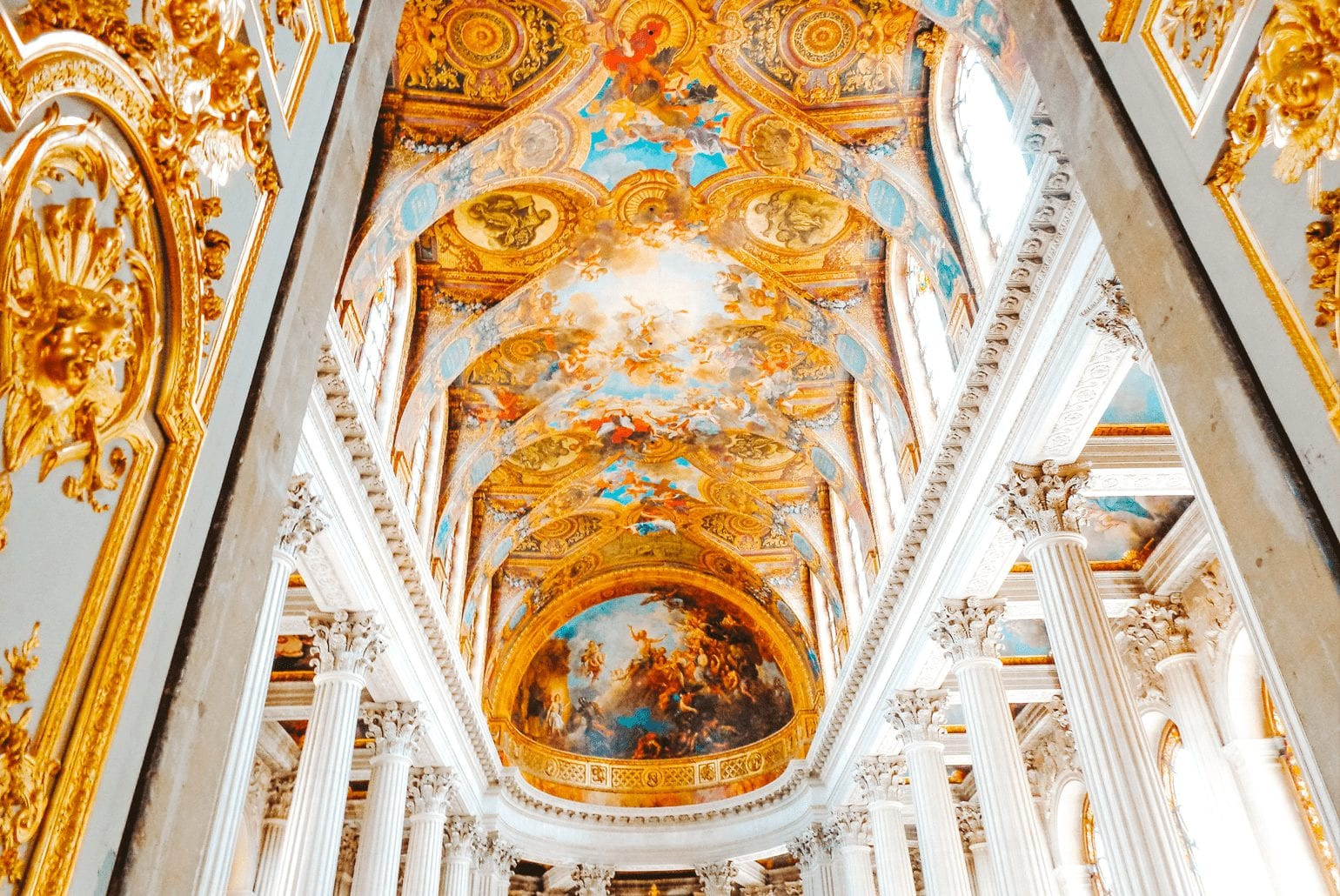 Tips for Getting from Paris to Versailles and Touring the Palace
Located southwest of the center of Paris, getting from Paris to Versailles for a day trip is pretty easy! The Palace of Versailles was the principal royal residence of France from 1682, under Louis XIV, until the start of the French Revolution in 1789, under Louis XVI. Side note, there's a wonderful Versailles TV show about the former King that you should definitely watch! Before my visit to Versailles, I had a lot of expectations about it. I am a history nerd after all! So it had been on my bucket list for a WHILE. So let me tell you what I thought about visiting Versailles from Paris.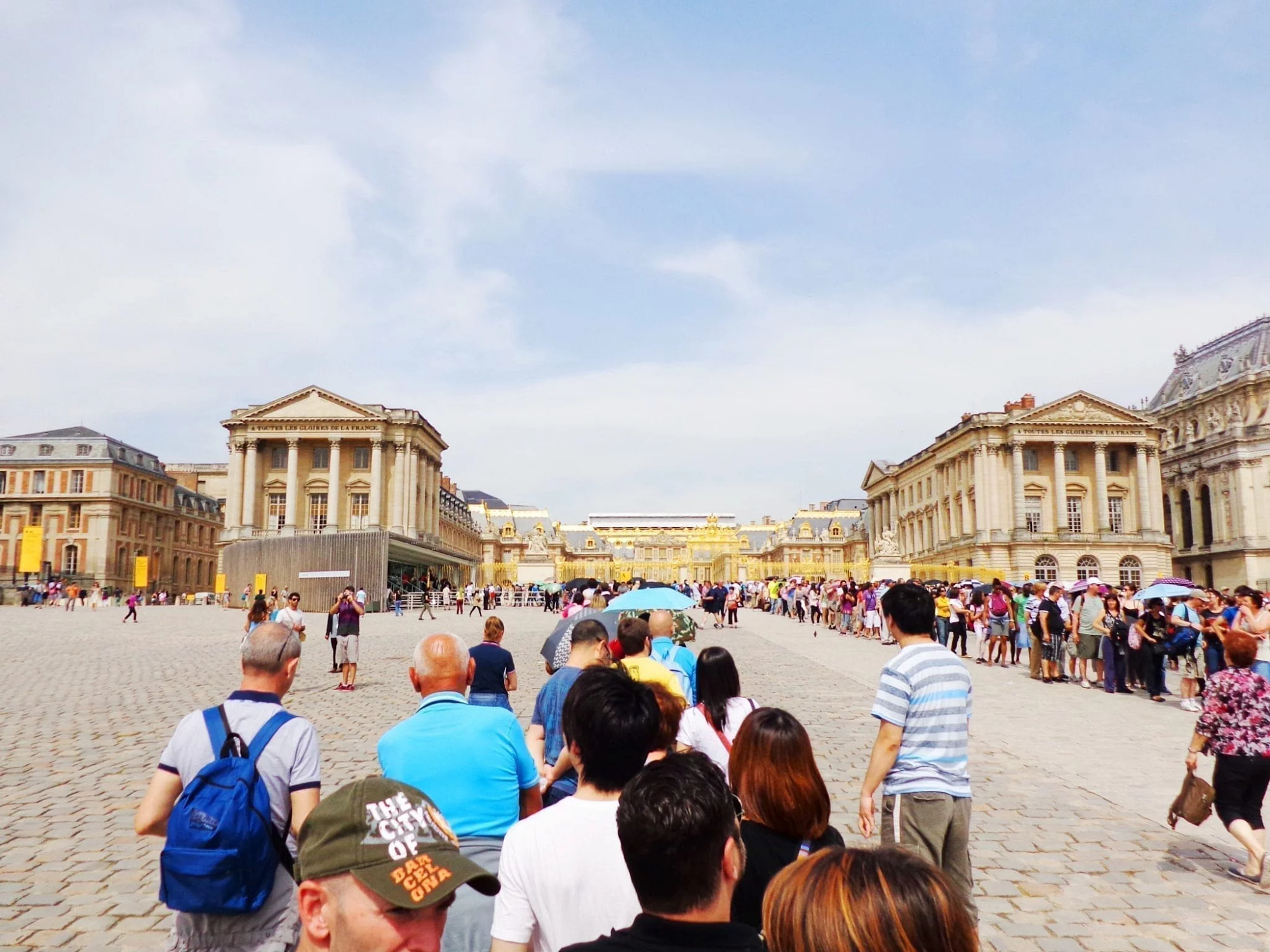 Getting from Paris to Versailles
Versailles was my first stop after landing in Paris the night before via the Chunnel. I highly recommend the Chunnel, by the way, it takes no time at all! The best way to get to Versailles from Paris is by the RER train; it's also the cheapest option.
A round trip to Versailles by train costs about 7€ per person. It will take you about 45 minutes to get the Palace of Versailles (16 miles each way). There are three train stations in Versailles, the closest one to the Palace is Versailles Château Rive Gauche (look for VICK or VITY). From there, it is just a 10-minute walk to the Palace. It's pretty flat, so the walk isn't strenuous. You can also take a shuttle or bus to get to Versailles.
Planning a Paris to Versailles Day Trip
There were so so so many people at Versailles that day! We waited in line for over an hour. It felt like waiting in line at Disney World. On top of that, it was scorching outside, so that didn't help. Bring snacks, water, sunblock, and a hat if you go in the summer!
Versailles Opening Hours
Versailles hours are every day starting at 9:00 am, except for Mondays. The Estate of Trianon and the Coach Gallery are only open in the afternoon. The Versailles Gardens and Park are open every day and free except on days of the fountains shows. I didn't see the fountain show, but after seeing the one in Salzburg, I think you should if it's even remotely alike!
Versailles Entrance Fee
I had the Paris Museum Pass, which I would highly recommend, that included Versailles. However, it does not include the musical water show or musical gardens. You can instead purchase a Versailles entrance 'passport' fee online or at the Palace if you're not getting the Paris Museum Pass, or would like to add the show or gardens.
There is a variety of passports, depending on what you want to see. There is one where you can go in with timed entry to avoid the crazy lines. If you're going in peak season, I'd recommend this. To save even more time, you can buy online and download their free mobile app to be used instead of the audioguide. Download at your hotel or hostel so that you're not trying to download while at the Palace of Versailles. If you're under 18 (or under 26 residing in the EU), you can get into the Palace and the Estate of Trianon for free. That's right, no Versailles entrance fee!
A Tour of Versailles
Now that we have all the planning pieces out of the way. What did I think of my day trip from Paris to Versailles? I do have to say that it is gorgeous at Versailles, but I don't feel that they put enough personality into it. While walking through with the audio guide, it felt as if no one had ever lived there. The bedrooms were gorgeous, but I thought that they should have made it more personal for the visitor.
The Diamond necklace affair, where Marie Antoinette was nearly killed, was just glazed over. Granted, a lot of the original items of the Palace were destroyed during the revolution. However, that's why you have replicas or at least items from the same period.
A palace that one hundred percent pulls out all the stops is Hampton Court Palace. I feel like if Versailles had done a fraction of what Hampton Court does, I would have enjoyed it more. If you want to visit a palace in France, I'd recommend going to the Palace of Fontainebleau instead. Though I have not gone myself, many people had recommended it before my trip and after my sentiments. Lessons learned!
The Marie Antoinette Estate
The one place I found quaintly beautiful was the Queen's Hamlet. As part of the Marie Antoinette Estate, it had its beginnings as a gift from Louis XVI to Marie Antoinette in 1774. She had trouble adapting to court life, so this rustic retreat in the park of the Château de Versailles was built for her in 1783 near the Petit Trianon. The Marie Antoinette Estate served as a private meeting place for the Queen and her closest friends. The area includes the Petit Parc, the Estate of Trianon, home to the Grand Trianon and Petit Trianon palaces, as well as the Queen's Hamlet and gardens.
The traditional rustic architecture of Normandy inspired the Queen's Hamlet. Including a model village, windmill, dairy, dining room, salon, billiard room, and boudoir. Contrary to the public beliefs of Marie Antoinette, she did not "play at being farmers." Since it was a fully functioning farm, which she insisted upon, it shows that it had an essential part in the education of her children. Marie Antoinette also used the hamlet for promenades and hosting guests. While we're at it, she never said, let them eat cake!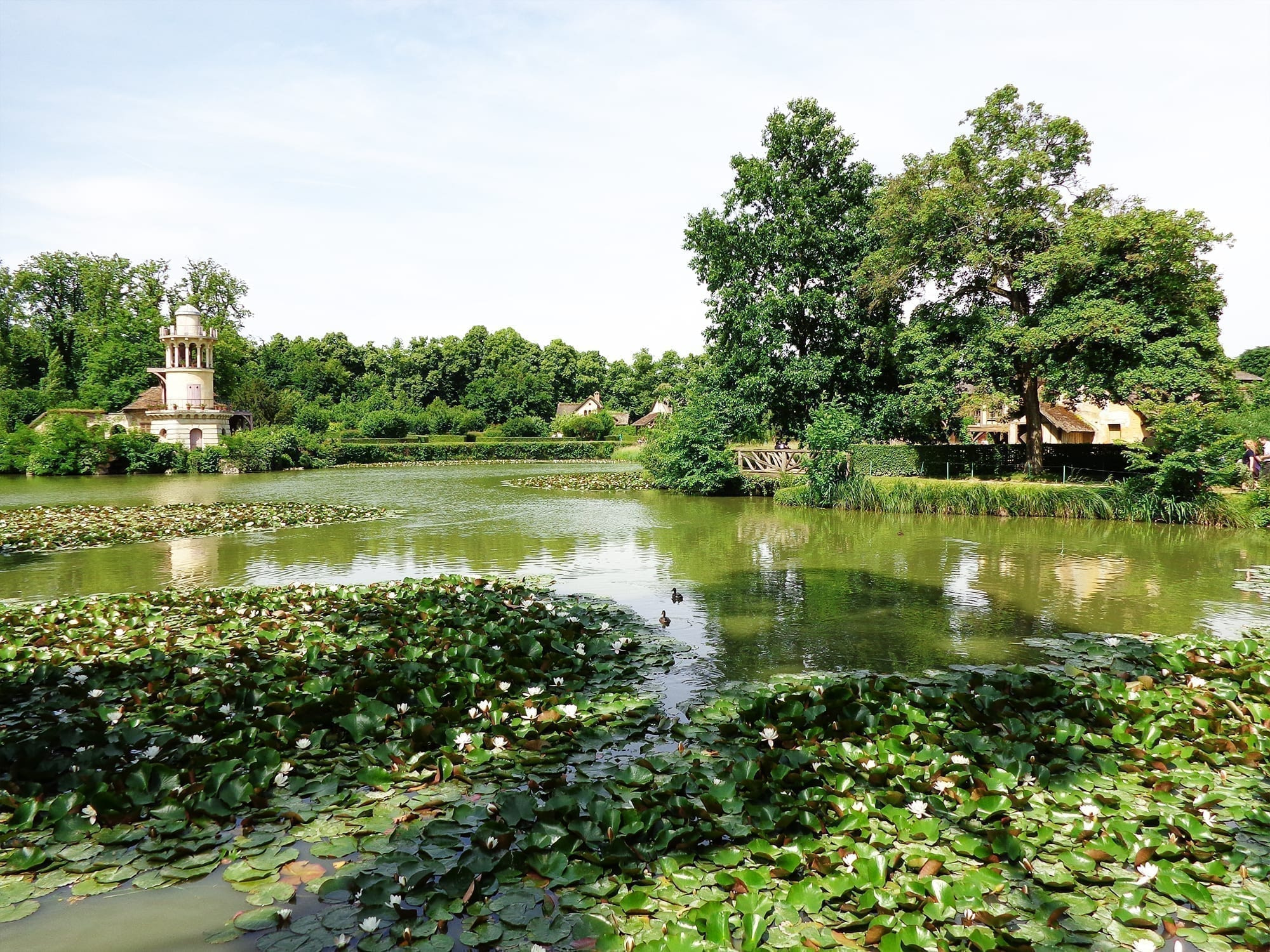 Visiting Versailles
I would say that if you are a big fan of French royalty, then taking a day trip from Paris to Versailles is worth it. There were things I liked, such as the Marie Antoinette Estate (Queen's Hamlet), but I don't know if it was worth spending a good half-day at the Palace of Versailles.
If I were to return, I'd visit the Palace of Fontainebleau instead. However, getting from Paris to Versailles isn't very hard and the Versailles entrance fee it's too bad so it's a great destination if you're looking for something nearby Paris on a budget.
Want to remember this? Post this Getting from Paris to Versailles and Touring the Palace article to your favorite Pinterest board!