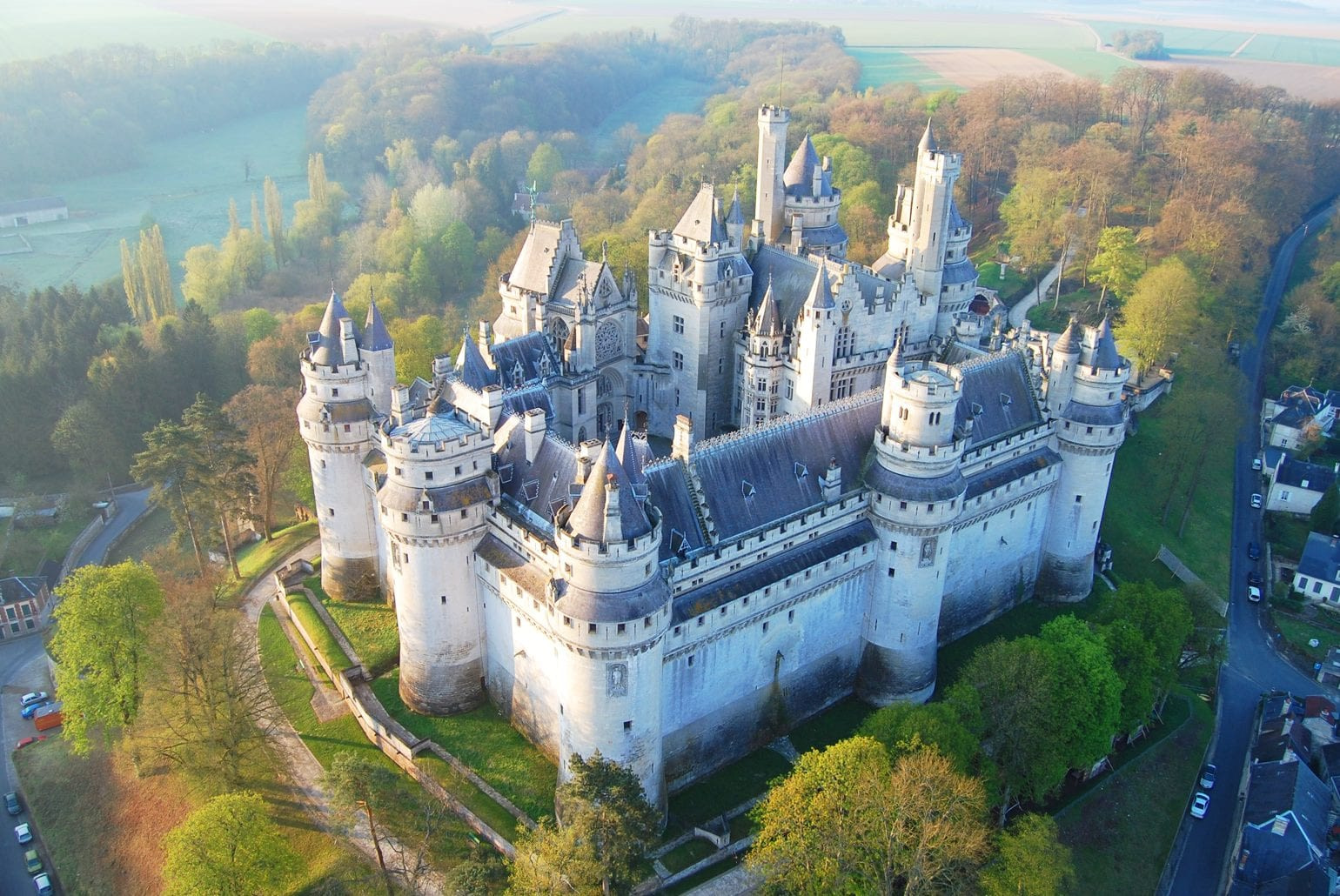 Visiting Merlin's Fairytale Chateau de Pierrefonds in France
My favorite place in France has to be Chateau de Pierrefonds! I just absolutely adored visiting this fairytale French castle! It costs a pretty penny to get there, but it is well worth it to see one of the best castles in France. Situated on the southeast edge of the Forest of Compiègne, just northeast of Paris, makes it a great day trip from Paris. So my lords, ladies, and knights let's go onward to Camelot!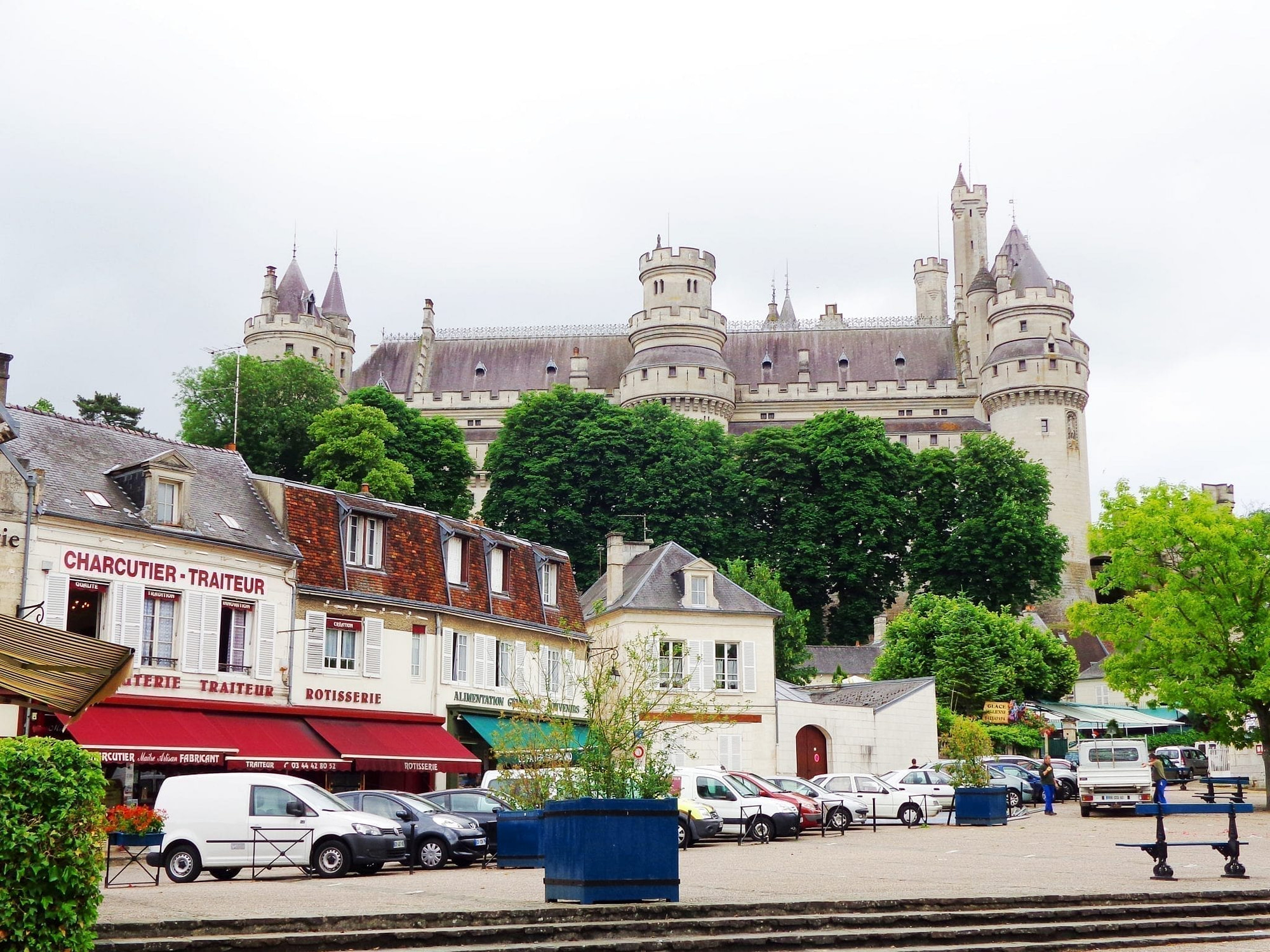 How to Get from Paris to Chateau de Pierrefonds
Unfortunately, there is no train directly from Paris to Chateau de Pierrefonds so you'll have to take a train to the closest station, which is Compiegne, then take a taxi to the Chateau. I'm told there is a bus from the station, but at the time, I didn't find any reliable information on the times it was running. I've seen online that it's bus Ligne 27 Compiègne- Pierrefonds but doesn't operate on Sundays or public holidays. Also, it appears that it only runs once a day. I found out later that it would have been cheaper to rent a car and drive there, as, between my Aunt and myself, we spent more on the train and taxi fare than the price of a rental. Live and learn! And that's why you're reading this!
Chateau Pierrefonds is included in the Paris Museum Pass, so no need to fork out extra money to gain entrance. Upon arriving, you'll find a quaint little town surrounding this gorgeous French castle. I can't imagine growing up there; having a castle in town?!? Crazy!?!?

When Was the Chateau de Pierrefonds Built?
Château de Pierrefonds was built on the site of an ancient manor overlooking the town. The original castle on this site was built in the 12th century. Then in between 1393 and 1407, the castle was rebuilt by the French court architect, Jean le Noir. Fast forward two centuries more and it was besieged and taken by troops sent by Richelieu during Louis XIII's reign to stop his enemies from using it as a refuge. They began to demolish it but didn't finish since it was such an immense task. The exterior was razed, roofs destroyed, and holes made in the towers and curtain walls.
Chateau de Pierrefonds Facts
Remaining a ruin for two centuries, Napoleon I bought it in 1810 for less than 3,000 francs. It was classified as a historic monument by the French Ministry of Culture in 1848. In 1850, Louis-Napoléon Bonaparte (later Napoleon III of France) visited Pierrefonds Castle and asked that the castle be restored with the "picturesque" ruins in front be kept for decor. However, plans changed in 1861, as he now wanted it to be an imperial residence, so the entire castle was rebuilt. The death of Napoléon III halted the reconstruction as well as a lack of money. This in effect left the room decor unfinished.
It should be noted that the work that was done was more of an invention than restoration. It was imagined by Viollet-le-Duc, a French architect, and author who restored many prominent medieval landmarks in France. He rebuilt it upon what the castle ought to have been, rather than basing his work on the history of the building. However, his work on the exterior showed his excellent knowledge of the military architecture of the 14th century.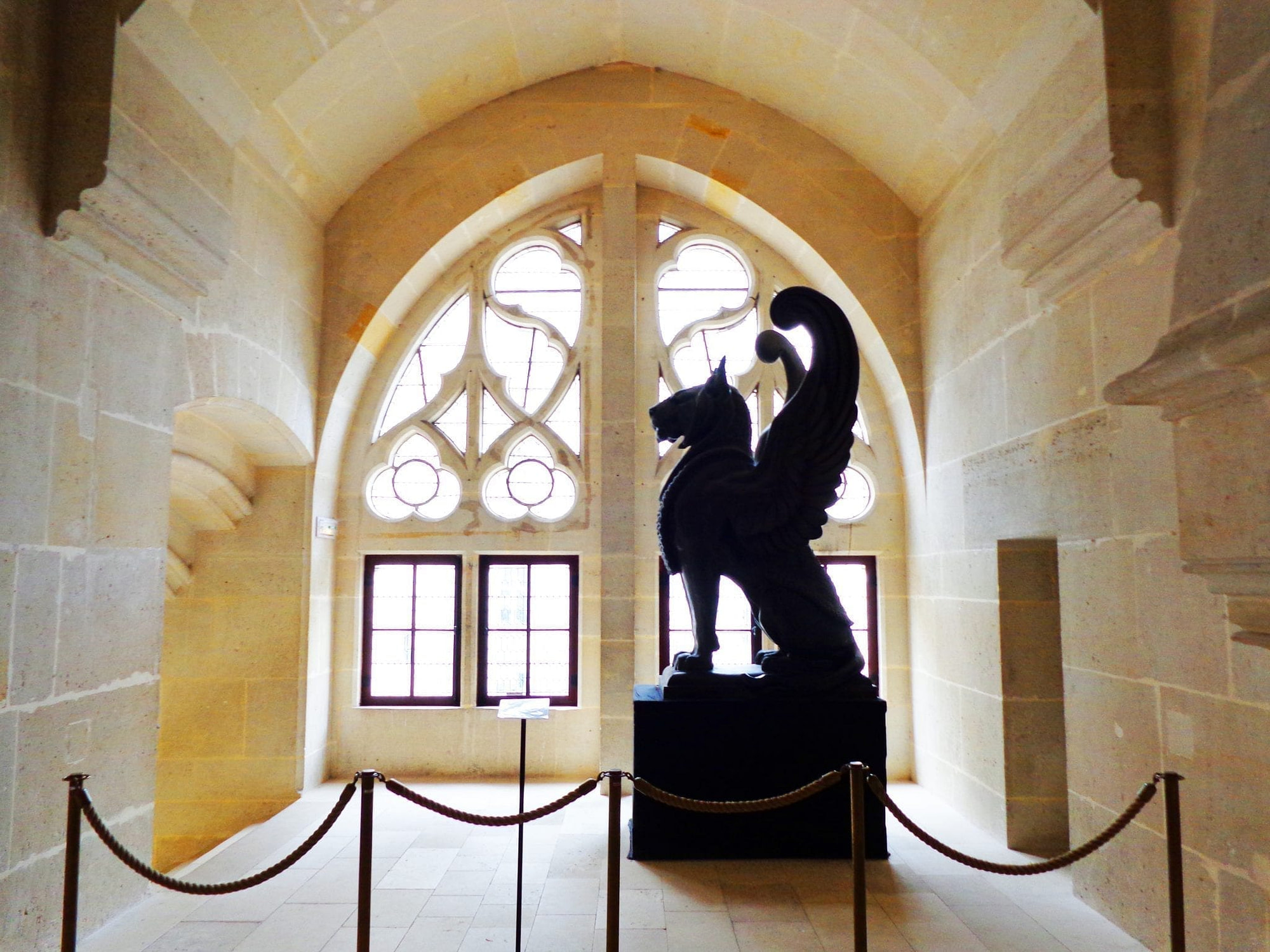 One of the Best Castles in France
Though not restored in the traditional way, Viollet-le-Duc gave immense care to Pierrefonds Castle. I found craftsmanship in every corner! The inside is mildly decorated because of the historical lack of funds, but you can still feel the aura of it. Probably helped out the TV series Merlin as they could bring in their own decor rather than having to worry about not damaging or moving what was already existing. The castle has eight towers adorned with "statues of worthy" knights:
Biblical Warrior Kings: David, Judas Maccabeus, and Joshua
Kings of Great Empires and Heroes of Antiquity: Caesar, Alexander the Great, and Hector
Christian Heroes of the Middle Ages: Charlemagne, King Arthur, and Godfrey of Bouillon
Chateau de Pierrefonds with Merlin
For those TV and Film buffs out there, you'll probably recognize it from Merlin, Narnia, Man in the Iron Mask, and more! Since Merlin's filming ended, the traffic at the Chateau de Pierrefonds has slowed down. There were probably ten other people in the whole place while I was there. While sad, it did make me feel as if I were in my own castle rather than just visiting one.
There is something to say about going to further reaches outside of Paris to get a quieter experience than say a palace like Versailles. I felt like I really had free reign! You're handed a map upon entering by one of their wonderful staff and that's about all the guide you're going to get. Unless you speak French, you're on your own. And honestly, the map of this French castle alone was entirely sufficient to take a tour.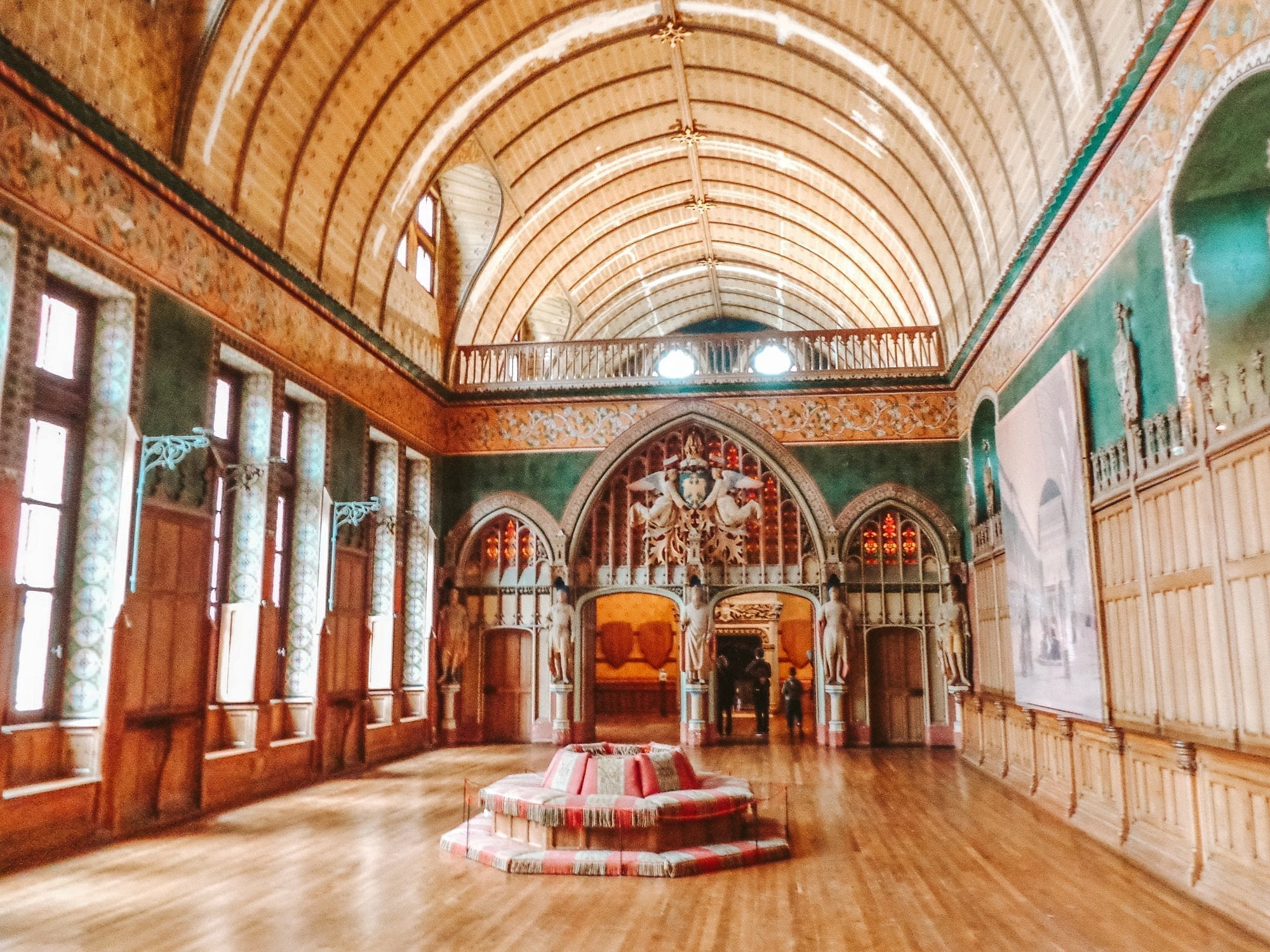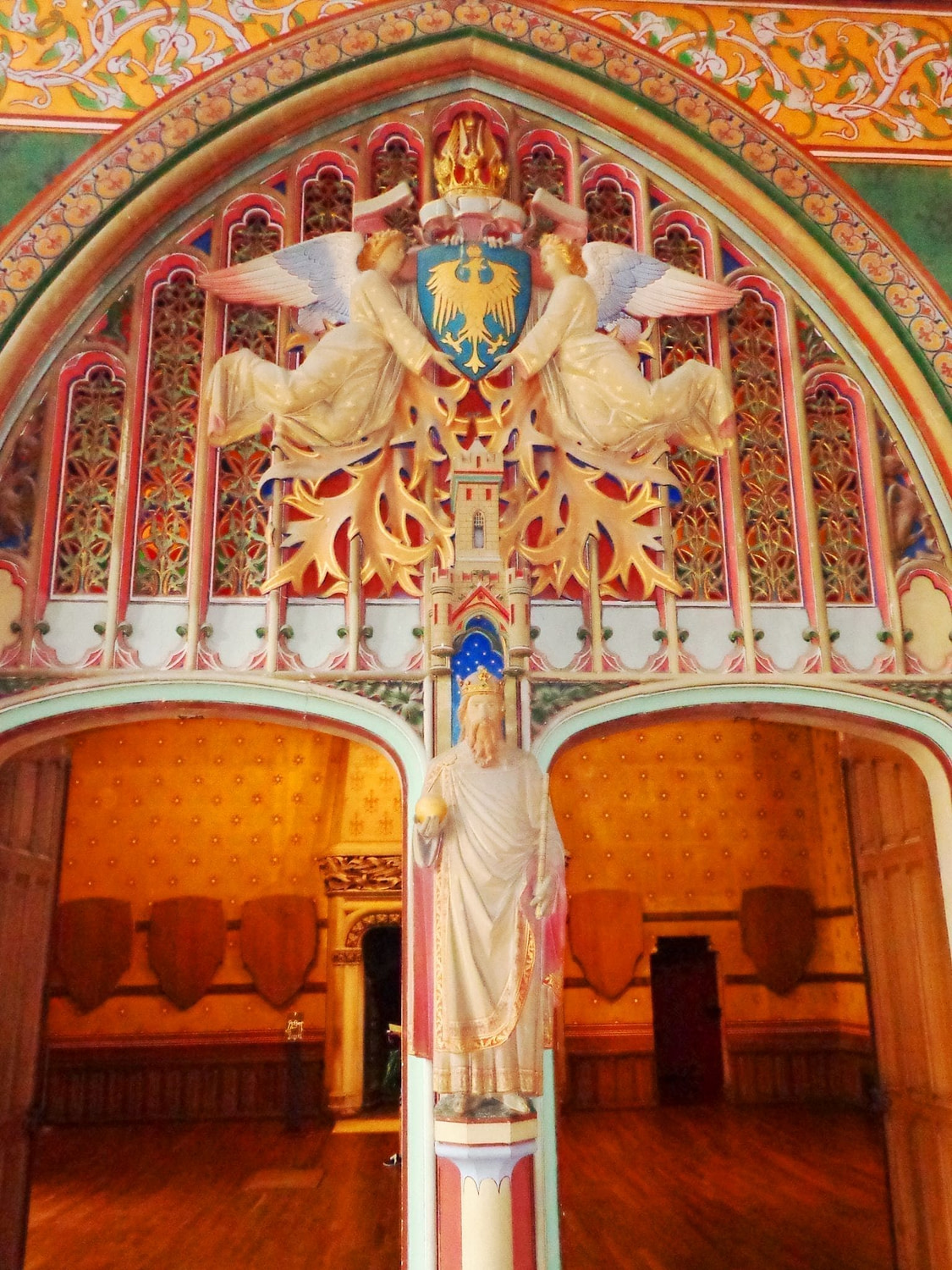 Knights of the Round Table
The large room pictured above was used to house the round table for the knights in Merlin. It has also been used for many other films. The room has two levels and is very very long. There's a massive fireplace that was taller than my Aunt! A lot of the decorations were wood carved if I remember correctly. The other cool thing was that the furniture in there is original.