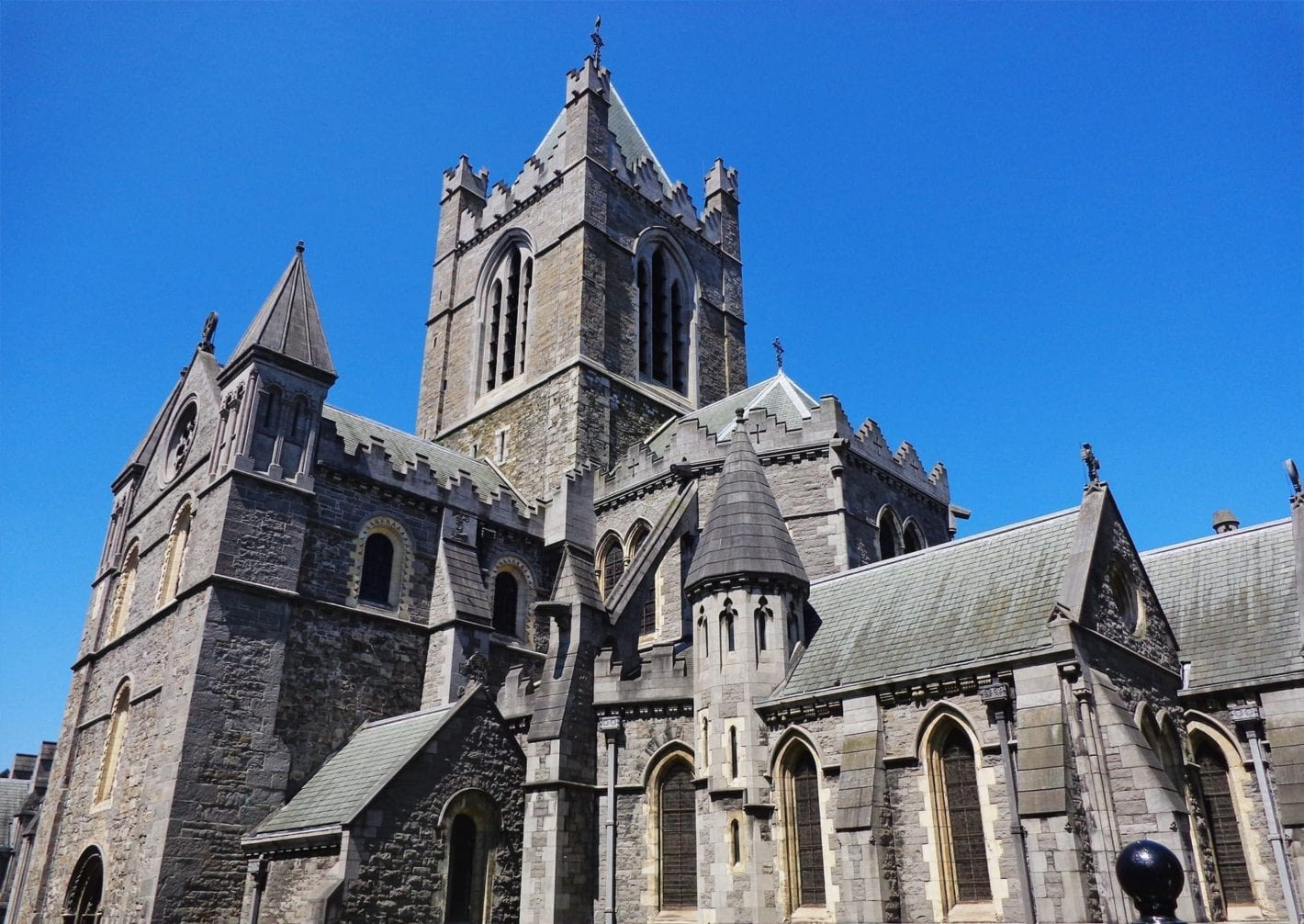 If you're planning a trip to Ireland, you'll need to know how many days to spend in Dublin. I tend to move fast and get a lot in. With 2 days in Dublin, I was able to see a good number of the enchanting sites on offer. Dublin, which is the capital, is the home to some of the best places to see in Ireland, namely historic buildings like the Dublin Castle, St Patrick's Cathedral, Kilmainham Gaol, the National Museum of Ireland, and Christ Church Cathedral in Dublin. As well as some more recent attractions like the Guinness Gravity Bar. All of which should be added to your Dublin itinerary stat! And if you have more than 2 days in Dublin, I would advise you to check out this complete guide to Dublin that provides even more excellent places to check out!
Getting Around Dublin
Need to know how to get around in Dublin? Public transportation is excellent in Ireland, but since I like walking, I didn't use it. You could actually use this guide as a walking tour of Dublin.
Christ Church Cathedral in Dublin
First on your Dublin itinerary, is the Christ Church Cathedral. The cathedral was founded sometime after 1028 when King Sitric Silkenbeard, the Hiberno-Norse king of Dublin made a pilgrimage to Rome. It is a beautiful church and if you get the tour they may even let you ring the bells! For that reason alone, it should be one your list of things to do in 2 days in Dublin!
Fun fact, they also filmed many scenes of the Tudors here, including Anne Boleyn's coronation. The Foxy Friars is the nickname for the monks here, yes I know, it sounds more like a stripper name. Christ Church Cathedral in Dublin is the older of the city's two medieval cathedrals, the other being St Patrick's Cathedral. It is located in the former heart of medieval Dublin, next to Wood Quay at the end of Lord Edward Street.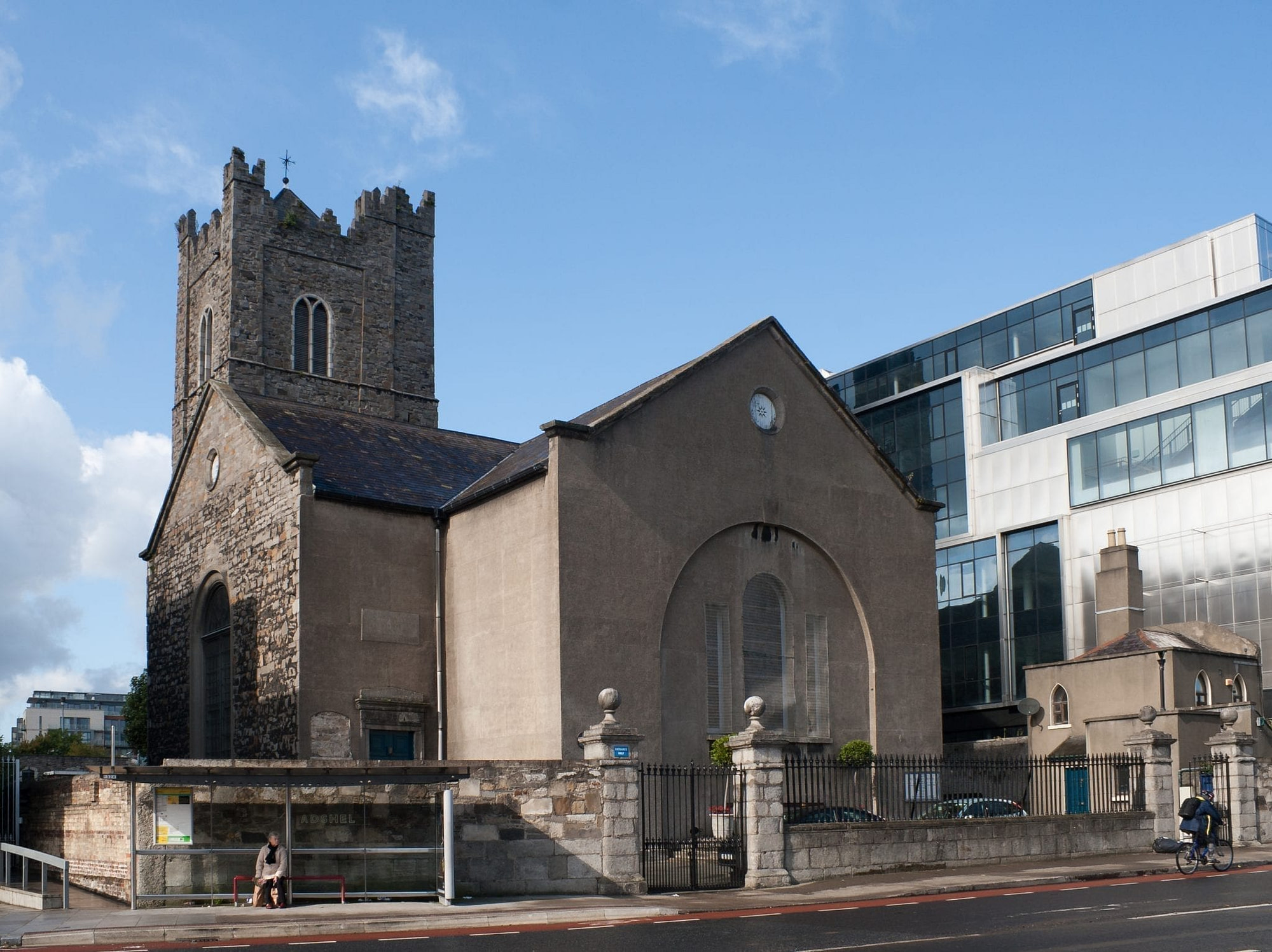 St. Michan's
Next on your Dublin itinerary is St. Michan's, an underappreciated church since it's less well known. The first Christian chapel on this site dates from 1095 and was as a Catholic church until the Reformation. Now operating as the Church of Ireland, it dates from 1686 and has served for more than 300 years. Probably the most unique experience I've had in a church is when I went into their crypts and got to "shake hands" (rub the finger) of an 800-year-old crusader! It's supposed to be good luck; else I probably wouldn't have done it!
Update: Several crypts in the St. Michan's vaults were damaged by vandals in 1996 and again in early 2019. Following the 2019 incident, several mummified remains were desecrated, including the remains of a 400-year-old nun, and the decapitation of the 800-year-old crusader that I shook hands with. The church vaults had historically been open to tours, receiving approximately 27,000 visitors during 2018. However, following the horrible 2019 incident, these tours were "canceled for the foreseeable future." I'm sad this unusual experience will no longer be on the Dublin itinerary.
Photo from Andreas F. Borchert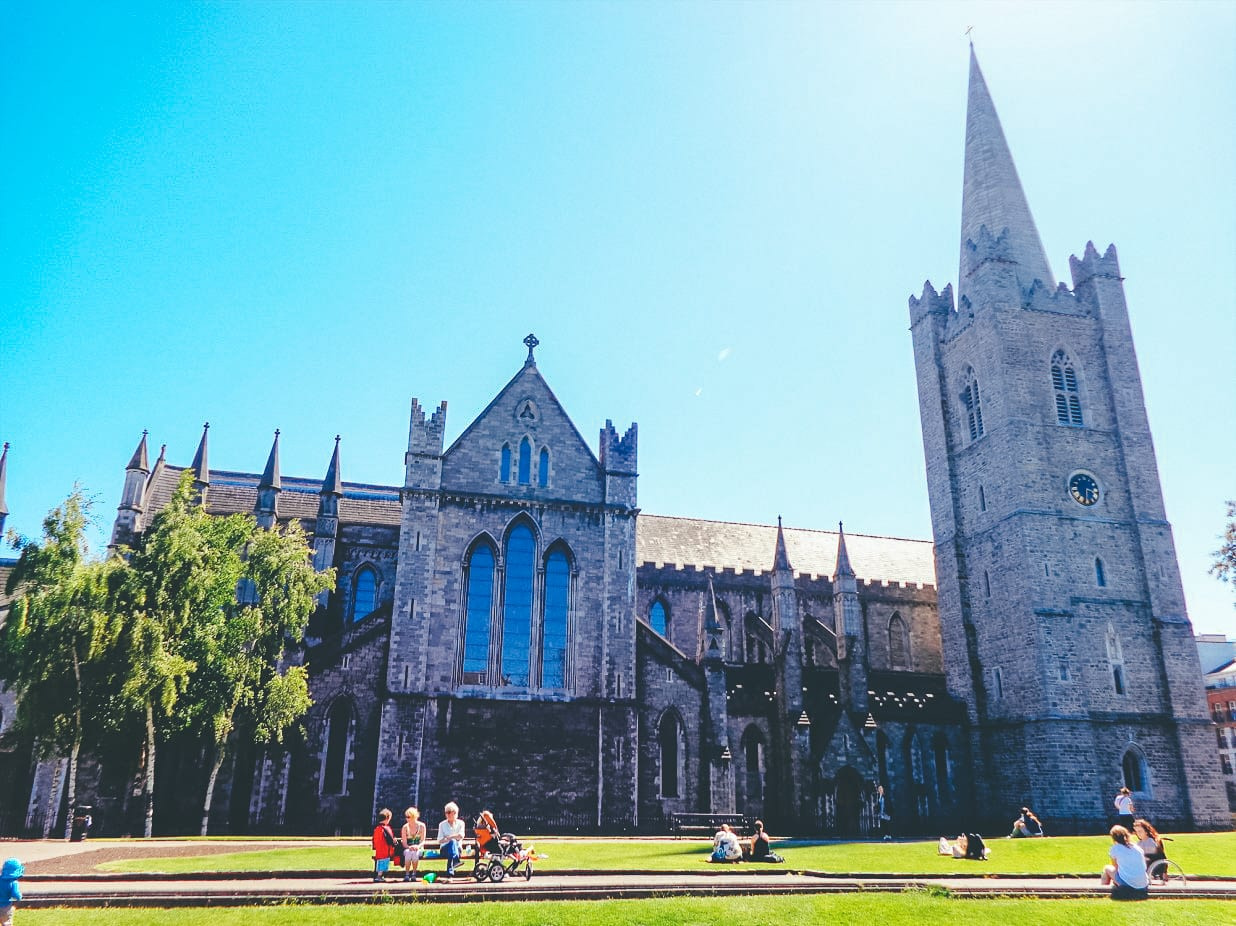 St. Patrick's Cathedral
St. Patrick's Cathedral, the younger medieval cathedral was founded in 1191 and is the National Cathedral of the Church of Ireland. With its 43-meter (141 ft) spire, St. Patrick's is the tallest church (not Cathedral) in Ireland and the largest.
Christ Church Cathedral and St. Patrick's are in a sort of rivalry since each is funded by one of the two leading alcohol distributors, Guinness and Jameson. I can't recall which is which, but since major reconstruction for St. Patrick's was paid for by Benjamin Guinness, in 1860–65, I'm going to guess they are on the Guinness side. The Guinness family is viewed so highly that they get front row seats in the church, right next to the President. What does that tell you?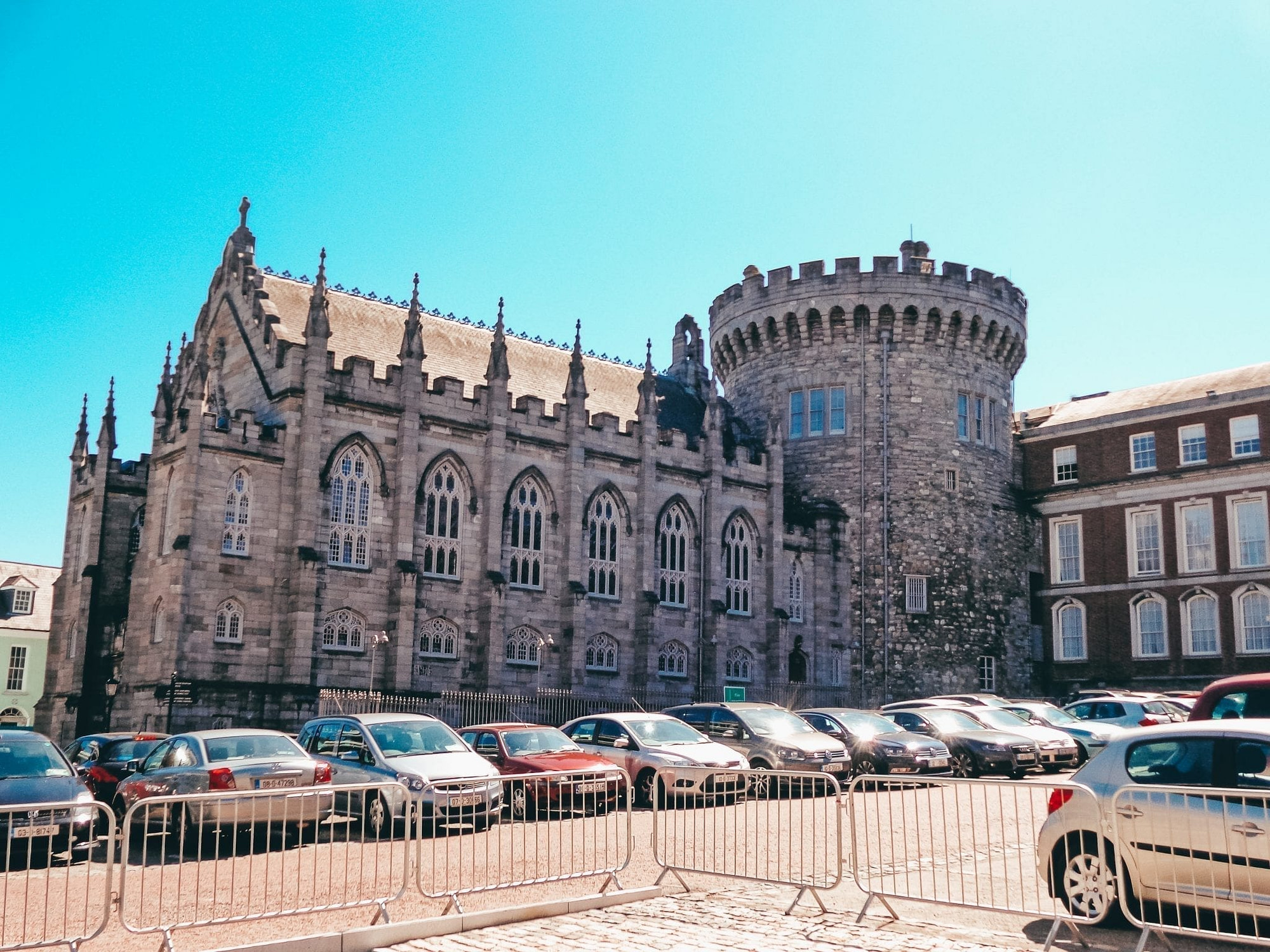 Dublin Castle
Dublin Castle, pictured above, is awesome to look at but you should note that when I went, they said that they didn't allow the public in as this is where their government is housed. However, I have since heard that they do guided and self-guided tours. So if you're looking for a castle in Ireland to tour, just double-check online with this one beforehand.
Another great Irish castle to see nearby is Malahide Castle. Until 1922 it was the seat of the British government's administration in Ireland. The castle was built by the dark pool ("Dubh Linn"), which gave Dublin its name.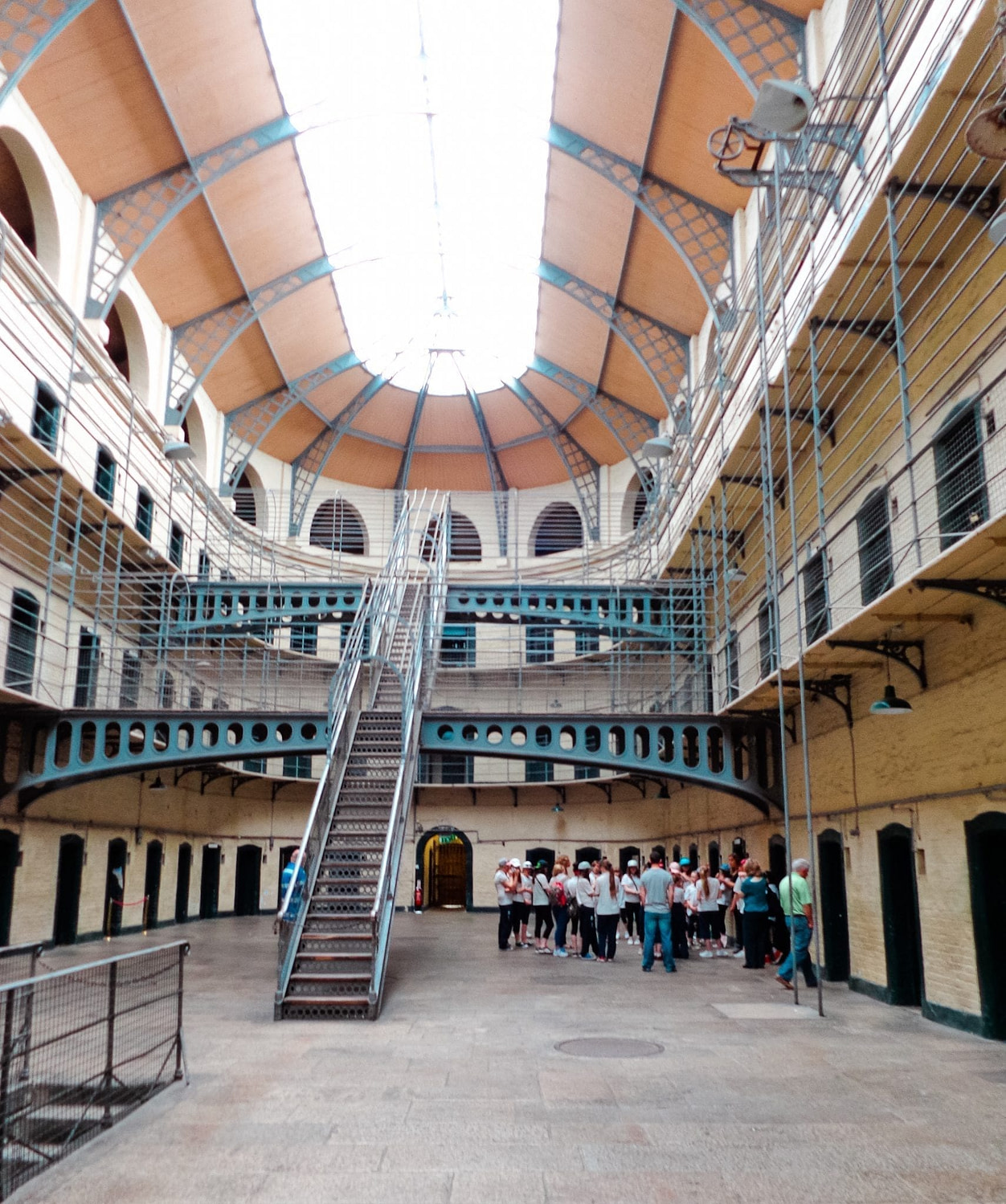 Kilmainham Gaol
Kilmainham Gaol (Jail) is definitely worth seeing and was my favorite thing I did during my 2 days in Dublin. It opened in 1796 as the new County Gaol for Dublin. Many Irish revolutionaries, including the leaders of the 1916 Easter Rising, were imprisoned and executed in this prison by the British. As there was no segregation of prisoners, men, women, and children were incarcerated up to 5 in each cell. They were provided only a single candle for light and heat and had to make that candle last for two weeks. Talk about poor conditions. Kilmainham Gaol closed its doors in 1924.
While also a filming location for several TV shows and films, what is most fascinating about Kilmainham Gaol is the structure itself. "It is possible to see all ninety-six cells from a central viewing area. The use of light was deliberate and philosophical. It was thought that the huge skylight would spiritually inspire the inmates, while the out-of-reach cell windows would encourage them to turn heavenward." For sure add this to your itinerary for your 2 days in Dublin.
The National Museum
One of the best things about Dublin is that it's pretty cheap. Some things are even free so you can get a lot in for a little with 2 days in Dublin for cheap! They may ask for a donation, as with The National Museum, but it's recommended not mandatory. I will say that I did donate, and please do so if you go. My favorite part of the National Museum, other than the cost, was that the building is just amazing!
The National Museum of Ireland is the country's leading museum institution, with a strong emphasis on national and some international archaeology, Irish history, Irish art, culture, and natural history. They used to house the military here, but it's been a museum for some time now. If you're lucky you can see one of their reenactments, I always love reenactments!
The Guinness Gravity Bar
I originally wasn't going to go to the Guinness Storehouse, but everyone I talked to insisted. I hate beer in America, but as they say, it really does taste better in Ireland! The building is shaped like a Guinness glass, and if they were to fill it up with beer, there would be three pints of Guinness for every Irishman. While going up seven stories, you learn how they make beer. You get a tasting about halfway up, and then when you reach the top, you get to the Guinness Gravity Bar.
The Guinness Gravity Bar has a panoramic view of the city and a must-see on your Dublin itinerary. When my hostel mates and I went we were lucky enough to be there on the clearest day they have had in five years! It is definitely worth the view and one of the most beautiful places in Dublin! Also, you get a free pint of Guinness with a shamrock drawn in the foam! For beer enthusiasts, you can learn how to pour your own pint but we opted not to.
2 Days in Dublin: Where to Stay in Dublin
I've only stayed in Dublin once but the place I stayed was incredible! I cannot recommend the Generator Hostel Dublin enough! I hope this Dublin itinerary helped you to figure out what to see during your 2 days in Dublin. Let me know if you have any questions.
Looking for a day trip from Dublin?:  Try the Paddywagon Tour
Looking for things to do outside of Dublin?:  Try this 4 Days in Ireland Itinerary
Looking for a cheap place to eat in Dublin?: Try Brazen Head
Looking for vegetarian places to eat in Ireland?: If you're like me and trying to eat healthier, check out this great list of where to eat vegetarian in Ireland!
Want to remember this? Post this How to Spend 2 Days in Dublin for Cheap article to your favorite Pinterest board!