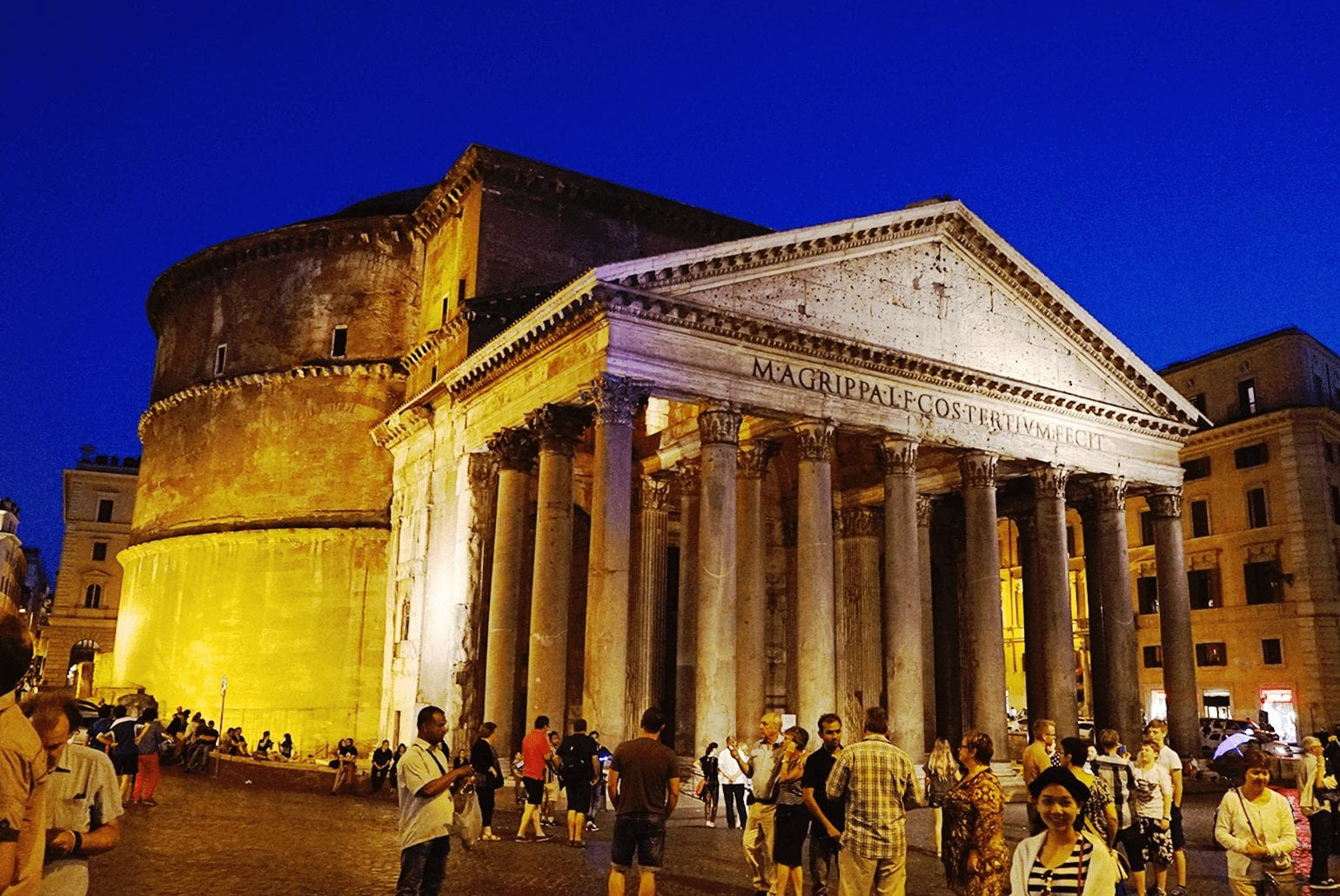 Looking for the best things to do in Rome at night? On my solo trip to Rome, I had landed in the afternoon, so my first experience was checking out the cool places in Rome to go at night. The lovely thing about this city is there is SO much to see during a night in Rome! Even though I was alone and had never been to Italy and spoke very very little Italian, I was able to see and do a lot. A lot of the places to visit in Rome at night are well-populated, so it's comfortable if you are a solo traveler! I started this walk during the evening in Rome, but it quickly became night so you can do this walking tour in either time frame.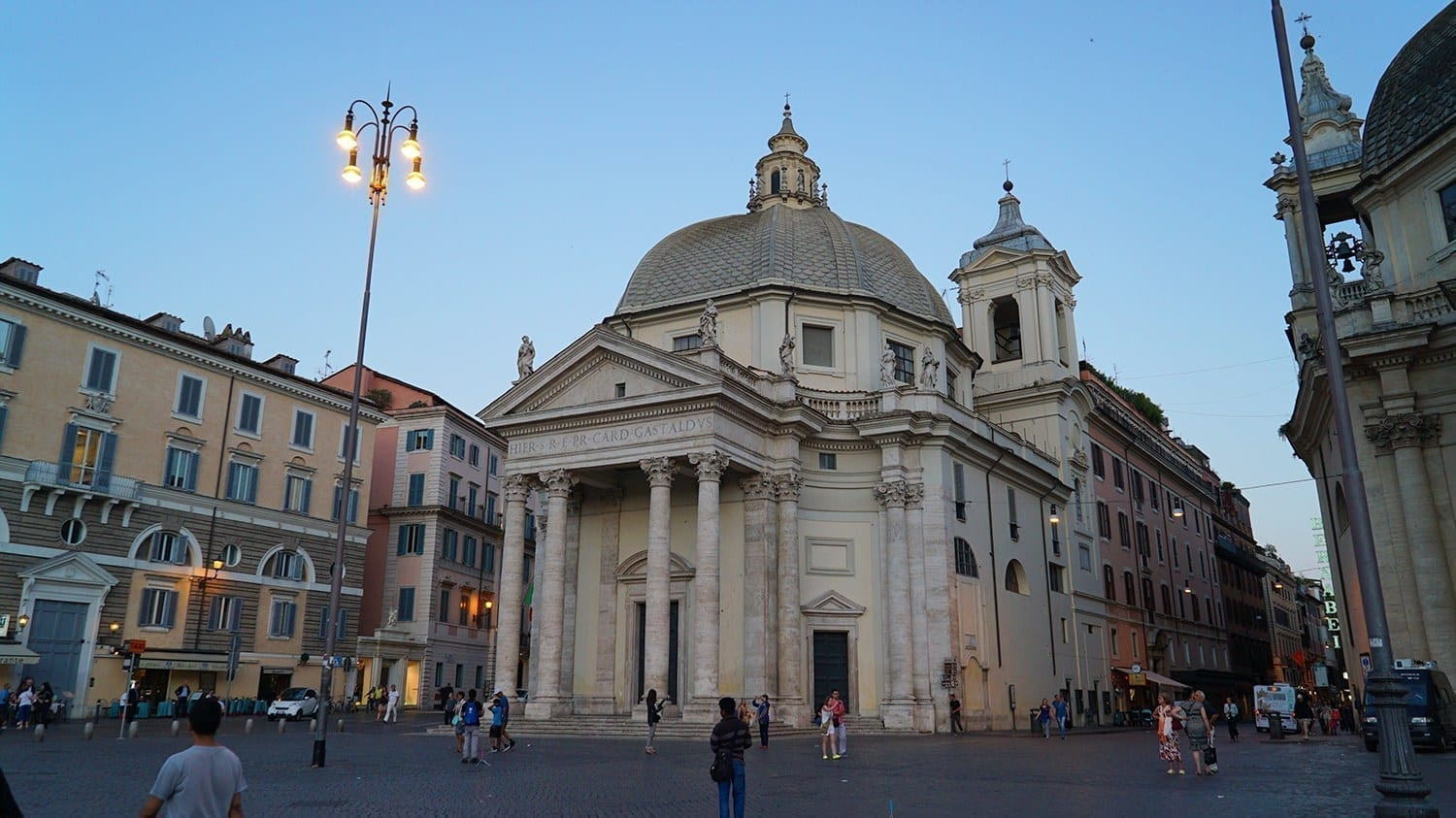 Piazza del Popolo
If you're coming from the Comics Guesthouse hostel, the Piazza del Popolo is just a short walk. Making it a great place to start my cool places to go in Rome at night tour. It is a large square in Rome with some lovely architecture. The name in modern Italian means "People's Square," but historically, it's derived from the poplars (Populus in Latin, pioppo in Italian), after which the church of Santa Maria del Popolo, located in the northeast corner of the piazza, takes its name. It was once a traveler's first view of Rome when arriving while also a place for public executions, the last of which took place in 1826.
The Spanish Steps
Continuing your evening in Rome, you'll make your way further East, find yourself at the Spanish steps which were constructed from 1723-1725. They connect the Piazza di Spagna at the bottom to the Piazza Trinità dei Monti at the top, with the Trinità dei Monti church on the upper landing. The Spanish Steps are cool and are an important landmark in Rome. However, I thought all the lamps illuminating everything was cooler! I'm not used to this kind of heavenly glow back in Los Angeles. It felt romantic and fairytale all at once. Even now, nearly nine months later, my breath is taken away by the beauty. Making it a must on my places to visit in Rome at night!
Note: They have since put some regulations on sitting on the Spanish Steps. Which I get as it does function as steps, going to and from a place. And with the massive crowds on them, I can see how it would be hard to get through.
Trevi Fountain at Night
From the Spanish Steps, I headed down to the Trevi Fountain, which was unfortunately closed. I'm told this has been happening a lot lately. They've been on and off doing renovations, so the fountain had been drained. If you'd like to see it looking it's best without the construction, check out this photo journey of Italy.
As one of the most famous places in Italy, it was still a treat to see! I'm looking forward to returning to see the rest of Italy soon. In the meantime, you can check out these interesting facts about Italy.
And as with above, they have since put restrictions on wading in the fountain. Which, honestly, I have zero problems with. Maybe it's because I'm American, but I can just imagine some irresponsible people getting hurt. So please, respect the rules when visiting Rome!
Eating at the Piazza Navona
After the disappointment of seeing the Trevi Fountain under construction, I headed to Piazza Navona. Honestly, I loved this piazza! It was gorgeous, and I stumbled onto it by accident! I can't imagine what it's like to live and/or work near there. It was absolutely stunning! The architecture, people, vendors, and restaurants. It was so full of life! Making it one of my must-see cool places to go in Rome at night!
After taking these fantastic photos, I sat and had some dinner at a charming little place facing the piazza. The food was delicious, and they were extremely kind even though my Italian is very poor. I did try my best to use the few Italian words my friend taught me.
If you'd like to brush up on Italian before heading to Rome, check out my guide on the Mango Languages app.
The Pantheon
Now, if you thought that was pretty, which I did, wait for the Pantheon. I honestly and sincerely, believe this is the most beautiful photo I've ever taken. The Pantheon dominated the area. You can't help but stare at it, like I did, for like five whole minutes. So obviously it makes my best things to do in Rome at night list!
Seeing the Pantheon in Rome at night was a magical experience. It is the most well-preserved building from ancient Rome. I recommend you also visit the Pantheon during the day so that you can experience the inside as well.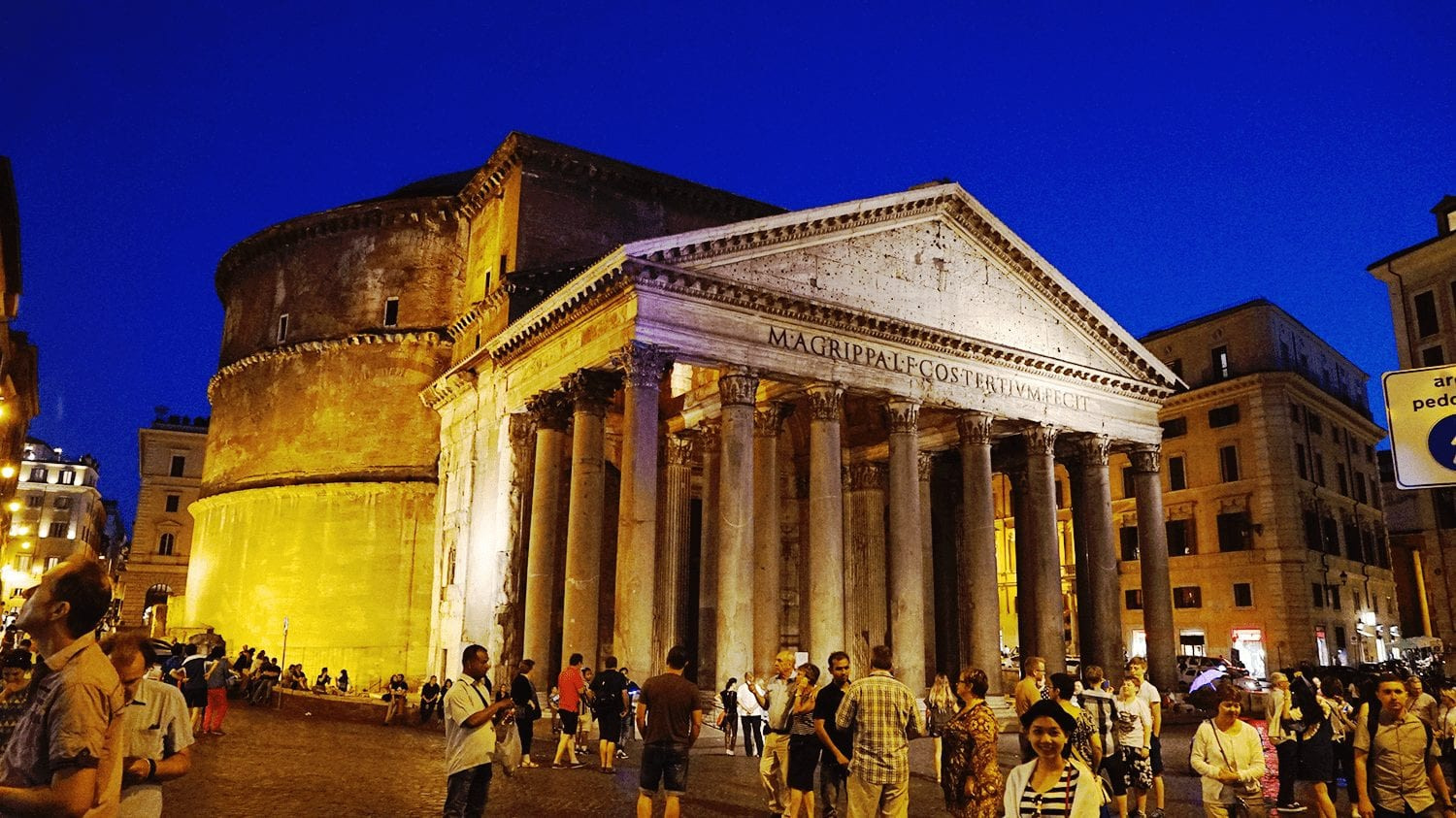 Vatican City
While there are tons of things to see at The Vatican during the day, it is gorgeous at night! Vatican City at night shines over the Tiber River. It's worth walking around at night in Rome just to see it. This is the view from the East side of it, just in front of the Corte Suprema di Cassazione. I highly recommend doing this if you're on your way across the river. It was one of my favorite places to visit in Rome at night.
Before checking it out during the day, make sure to check out my guides on visiting The Vatican.