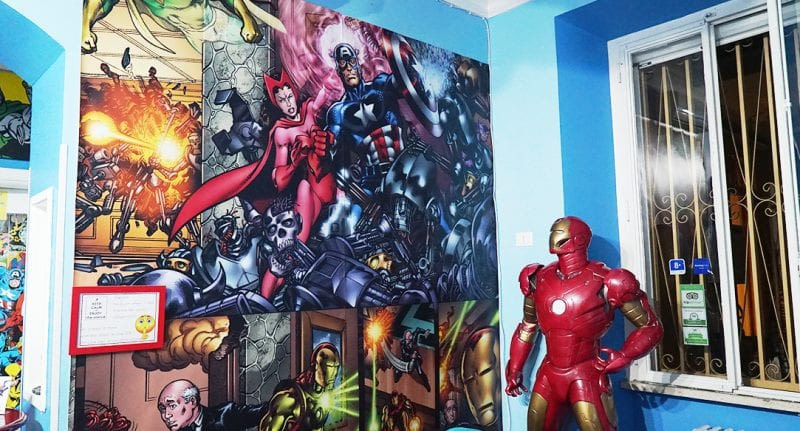 The Comics Guesthouse Hostel in Rome for Nerd Travelers
Are you looking for a youth hostel in Rome? The most unique hostel I've stayed at is the Comics Guesthouse Hostel in Rome, Italy. It's the epitome of Nerd Travel! It's a mash-up of my love of comics with my budgetary needs of a hostel. Being a hostel in Rome near The Vatican, it's conveniently located, which is perfect if you're looking to do a lot of sightseeing! They have a selection of different nerdy themed rooms you can stay in. I had the pleasure of staying in the Mario Brothers or Mario and Luigi shared room while on my solo trip to Rome. The Comics Guesthouse hostel in Rome, Italy, is a perfect fit for every nerd and geek!
Meeting New Friends
I love staying in shared rooms because you always meet interesting people. Just by staying in a shared room, I was able to meet people from around the world! One of which I've become Facebook friends with. I picked Comics Guesthouse because they were not only affordable, but they were centrally located and near a metro stop (Lepanto). It's also one of the best hostels in Rome near The Vatican.
I would say Comics Guesthouse was extremely safe. They have a big gated entrance which leads to a staircase. After going up one floor you have a key code to enter the hostel itself, then a key to get into your room. They provide the keys on an adorable nerdy key chain. I had a Luigi one.
Themed Rooms
Mario Brothers
Betty Boop
Lupin III
Dylan Dog
Diabolik
Comics Guesthouse Hostel
When you enter, it's into the main room that is decorated wall to wall with comics. They have video game consoles, DVDs, books, and magazines for those staying at the hostel. You can hang out on bean bags or a comfy couch. Upon check-in, I was given not only my keys but a map of the city, which I wound up using quite a bit! If you'd like a paperless version of a map, check out my post on Maps.me, a perfect travel app!
The staff at Comics Guesthouse is lovely and super helpful. When I let them know that the locker I was assigned in my room wasn't locking, they had it fixed the same day! Though they don't have 24-hour service, they do have desk times and emergency contact numbers listed. I, fortunately, didn't have to use it, but it was nice to know it was there as I've had trouble with other hostels, not providing this essential information!
Let's not forget to mention, I got up close and personal with Superman!
Decor for a Youth Hostel in Rome
My room was decked out in every possible Mario Bros. way! Everything from the light fixtures to the toilet had something Mario associated on it. I was in a room with six bunk beds. As it was June, it was quite hot at Comics Guesthouse. However, they had air conditioning, which helped! The room itself was spotless! I loved that there was a little desk that I put to use for doing makeup and sorting out my bag for the day.
One of the best parts is the little balcony! I skyped my friend from here! There were two showers in the bathroom. Unsure why, but who am I to complain about options! It was immaculate and tidy in the facilities. There was a little stand next to the shower, which was convenient for hair products, toiletries, and such.
Amenities
Some of the Comics Guesthouse hostel amenities are free wi-fi, laundry, luggage storage, and a kitchen with a large refrigerator. Since I was trying to eat as much real Italian food before heading home to the States, I didn't use the kitchen much, but it was nice that I had the option.
Free wi-fi
Luggage storage
Kitchen
Free maps
Video games
DVDs
Books
Magazines
Lounge
Vending Machine
Safe-deposit box
Hairdryer
Laundry
Currency exchange
Lockers
Mini-fridge in room
Linen and towel included
Youth Hostel in Rome
All in all, I would highly recommend Comics Guesthouse if you are looking for a hostel in Rome, Italy! While it is not exclusively a youth hostel, it is geared towards a younger vibe. As it's a hostel in Rome near The Vatican, it's conveniently located. It's also safe, affordable, and brings out your inner nerd!
Attractions Nearby: The Piazza del Popolo is .6 miles away
Castel Sant'Angelo is .9 miles away
The Pantheon is 1.2 miles away
The Vatican is 1.6 miles away
By The Vatican is where I picked up the Hop-On-Hop-Off bus with the Omnia Card
Address: Viale Giulio Cesare 38, 00192 Roma
Transparency: This was a complimentary stay at Comics Guesthouse Rome, but all thoughts and opinions expressed are my own.
Want to remember this? Post this Comics Guesthouse Hostel in Rome, A Review article to your favorite Pinterest board!