Should You Get the Omnia Card for a Trip to Rome?
When planning my vacations I'll look into the tourist pass offered in my destination city. I've done it in many different cities and usually find that it'll save me some money. Note that it really depends on how long you're there and how much you plan on seeing. I'm the sort of person who likes to pack a lot into the time I'm visiting. I decided to get the Omnia Roma Pass card (aka Omnia Vatican and Rome card) for my trip to Rome, for the three days I was there.
Omnia Roma Pass Card Travel Tips
First tip, to save money check to see if you can find any coupon codes. Second, sign up for their mailing list in case they distribute codes thru there. This got me a 10% off code when I went to Vienna this summer. A great travel tip is also to find out how many attractions you're interested in. I have my master outline and use that to see how many attractions match up with the card. I then calculate how much it would be without the card and with the card. Some cards also give you front of the line access which can save time. You don't want to spend your vacation waiting in line, trust me. With the Omnia Vatican and Rome card, I definitely saved time and money.
Hop On Hop Off Bus Tour
Most cards also include things like a hop on hop off bus tour, walking tours, boat rides, etc. Make sure to check and see what the card offers and if it'll be of use to you. Another thing to keep in mind is a hop on hop off bus tour can save you a good amount of walking and transportation fees. If you're going to the touristy places like the Colosseum, it'll get you basically right to the front door. I certainly used the bus as my transportation while in Rome. I was already walking LOADS, so it did help me out.
If you know where you're going to be staying, it's a great idea to see where the closest stop on the bus route is to your accommodations. I was staying at the Comics Hostel so the closest stop to me was by the Vatican. My first full day in Rome I spent at the Vatican then hopped on the bus to get in some of the sights while sitting down. I had just climbed the Dome at St. Peter's Basilica so I was rather tired. You can get a lot in while on the bus. You of course are just seeing them quickly while driving by, but if you're short on time this can be a great way to cram things in. "With 12 central and popular stops around the city, it's the perfect way to plan your day and see the sights without tiring yourself out!" If you have some more time, check out a walking tour of Rome.
Roma Cristiana Information
The bus tour that's included in the Omnia Roma Pass card is called the Vatican & Rome Bus Tours (Roma Cristiana). The map the Omnia website provides is rather small so I found another one on Rome Map 360. I am not sure if it is the most up to date, but I'm going to assume it's pretty close to what they are currently doing. I've listed some information below. Again, I don't know if this is the latest and greatest. But it should provide you with some basic information and be roughly accurate.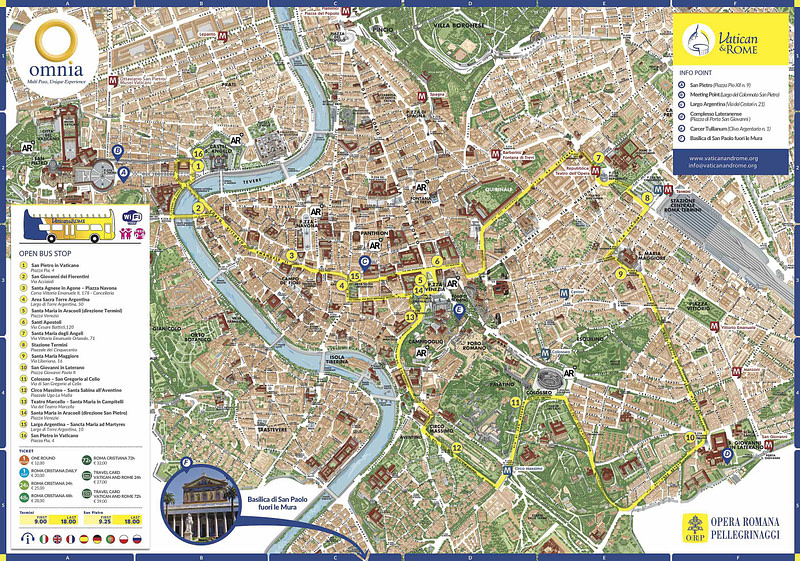 First departure: 09:00am (Termini Station), 09:30 (St. Peter basilica).
Last departure: 06:30pm (Termini Station), 06:45pm (St. Peter basilica).
Frequency: every 10/15 minutes
On board commentary available in: English, Spanish, German, Italian, French, Japanese, Russia
Availability: Daily from 9 am – 6 pm
Children under 9 and disabled visitors travel for FREE
Free wi-fi included
A View of Castel Sant'Angelo
As I mentioned before, my jumping on point for the bus near my hostel was the Vatican stop. So just before getting on the bus I went and snapped a few photos of the Mausoleum of Hadrian, or more commonly known as Castel Sant'Angelo. You may recognize it from the movie Angels & Demons. It was initially commissioned by the Roman Emperor Hadrian as a mausoleum for himself and his family. Later used as a fortress and castle, and eventually a museum.
Ancient Ruins of Rome
You maybe wondering what you can actually see on the hop on hop off bus tour you get with the Omnia Roma Pass card. Yes? Here to help! I chose some of my best snaps from the bus. I sat on the open air second level to get the best pictures. There is an audio guide you can listen to that describes what you see along the way with some religious, historical, artistic and cultural background. We passed by a number of ruins. If I can recall correctly some of which may have been part of the Aurelian Walls. They are a line of city walls built between 271 AD and 275 AD in Rome, Italy, during the reign of the Roman Emperors Aurelian and Probus.
A Tour Around Rome
From the bus you can also see some other gorgeous sites around Rome. Once again, getting the bus tour thru the Omnia Vatican and Rome card not only saved me money but also helped me get a lot into three days! I'm not sure I could have covered as much ground without it.