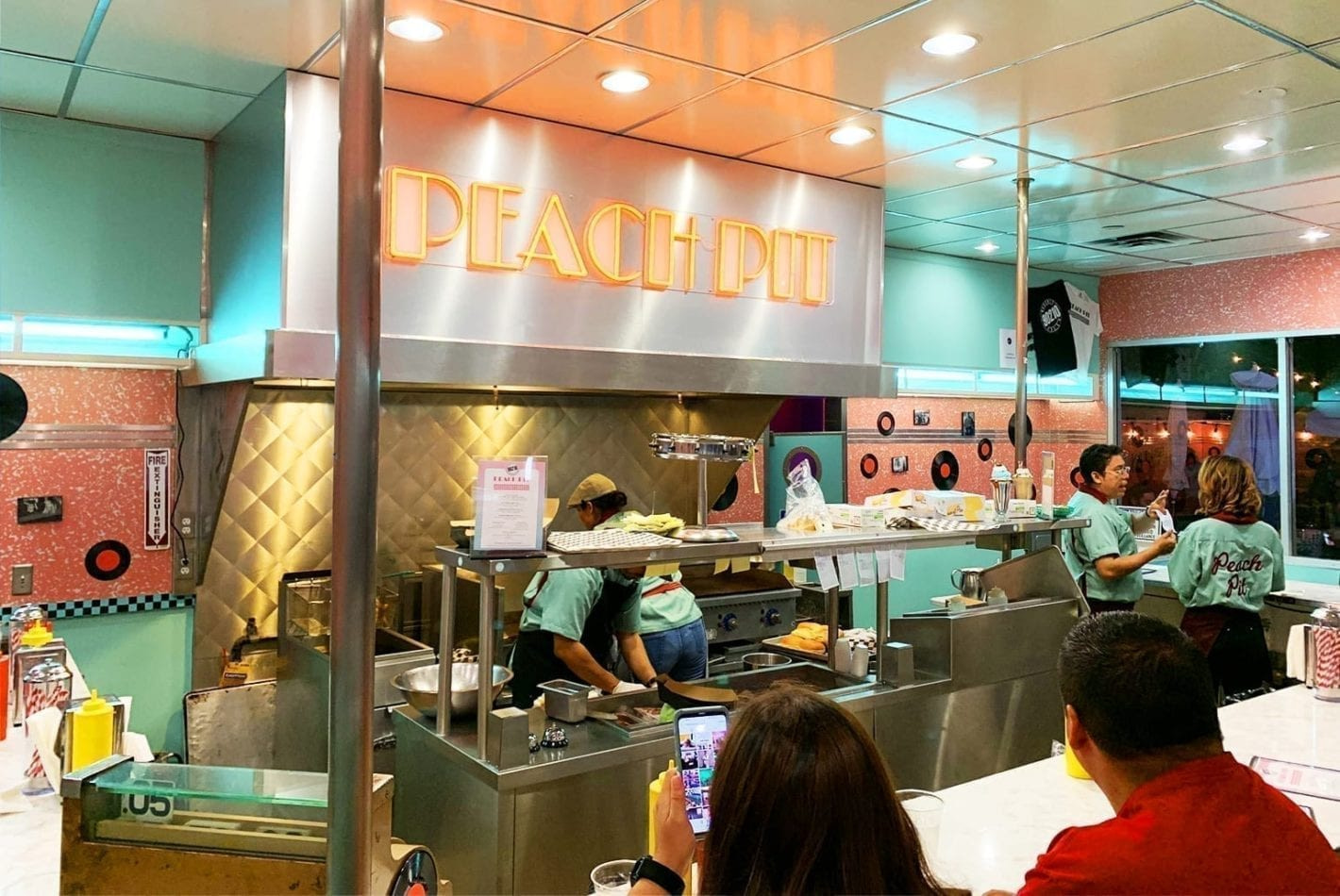 9 Nerdy Pop-Ups in Los Angeles to Visit
Pop-ups in Los Angeles are "popping up" so fast that it's hard to keep track! In the last month, I've gone to one for Stranger Things and last night to the Peach Pit 90210 in celebration of the return of Beverly Hills 90210. The Stranger Things one was only temporary, but the Beverly Hills 90210 location is here till September 30! Thought it is merely temporary, some of our Los Angeles local pop-ups like Scum and Villainy Cantina and the Beetle House LA have become permanent. Let's explore a few that have come, and sometimes stayed in Los Angeles this past year.
Peach Pit 90210
You likely heard about the opening of the Peach Pit a week or so ago. But at that time it was only open for a short time, merely 2 days! Well, guess what!?! It was so popular that they brought it back with the same folks who put together the Saved By The Bell and Good Burger pop-ups. The new and improved Peach Pit is charging patrons for the privilege of entering. Please note this as when we were seated on the patio outside, I heard a couple next to us that clearly didn't see that on the site when they booked the tickets. Food and drinks are extra!
The New and Improved Peach Pit
However, the Peach Pit 90210 now offers a selection of food instead of the small catered bites that the 2-day run had. The menu is small, but for someone like me who's trying to be more vegetarian, there were even some options. It featured the Mega Burger (which can we swapped with a vegetarian patty), Steve's Grilled Cheese, the Brandon (Veggie) SandWalsh, the Martin House Salad, as well as other options and sides. There was also a number of dessert options including pie, Peach Pie floats, and milkshakes.
If you were lucky enough to have made it during the 2-day run, you should know that they have since built out more photo ops as well. The photo ops include the Peach Pit 90210 After Dark nightclub, Wildcats Class of '93 graduation, a jukebox, phone booth, and a mini dining area. It's one of the most compact but well-coordinated pop-ups in Los Angeles I've been to.
Reserve Your Seat at Peach Pit 90210
As it's only open for 6 weeks make sure to book your tickets now! They include a 45 min reservation seated inside of the Peach Pit 90210 or on the patio. Only reservation holders are allowed in so you won't be able to access the location without one. You can reserve for parties of 2-6 people, at $25 per person inside, and $20 outside on the patio. There is also merch for sale, my friend got one of the Peach Pit T-shirts for her friend. I have to note, the staff there was wonderful! Everyone had a great attitude even though I'm sure it was rough churning out a constant flow of people every 45 minutes.
And of course, as I'm sure you noticed I was wearing my Riverdale Pop's Chock'lit Shoppe shirt in Honor of Mr. Luke Perry ❤️.
Stranger Things Pop Up
Let me start with, this was the LONGEST line I've ever been in for any of pop-ups in Los Angeles I've been to! And we had an ACTUAL reservation! I get it when there are no reservations and you just have to wait, but we had a real reservation and still had to wait an hour and a half outside in the sun. Luckily it was towards the end of the day so the sun wasn't too much of an issue, but I imagine from noon to 3 p.m. it was awful for those in line for the Stranger Things pop up!
The Starcourt Mall Experience
The Stranger Things popup for season 3 was fashioned to look like Starcourt Mall. Since we got there late in the day, the ice cream was already gone but we were still able to see this adorable Scoops Ahoy ice cream truck! The inside of the Stranger Things pop-up was a blast from the 80s past! Entering in you first land in the Flash Studio covered in neon, scrunchies, and jean jackets. We were able to dress up in these items and then shoot Polaroids as well as our own photos.
Stranger Things Happening in Hawkins
From there you journey into the Hawkins pool to be greeted by a male and female lifeguard. Well not actually greeting, more like shouting about no running or splashing. Onward from there you enter into Eleven's bedroom. They recreated the bedroom as it appears on the Stranger Things tv show on Netflix. Moving forward you head into a dark room with a bathtub, meant to look like what's inside of Eleven's head. Then onto a room with Russians, a laboratory with men dressed up as scientists speaking what I can only assume is real Russian (since I don't actually know any Russian). They even snatched my friend's phone and took that lovely photo with a lot of teeth. Crossing over dead and mutated rats, thru a mirrored hallway, and then onto an overlook of the town of Hawkins.
This was the best photo op in the Stranger Things pop up experience had to offer! It's a lovely photo as they really put the money behind the set, lights, and camera. They even had someone directing where to look and stand which really helped make it pop!
Scum and Villainy Cantina
The Scum and Villainy Cantina located in Hollywood, CA was originally a temporary exhibit however it has now become a fixture on Hollywood Blvd. Self-proclaimed "friendly, neighborhood geek bar located in Hollywood, CA! All fandoms welcomed and cosplay is always encouraged." Featuring a number of events which include themed trivia nights, game nights, special guest events, karaoke, and more.
I visited the Scum and Villainy Cantina back when it was temporary and it definitely makes you feel like you're in a galaxy far, far away. Since I went early on, I was able to get a challenge coin. These challenge coins can be shown to the bartender for 10% off your entire tab. You can now buy these for $50 from the bartenders. For a themed geek bar the prices are pretty good, but the extra 10% off is an extra dose of star power. Definitely one of the best and most fun Pop-Ups in Los Angeles! And here's even more fun and cheap things to do in Los Angeles.
Beetle House LA
Just across the street from Scum and Villainy, you can find the Beetle House LA. It's a restaurant and bar that pays tribute through food and drink to all things dark and lovely, and Tim Burton. It's like Halloween every day at Beetle House LA. Their drinks are really amazing, try the Big Fish Bowl if you're going with a few friends as it's too much for one person. There are a number of characters that come to interact with you around the bar. If you're not in Los Angeles, they also have a New York City location. Edit: Apparently this pop-up in Los Angeles has moved! But not too far so you can still hit up Beetle House LA and Scum and Villainy Cantina in the same night!
Looking for more Halloween inspired things to do in California? Check out this list of Halloween Attractions in California!
Ready Player One Challenge
During the premiere of Ready Player One they set up a pop-up where fans could enter the OASIS. I, unfortunately, wasn't able to experience this in person as the tickets went fast! However, I did have some friends that were able to get in. The photos of Ready Player One Challenge are courtesy of Kari Lane. Fans got a chance to step into Parzival's shoes at a pop-up exhibit called The Ready Player One Challenge. The immersive experience included video clues to three hidden keys, the ability to walk around the "stacks," and finally a secret entrance into the OASIS. With a DeLorean on the property, you could make all your 80s dreams come true. They also had actors living in the stacks, playing IOI agents, and various pop culture icons. Unfortunately, this exhibit is no longer up, but it was definitely memorable.
Spellman House
Some of these pop-ups in Los Angeles are very short-lived, such as the Spellman House exhibit in promotion of the Chilling Adventures of Sabrina tv series on Netflix. Spellman House only lasted two days, but was also used as the location of the premiere party before opening up to the public. Attendees were able to participate in an immersive experience by putting themselves into the Chilling Adventures of Sabrina world.
Choosing between the Path of Light or the Path of Night. Starting off with a witchy makeover brought to you by Teen Vogue. Witches and warlocks were able to sign the book of the beast or visit the Altar Room in the Spellman House. The exterior was even part of the exhibit as it had a projected image that changed with characters like Sabrina and Salem moving thru the Baxter High windows. The best part of the experience was the video they took while walking thru Baxter High which looked straight out of The Craft. Really one of the coolest things at a pop-up in Los Angeles I've seen!
Mermaid Museum
Another pop-up dedicated to bringing awareness for a tv series was the