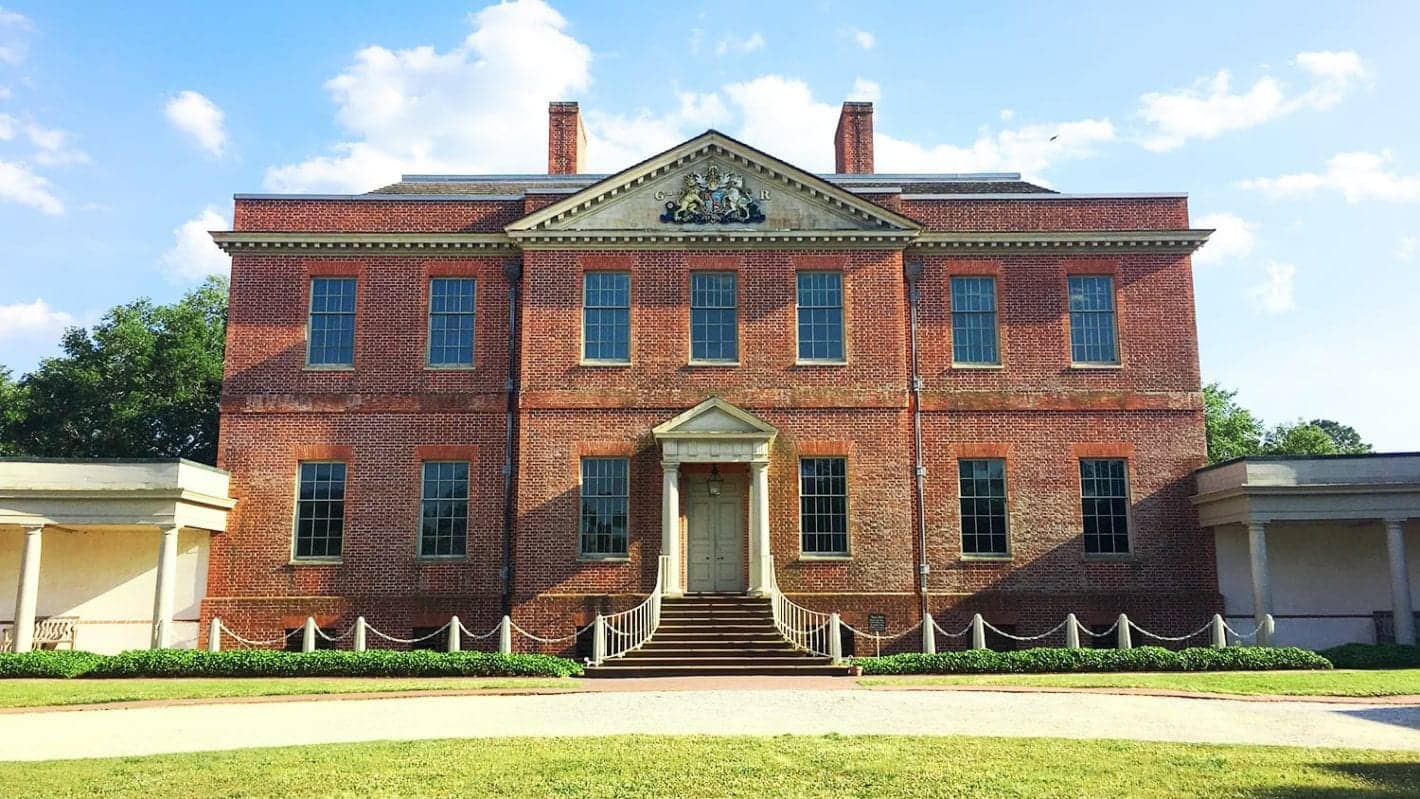 The Outlander Tour of Tryon Palace
You no longer have to go all the way to Scotland for an Outlander tour! You can find an excellent one in North Carolina. New Bern, which is primarily known as North Carolina's first permanent state capital, is also an important location for Claire and Jamie Fraser in the epic Outlander series. In the most recent season of the show, we followed the iconic couple after being shipwrecked in the American colony of Georgia. Then making their way up the coast to Wilmington where they meet William Tryon, the Governor of North Carolina. If you plan to make a stop up the coast as well, there's an excellent weekend itinerary for Wilmington.
The author Diana Gabaldon did an immense amount of research on real locations to write the novels the TV series is based on. She's even visited Tryon Palace three times! Most recently, just last month. I learned not only about the fictional characters of Outlander, but the real characters like Governor Tryon and his family on the Outlander tour.
An Outlander Location
For those of you who may need a refresher on Tryon Palace's place in the series, Tryon offers Jamie Fraser a land contract in the wilds of North Carolina. While it's a rich offer in that it provides him with a huge amount of land, it also makes him responsible for finding men to settle and work the land. As well as adding a clause that should Tryon call Jamie into service, he would have to answer. They agree and Jamie and Claire settle on a piece of land they dub Fraser's Ridge. Whether you've read the books or watched the series, as I have, you will undoubtedly recall Governor Tryon and his palace.
The Outlander Tours
A once a month tour of Tryon Palace with special attention to the Outlander series is now on offer. I attended both tours, the Governor's Palace and the Home and Hearth. Please note, they say that ticket quantities are extremely limited and as this is only held once a month be sure to book in advance! The Outlander tickets also do not include additional tours or access to the Tryon Palace Grounds. Tickets go on sale a month before the tour date and are non-refundable and cannot be altered or exchanged. An "Outlander Tour Bundle" is also available each month for those wanting to do both tours as I did.
The Governor's Palace Tour
On the Governor's Palace tour we met servants who embedded themselves in the story of Outlander. Talking as if we were are actually inside the novels and visiting the palace just as Claire and Jamie did. It's a real treat for those who are big fans of the books or TV series. We toured the main floor and the upstairs while hearing all about Claire and Jamie's time at the palace. It should be noted, they didn't film the series here, but back in Scotland where most of the Outlander filming locations are. However, because Diana Gabaldon did research at the palace before writing the novel. It is truly very similar to the real location that you either read about or saw with the series. We were asked not to take photos in the main house so I have these adorable Outlander marionettes for you.
Outlander in the Governor's Palace
January – June: tour begins at 9:15 a.m. 
July – October: tour begins at 4:15 p.m. 
November: tour begins at 3:15 p.m.
The Home and Hearth Tour
My favorite of the two tours was the Home and Hearth tour. While less about the characters themselves, it reflects more of what their daily lives were like. We were able to meet the Governor's Cook, the local Apothecary, and a Weaver. Many of the items in the rooms we toured we were given the opportunity to smell and touch. More importantly, they encouraged questions!
As I was on the tour with a bunch of Outlander fans, it was lovely to see how much these wonderful people actually knew as their knowledge was tested. Especially in the upper room where the weaver was. Mrs. Pinckney, a plantation owner in South Carolina, notable for her introduction of domestic silk production was even mentioned on this tour. We were able to see the evolution of silk and other materials on site. The Apothecary was also extremely knowledgable, not only in relation to the series but about medicine and surgery in the time of Governor Tryon as well.
Outlander Home and Hearth
January – February: tour begins at 3:15 p.m. 
March – June: tour begins at 4:15 p.m. 
July – November: tour begins at 9:15 a.m.
Tryon Palace Tours
Now, you'll likely note that there is a bit of time between the tours listed above. How I spent my time between the tours was by visiting some of the palace's other attractions. On the day I visited they also had a Colonial Market Day so there were some outdoor activities associated with that. I was also able to visit the Stanly House where George Washington once slept. As well as visiting the palace gardens, Academy Museum, and History Center. Even with all that I still had time for lunch and to walk around New Bern a bit for a full day of outlandish fun! If you're looking for even more to do in this area, check out the North Carolina Lighthouses!
See more about the Outlander Tours on their official website.