Doing solo travel takes guts, I'm not going to beat around the bush about that. My first traveling alone experience was when I was 13 years old. I went on a plane from New York to California by myself. It was a bit nerve-racking, especially since the flight attendant was supposed to check on me and never did. That's neglect lady! Anywho, now that I'm older, I have done a lot more solo travel, more than just a plane ride that is. Let me tell you, traveling on your own is an experience unto itself. And you need to be mindful of safety while being a solo female traveler. Whether you're off on an Ireland solo travel adventure or a cross country road trip, being a lone traveller is the best!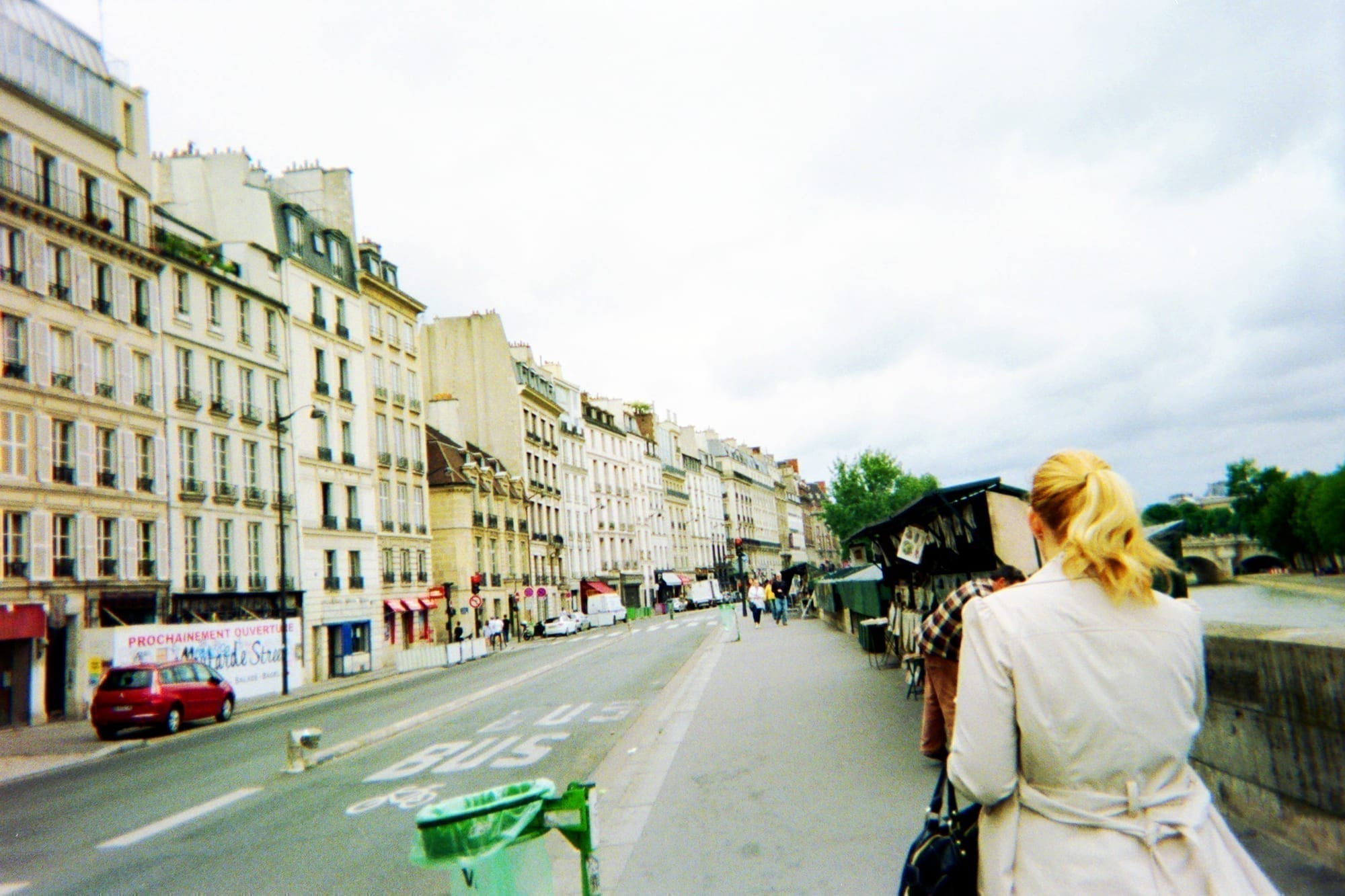 How to Travel Solo
This past summer I solo traveled to Europe for the first part of the trip anyway. I went to Ireland completely alone. I'm not going to lie. There were times before the trip that I thought it was a terrible mistake. I could have made a lot of excuses not to travel. But what really pushed me through was that it was going to be an experience.
Planning a Solo Trip
I could do whatever I wanted when I wanted. I wouldn't have to consult with anyone! Ah, the freedom! I'm also pretty terrible about being with someone 24/7. Don't get me wrong. I love people, I just don't want you in my face 24 hours a day! If this is the case for you, you may want some tips on how to take great travel photos of yourself. What wound up happening in Ireland was one of my favorite traveling alone experiences of my life! Because I was alone I did stay in hostels in Europe and was able to build my international itinerary to my specifications! Ireland solo travel is wonderful and an excellent place to start your adventures!
Traveling Alone in Europe
When I went to Ireland, I stayed in a hostel while I was in Dublin. Generator Hostel in Dublin was excellent, super safe, clean, and centrally located! I highly recommend it for those doing an Ireland solo travel adventure through Dublin. However, that wasn't the best part! I met some of the nicest people in the world. Now before I get carried away, there were a couple of girls in my room that I didn't click with. There were six beds in total, but 3 of us really hit it off! We hit it off so well that we actually wound up going on excursions together.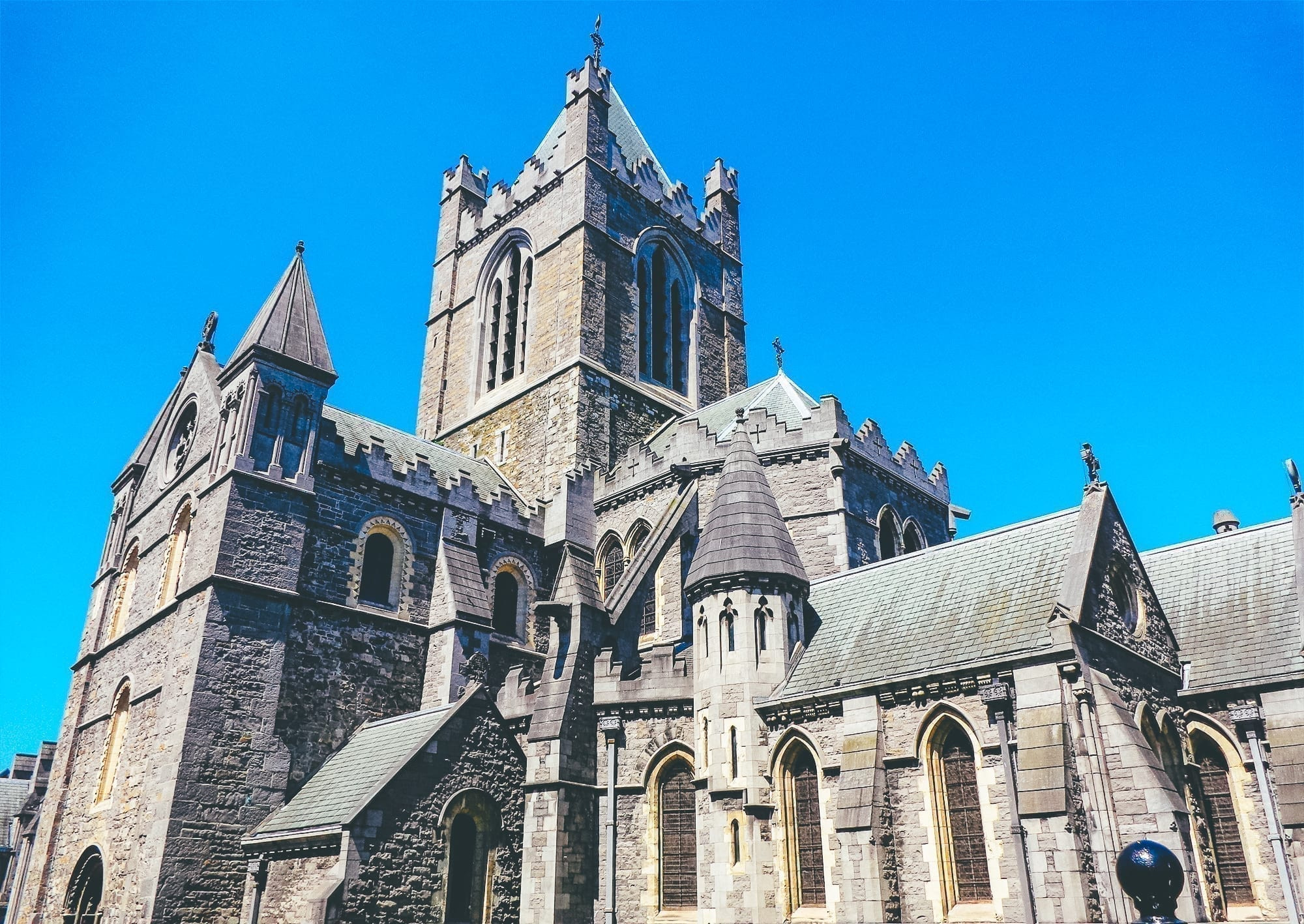 Ireland Solo Travel
Now you may be saying, "I thought this was about solo travel?" Well yes, it is, being a lone traveller you open yourself up to meeting new people more than you would if you already had travel companions. I can still remember waking these girls up at about 7 am to go to Kilmainham Gaol. Some days we'd go out on an adventure together, some we'd just met up for dinner.
It was delightful to share an Ireland solo travel experience like that with no pressure since we were all going our separate ways after. What was especially wonderful was that it was relaxed, making it an excellent solo traveler holiday. With no one to consult with, a lot of the stress of traveling evaporates.
Where to Solo Travel in the USA?
Another trip I took while a lone traveller was a road trip across the United States. Many people told me that I was ludicrous for doing a road trip that took me through California, Nevada, Arizona, Utah, Colorado, Nebraska, Iowa, Illinois, Indiana, Michigan, Canada (Toronto), Vermont, New Hampshire, and Maine. To break that down, that's approximately 3,286 miles. I forgot to set my odometer before I left, so I'm sure there are at least 50 or so miles unaccounted for, but 3,286 is a good guess. It took me 4.5 days to do this. And if you're looking for some places to stop along the way on your road trip, here are the best major cities on Route 66 to check out!
Note to all drivers, take a break while driving. You will get burnt out. I stopped for two days in Chicago and a day in Canada. And yes, the last few hours of my trip, I went into "am I there yet" syndrome! It's not just for kids! However, I am incredibly proud I did this cross country road trip all by myself, and I'd recommend it as a trip for solo female travelers.
(Outside view, you enter in that open driveway on the right)
Cross Country Road Trip Pit Stop
If you're looking at Detroit for solo weekend travel, check out the Michigan Theater. Only a few places have really left me awe-struck, and this 1920 theater has. I had recently seen the Michigan Theater in the film Only Lovers Left Alive and was really wowed that such a structure actually exists. This lone traveller made the trip which was an hour out of my way (each way) to the theater just to see the world's prettiest parking lot.
Getting to the Michigan Theater in Detroit
Upon arriving in Detroit, my GPS tried to kill me. Yes, full ATMOS style, it took me down a one-way street…the wrong way! After that heart attack, I finally arrived on the correct street, which is 220 Bagley by the way. Yelp will try to tell you otherwise so don't rely on it for directions on how to get the Michigan Theater.
Depending on the day, there will sometimes be a baseball game going on that the parking lot will be open for. I got there on such a day. They charge $10 for parking. But if you say you're just going in to look at the building they may waive the fee. Other days I'm told they will most likely let you in, but there's no guarantee.
After driving up three very narrow ramps to the top floor, you come to the theater area. From the film and photos I've seen, I had no idea that it was actually 3 levels up. There's only one ramp up and down so be careful and check that no one is heading up/down. I was lucky enough to talk to one of the guys who worked there. He made sure no one was coming up when I went back down.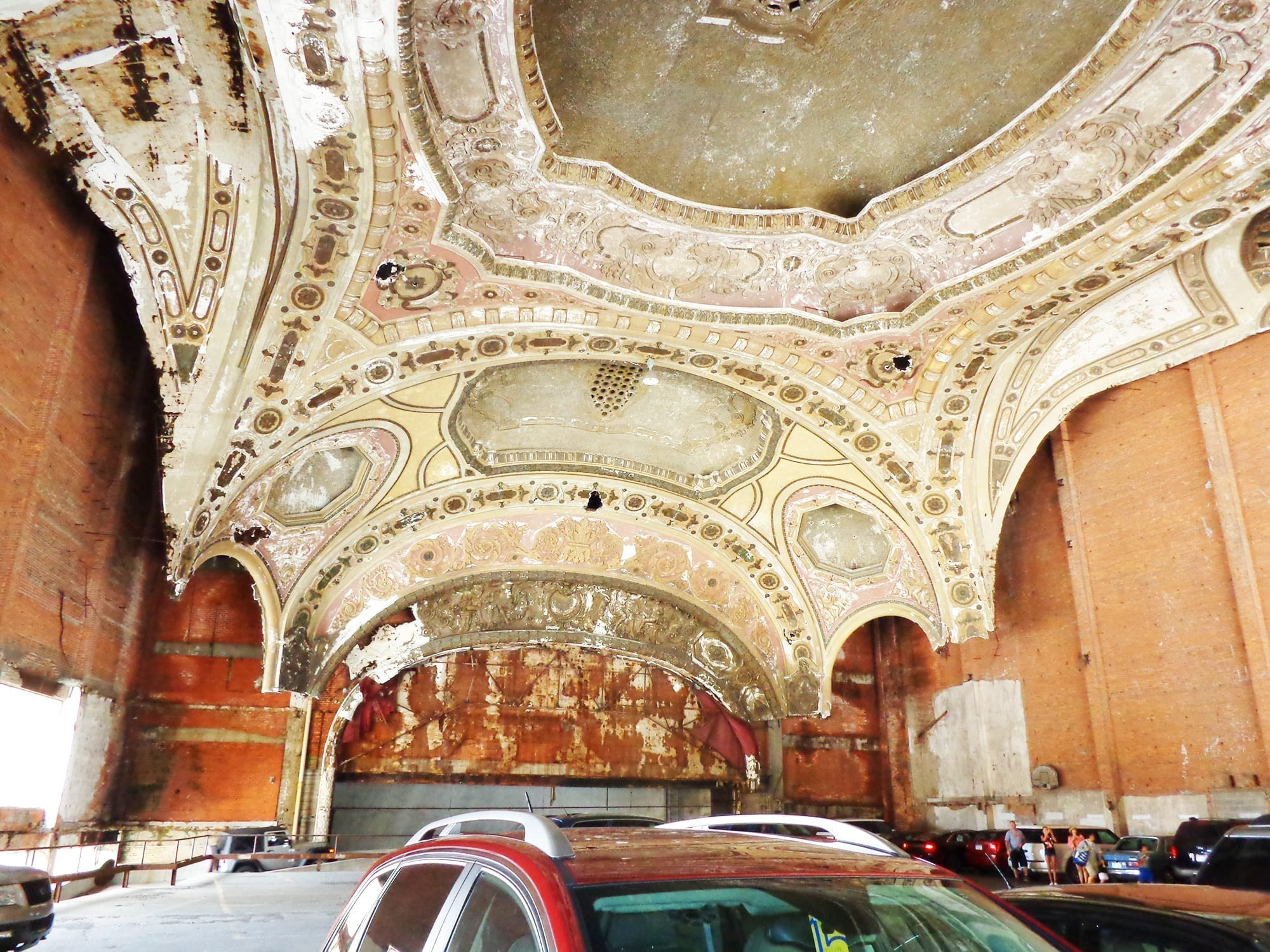 To the Michigan Theater Parking Garage
It has been a movie theater, jazz club, rock concert hall, and now the famous Michigan Theater parking lot. Architectural studies showed that demolishing the 1920s theater would jeopardize the soundness of an adjoining building. So the solution was to turn the theater into the state's only Italian Renaissance-style parking garage. "Cherubs that had once flanked stars of stage and screen would now flank cars." To add to the irony, the theater was built on the site of the garage where Henry Ford built his first automobile, the quadricycle. "The site of the automobile's birthplace replaced by a movie theater, reclaimed by the automobile." – Dan Austin, Historic Detroit
Driving as a Lone Traveller
Driving by yourself isn't all that bad. It gives you a lot of time to think. Anything and everything pops into your head on that stretch of road. You find out how quickly it takes you to get bored as well. For me, that wasn't long. Looking for what to bring on a road trip? Audiobooks, I found myself listening to them to pass the time. Let me just say Peter Pan is boring to listen to, but the Game of Thrones audiobook is fantastic! I didn't stop and see too much while on the trip since I was driving for work. But it was amazing to see the changing landscape while on the road.
Journal Time While Solo Traveling
Time alone allows not only for freedom but for the opportunity to think. It would take me posts and posts to write about all I thought on my trip. The short version is, it put me more in tune with what's important to me. Before I left, a friend gave me a journal complete with a pen and glue stick! This was the best gift I could have ever gotten before I left. I used up the entire thing!
Whenever I got the chance, I wrote down what I had done and my thoughts in general. I also pasted in ticket stubs, brochures, and other bits. Looking back, I can see a difference in myself over those three weeks. The journal is something I can keep forever and see who I was then and who I am now.
A Traveling Alone Experience
All in all, I'd say solo travel is a rewarding experience that everyone should do at least once in their life. Whether you're looking for a solo holiday in Europe, the United States, or elsewhere. Young or old, try it if you haven't. It takes nerve, but you'll thank me later once you've done it! You won't ever regret having a traveling alone experience!
Want to remember this? Post this Being a Lone Traveller: My Solo Travel Experiences article to your favorite Pinterest board!