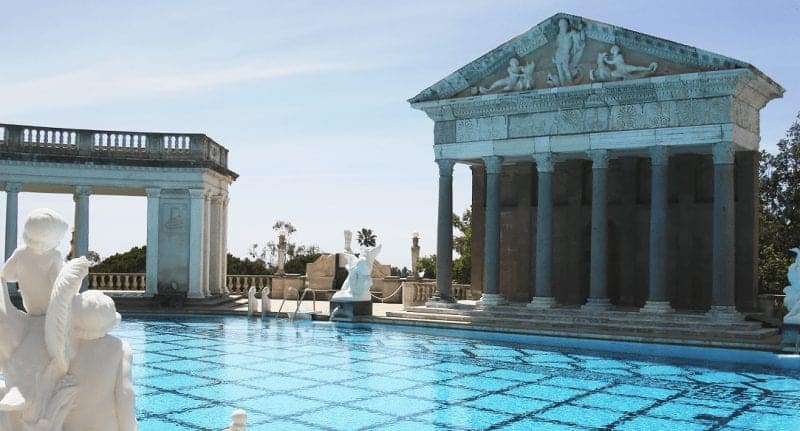 The Best Hearst Castle Tours, A Day Trip in California
Hearst Castle has a unique charm that everyone needs to experience at least once in their lifetime. And you're in luck as they have Hearst Castle tours that attract over 700,000 visitors a year. You may be asking, where is Hearst Castle? Located in San Simeon, California, about four hours south of the bay area, and four hours north of Los Angeles, it's a perfect centrally located day trip in California. We went up the freeway, but you can also go up the Southern California Coast for a lovely drive! My mother and I visited La Cuesta Encantada, aka Hearst Castle, back in June 2010. Hearst Castle is an unbelievably enchanting place to visit. Being that I'll be visiting Europe in just over a month, I wanted to take a moment to focus on a stateside travel destination.
Hearst Castle History
Designed by architect Julia Morgan, Hearst Castle's history begins as a residence for newspaper titan William Randolph Hearst between 1919 and 1947. He called the estate "La Cuesta Encantada," which is Spanish for The Enchanted Hill.
By 1947, the estate has a twin-towered main building, three guesthouses, and 127 acres of gardens, fountains, and pools. After Hearst's death in 1951, the castle became a California State Park in 1958. Since then, it has operated as the Hearst San Simeon State Historical Monument, which includes the estate, as well as an art and antique collection.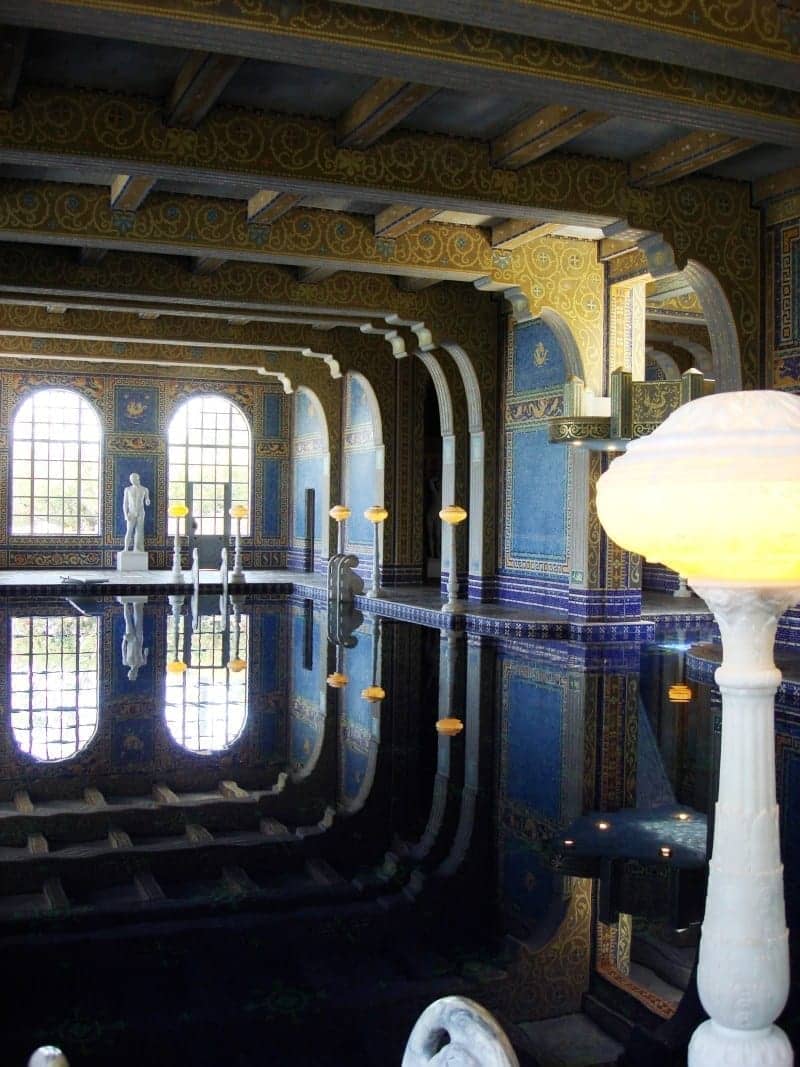 The Neptune and Roman Pools at La Cuesta Encantada
One of the most impressive features of the castle is the pools. There is an outdoor one and an indoor one. The outdoor one is called the Neptune pool and originally began as an ornamental pond. However, the desire for a swimming pool and the addition of the Roman temple saw many changes being partly original and partly from European pieces.
The indoor one is a Roman Pool modeled after ancient Roman baths. It is intensely detailed, tiled from ceiling to floor, and has marble copies of eight ancient Greek and Roman deities and athletes around it.
A Vast Libary in San Simeon, California
If you thought the pool was impressive, check out William Randolph Hearst's library! Built for his guests' use, it houses more than 4,000 books! As well as 150 ancient Greek vases, which are all more than two thousand years old. That's as old as Pompeii! A majority of the library collections have first editions, often signed. Some of them by Charles Dickens, his favorite author. Are you a fan of libraries as well? Check out the Austrian National Library then, it's gorgeous!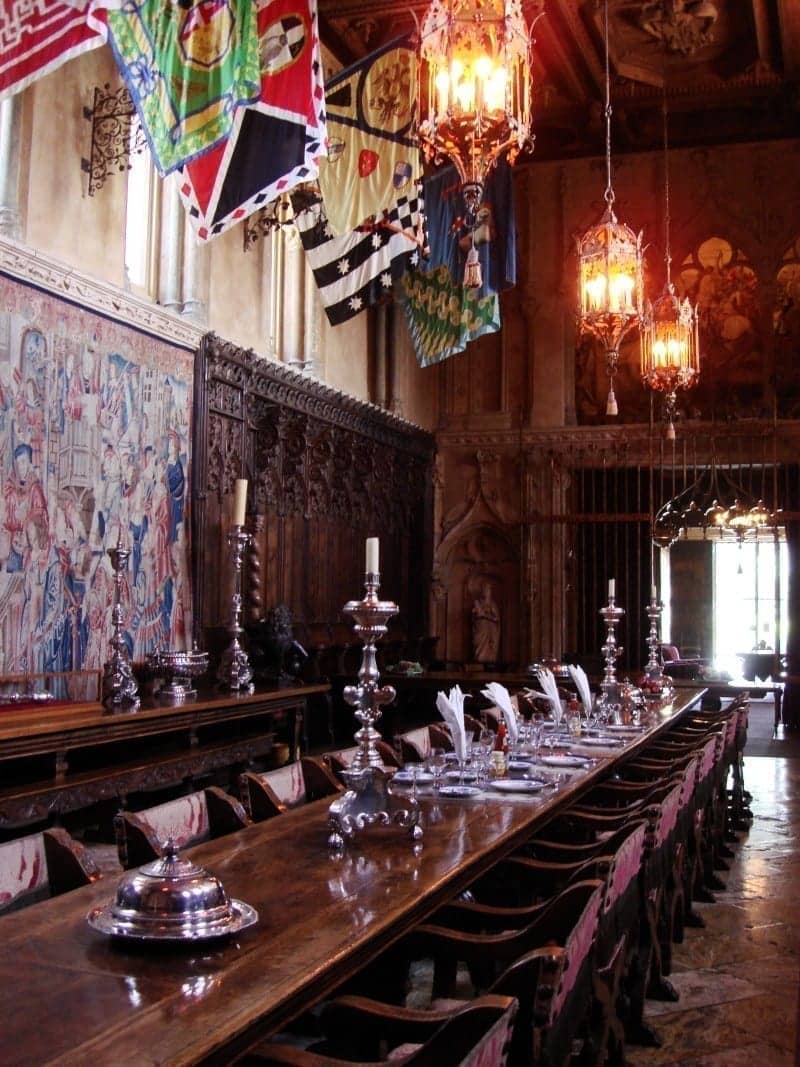 The Refectory (The Dining Room)
Looking like a room more fit for King Arthur and his knights, it's decorated with colorful silk banners from Italy. Inspired by the Italian Renaissance, the long table in the middle is from an Italian monastery. See the red and yellow on the table? Those are bottles of mustard and ketchup that William Randolph Hearst liked to keep things informal at La Cuesta Encantada.
Can you imagine all the famous faces he had sit at this table? Clark Gable, Sir Winston Churchill, Howard Hughes, Greta Garbo, Cary Grant, George Bernard Shaw, Jack Warner, Charlie Chaplin, Louis B. Mayer, and more?!?!
The Best Hearst Castle Tours
Which Heart Castle tour is the best? Being that the estate has 165 rooms and 127 acres of gardens, terraces, pools, and walkways, it is a vast place to visit. We opted to take the Grand Rooms and the Upstairs Suites tours. To be honest, our guide on the first tour was lackluster and didn't engage me as a visitor. So much so that I thought it was a waste of a day trip in California. I'm the kind of person that can look at a beautiful place or destination and pretty much respond with 'eh' until I actually know something about it.
Without details, I'm just not as interested. And this tour guide lacked a lot of details, so much so that I could have probably given the Hearst Castle Grand Rooms tour. And that's the whole point of a tour guide. It's someone there to inform you about the location. However, all was redeemed by the second tour guide who was bustling with facts and tales of Hearst Castle. I wish I could remember her name because I'd give her a shout out here. So honestly, in my opinion, it depends on what tour guide you get as far as which is the best Hearst Castle tour.