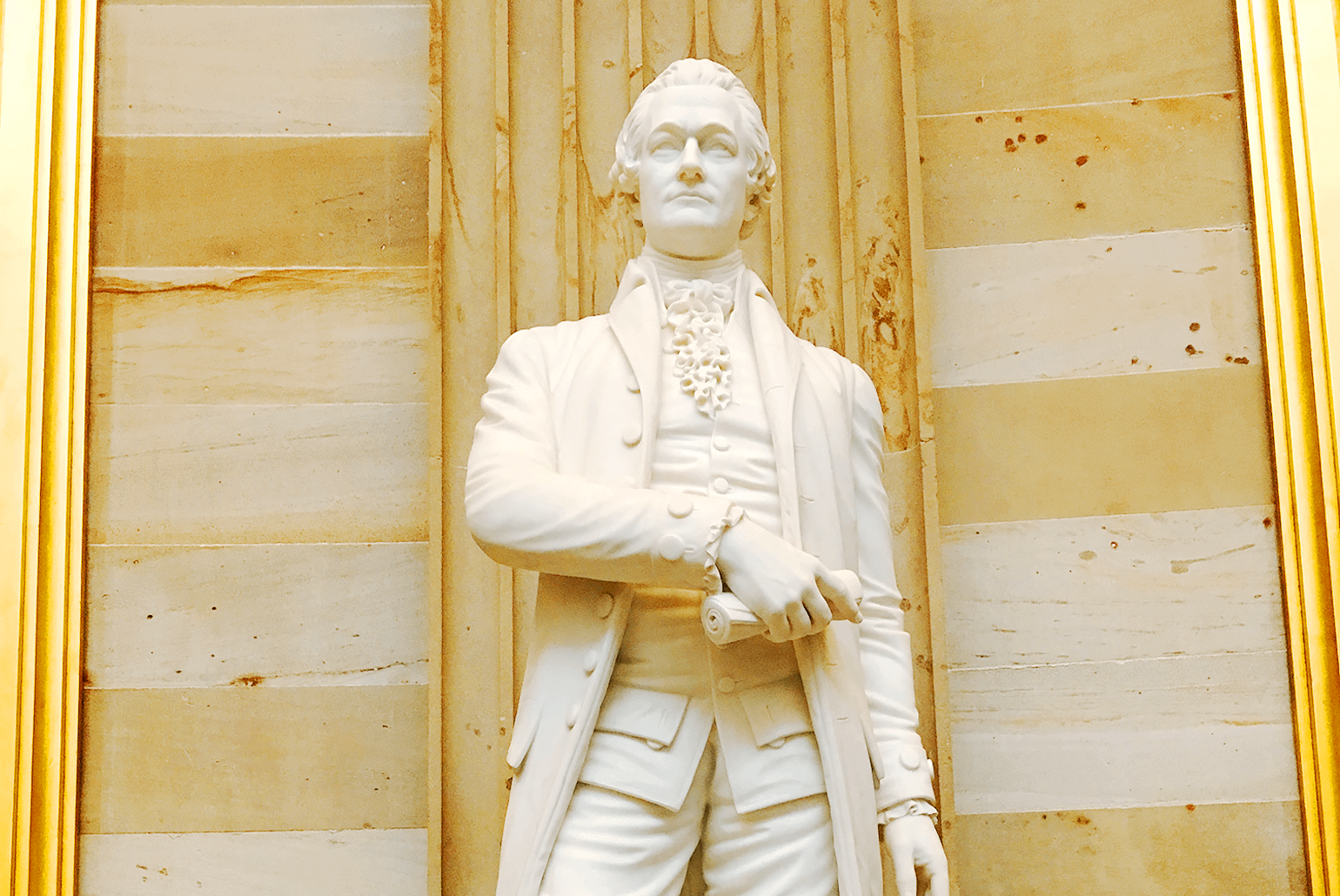 Tips for a Hamilton: An American Musical Inspired Trip
With the release of the musical Hamilton on Disney+, I wanted to take the time to relive my mini Hamilton inspired trip! While listening to the cast recording of the hit Broadway play, of course! I didn't set out for this trip to be inspired by the musical Hamilton or the revolution. However, as it has been so prevalent in our society recently, it was hard to ignore Mr. Alexander Hamilton along the way.
The places I've listed below were part of a more extensive trip that took me through North Carolina to Virginia and then onto Washington, DC. However, even though that was the case, I'll lay out an itinerary to the best of my ability. I went through this at a rather fast pace, doing Monticello and George Washington's Mount Vernon in one day. Which, when I mentioned to locals, they found astonishing. So if you like to take your time, make sure to add more room than I did on my Alexander Hamilton musical itinerary here.
Not all of the places I'll be listing have to do with the Hamilton musical directly. Some locations are in relation to other characters mentioned in the Broadway musical, such as George Washington and Thomas Jefferson. I hope you enjoy my Alexander Hamilton musical inspired itinerary!

Day 1: George Washington at Tryon Palace
I've written about Tryon Palace before in reference to the Starz TV series Outlander. George Washington himself makes an appearance in the series, which is one of the truths of the popular historical drama. George Washington did indeed visit Tryon Palace in New Bern, North Carolina.
Originally built between 1767 and 1770, Tryon Palace was the first permanent capital of the Colony of North Carolina and home to the Royal Governor and his family. However, that didn't last long as the American Revolution began with the Patriots making the Palace their capital. It also became home to the first sessions of the General Assembly, where they started designing a free and independent state.
The John Wright Stanly House
On the evening of April 21, 1791, Tryon Palace held a dinner and dance in honor of President George Washington who was exploring New Bern while on his Southern Tour. While in town, he stayed at the John Wright Stanly House, which is now located just across the street from Tryon Palace.
Named after former owner John Wright Stanly, who was a Revolutionary War veteran, the home had been moved twice before. The last move was in 1965 when it was restored as part of the Tryon Palace complex.
When George Washington was in New Bern, the John Wright Stanly House was empty. There's a local legend that the people of New Bern realized what an elegant house it was, so they opened it up, cleaned, and put in their own furnishings inside for President Washington to use. George Washington later wrote in his diary that he had enjoyed "exceeding good lodgings."
I would recommend a day in New Bern to do the Tryon Palace tours and the John Wright Stanly House. As New Bern is centrally located, it's easy to walk around town and grab a bite to eat and such. It's an excellent way to spend Day 1 of your Alexander Hamilton musical itinerary.

Day 2: American Revolution Museum at Yorktown
About a three and a half-hour drive north and you'll find yourself at Yorktown, mentioned in the musical Hamilton! The American Revolution Museum provides an in-depth look at the story of the nation's founding. While also hosting excellent exhibits, in-person presenters, and interactive environments and films.
You must go see "The Siege of Yorktown," which is a 180-degree film experience. Featuring the likes of General Washington and Rochambeau, British General Cornwallis, and Alexander Hamilton in his first military role in the Continental Army with his famous words – "Rush On Boys!" Hamilton's big moment in the revolution!
In their exhibits, you'll see hundreds of artifacts such as military equipment, maps, paintings, engravings, furnishings, and personal effects. Primarily covering the colonial period to the Constitution, their galleries make the experience personal by showcasing objects made and used by people of the period.
Exhibit Themes:
"The British Empire and America" examines the relationship between America and Britain before the Revolution.
"The Changing Relationship – Britain and North America" showcases the growing rift between the American colonies and Britain. In 1774, the Patriots proclaimed that "our cause we leave to heaven and our rifles."
"Revolution" follows the war, starting with the Battles of Lexington and Concord in 1775 to victory at Yorktown in 1781. Including an exhibit on the Declaration of Independence, which includes a very early printing of this document. As well as featuring stories of Patriots, Loyalists, women, enslaved and free African Americans – as they question, defy, or contribute to the Revolutionary War effort.
"The New Nation" shows the challenges faced by the United States in the 1780s. Including a weak government under the Articles of Confederation, an unstable postwar economy, and new social tensions which culminated in the creation of the Constitution.
"The American People" compares and contrasts America after the Revolution with America before the Revolution.
Alexander Hamilton in the Revolution
My favorite part of visiting the American Revolution Museum at Yorktown was a lecture on Alexander Hamilton. They had other notable figures I could have heard about as well, but of course, I chose the Hamilton one. They had a very knowledgable man there who gave an action-packed talk about the life and legacy of Alexander. With a short mention of the hit Broadway Alexander Hamilton musical of course.
If you're visiting, I highly recommend checking out a lecture as it was a great way to get informed and entertained in a short amount of time. I learned a lot about Hamilton in the revolution from this lecture.

Day 3-4: Colonial Williamsburg
About a 20 minute drive away, you'll find yourself at Colonial Williamsburg. I have to say, I only spent a day here and I wish I had spent more! However, living history museums are not for everyone, so if you're unsure, try one day. Then leave time for another if you can as there is SO much to do!
I enjoyed my time at Colonial Williamsburg as I love re-enactments, and they have a ton going on! I sincerely mean that there was so much I could not pack it in on my one day! There were hands-on activities, guided tours, demonstrations, lectures, art collections, and more! Their original 18th-century buildings take you back in time to what it would have been like in Colonial Williamsburg. The people that work there are all in period costume and are incredibly knowledgable.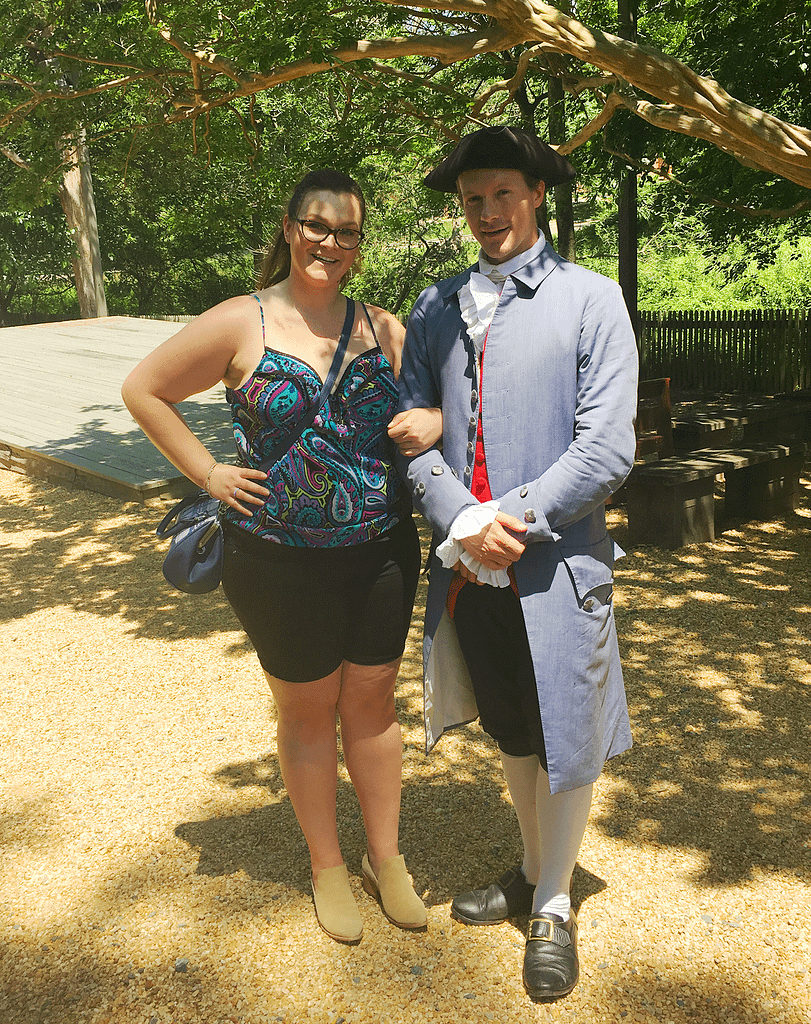 As the largest outdoor living museum in the US, it is an impressive place to go on your Hamilton tour. While I didn't find anything about Alexander Hamilton while I was there, George Washington, Thomas Jefferson (seen above), and Marquis de Lafayette are featured in Nation Builders. In these presentations, real historical figures are portrayed who made significant contributions to American history and are associated with 18th-century Williamsburg.
Day 4: Yorktown Battlefield
A 25-minute drive away, you'll find the Yorktown Battlefield, which has a great driving tour. I did this in a couple of hours in the afternoon. It was an excellent way to stay mostly in the car and out of the heat! As you'll likely know from the musical, the Battle of Yorktown was the site of the last major battle of the American Revolutionary War. It secured independence for the United States and was Alexander Hamilton's shining military moment, as mentioned in the Broadway musical Hamilton.
Before going on the driving tour, you can visit the National Park Services' Yorktown Battlefield Visitor Center to see a 16-minute introductory film on the Siege at Yorktown. Their exhibit also includes portions of the headquarter tents George Washington used throughout the war. As well as historic buildings such as the 1730 Nelson House, the Moore House (picture below) where the surrender terms were negotiated, and the National Cemetery Lodge.
If you'd prefer a guided tour, there are ranger-guided ones of the battlefield offered throughout the day. I did the two self-guided tour routes, for a total of 16 miles. Maps of the driving tours can be found at the Visitor Center as well as the $5 CD I bought at the gift shop that was great for giving background at stops along the way.
Now, if you're looking for something to skip on this Hamilton the musical itinerary, this may be it. As this driving tour takes you to a bunch of fields were this battle once was. There isn't that much to see on this self-guided driving tour. However, I appreciated that I could do it at my own pace, in my car, in AC.

Day 5: Monticello
Just over a two-hour drive away, you'll get to Thomas Jefferson's home at Monticello. Monticello is sat at the summit of an 850-foot (260 m)-high peak, deriving its name from the Italian meaning "little mountain." His plantation included several buildings and quarters for enslaved Africans who worked in the home. As well as gardens for flowers, produce, tobacco, crops, and Jefferson's experiments in plant breeding. Thomas Jefferson was also buried on the grounds, in an area now designated as the Monticello Cemetery.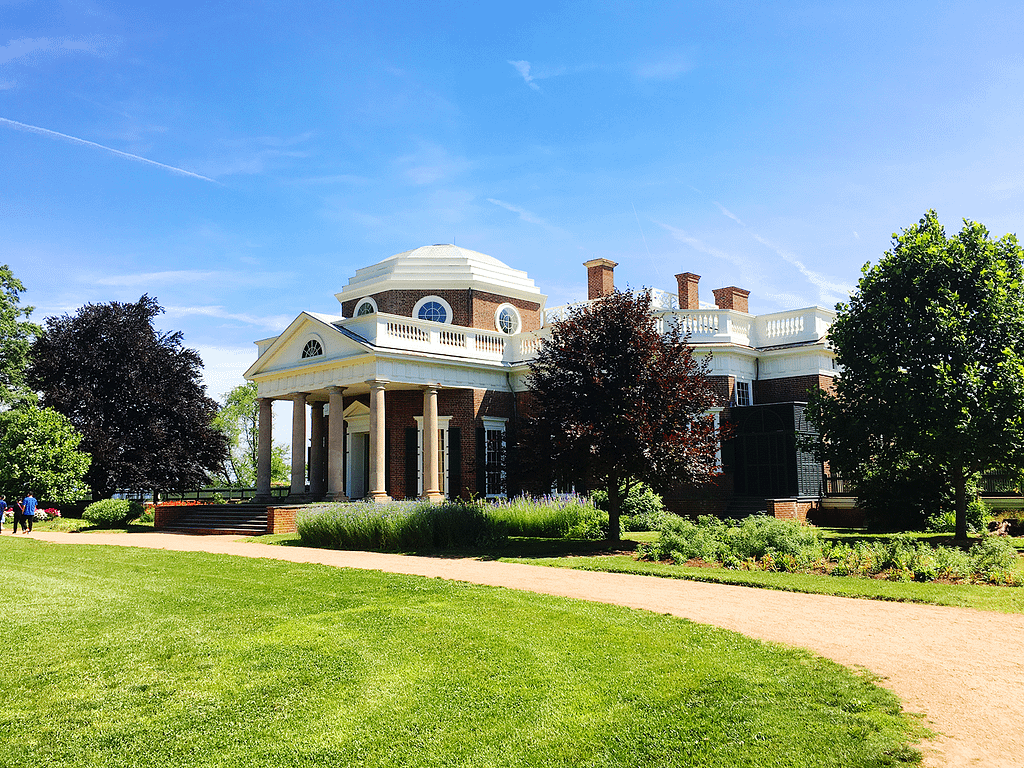 It appears they have changed their tours since I went as I did a lot of the things on Private Behind the Scenes tour, but I did not pay the amount they have currently shown. I went last year before COVID-19, so it's probably due to that. They also had a Hamilton Tour Takeover that I wasn't able to attend as I did the first available tour in order to get to Mount Vernon afterward.
The guided tour I went on, I was able to see the main floor and the private quarters on the second and third floors, including the Dome Room. A note on going upstairs at Monticello, these stairs are tiny! On the tour, you learn about Thomas Jefferson (of course), Sally Hemings, and his daughter, Martha Jefferson Randolph, as well as the free and enslaved people who lived and worked in the house.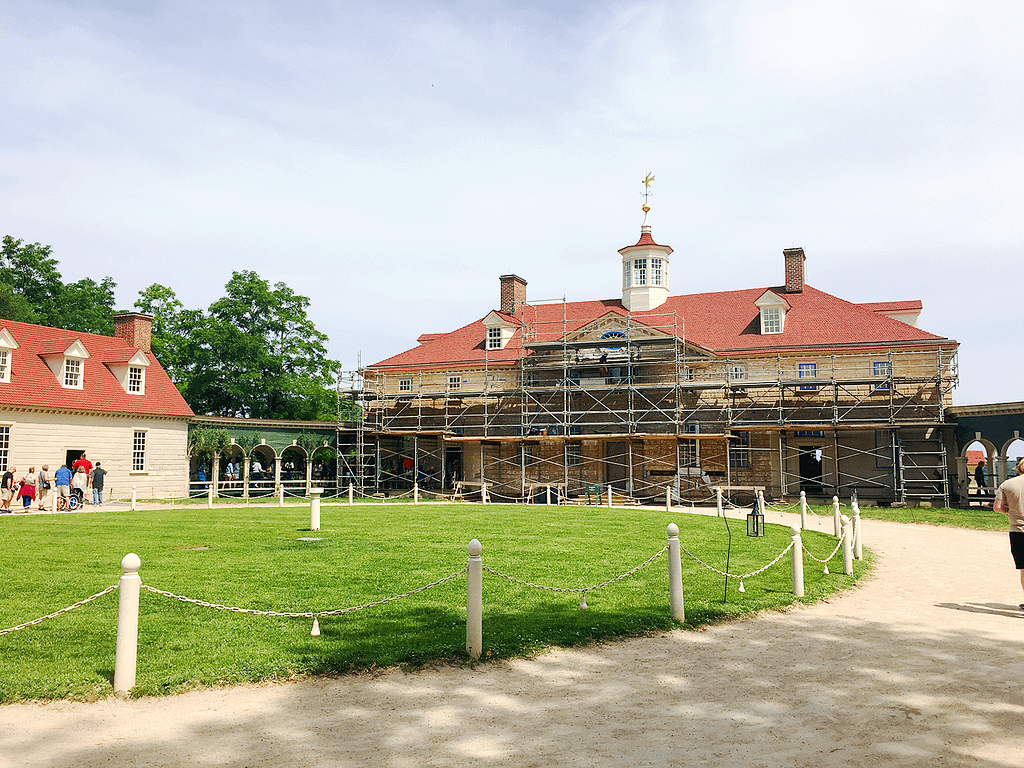 George Washington's Mount Vernon
Going just over another 2-hour drive and you'll land at George Washington's Mount Vernon. This estate is filled with things to do, such as touring his 18th century home, strolling in the gardens, visiting museum galleries, and more. I didn't get to do too much here aside from visiting the house, a tour, and the museum, but if you have the time, you can probably fill up an entire day here.
They were refurbishing his home when I was there, but I was still able to go inside and view the first and second floors of George Washington's beautiful Mount Vernon. The museum exhibit covers the life of George Washington, starting with his first job as a surveyor. Then onto his leadership during the French and Indian War and his growing businesses at Mount Vernon. It also, of course, covers his time in the Revolutionary War and the founding of our nation. A unique Revolutionary War 4D Theater highlights General Washington's important military victories at Boston, Trenton, and Yorktown.
National Treasure Tour
When I got to Mount Vernon, it was later in the day, so the soonest tour was the National Treasure Tour. Not that I'm not a fan of the National Treasure films, I just didn't expect there to be a tour solely dedicated to it! The second film, National Treasure: Book of Secrets, was filmed on location at Mount Vernon. This tour takes you behind-the-scenes to film locations and explains how these locations were used during Washington's time. I even got to visit the cellar of Mount Vernon since it was featured in the film! It's where the Lawrence Washington cornerstone is!
Hamilton the Musical Tour
Now, I may have missed this tour when I went last year, or they might have simply not had it back then, but I'll be remiss if I didn't add it here. The Hamilton the Musical Tour at Mount Vernon explores Washington's role in the hit Broadway show. Taking a look at his views on many of the themes that the Alexander Hamilton musical addresses.
While there is no record of Alexander Hamilton visiting Mount Vernon, you can find many things mentioned in Hamilton at George Washington's Mount Vernon.
"What ideas was Lafayette fighting for with the Guns & Ships the French brought? Where are the vines? Where are the fig trees? Get the answers to these questions and more on this hour-long tour."
Day 6: Library of Congress
A 30 minute drive into Washington DC, and you'll be at the gorgeous Library of Congress! I'm ashamed to say that I had NO idea this building was so beautiful before my trip. I was bowled over when I visited! The Library of Congress is a research library that officially serves the United States Congress and is the national library of the US. It is also the oldest federal cultural institution in the United States and one of the largest libraries in the world.
The Library of Congress origin starts shortly after the beginnings of the United States. James Madison is credited with the idea of creating a congressional library in 1783. Followed by its formal establishment in April of 1800, by President John Adams. Then, President Thomas Jefferson created the structure of the library, signing a bill that allowed the president to appoint the Librarian of Congress and establishing a Joint Committee on the Library to regulate and oversee it.
Thomas Jefferson's Library
However, in 1814, the British army burned Washington and destroyed the Library of Congress and its collection of 3,000 volumes. Thomas Jefferson, the avid reader he was, offered to sell his personal library to replace the collection. I heard he also needed the money!
Congress accepted and spent $23,950 to purchase 6,487 books he had accumulated over 50 years. They included works in several languages and subjects such as philosophy, history, law, religion, architecture, travel, natural sciences, mathematics, studies of classical Greece and Rome, modern inventions, hot air balloons, music, submarines, fossils, agriculture, and meteorology.
His collection was then organized into a scheme based on Francis Bacon's organization of knowledge. Grouping the books into categories such as Memory, Reason, and Imagination, then further into 44 more subdivisions. Unfortunately, again the Library of Congress was burned in 1851. Destroying two-thirds of the Jefferson collection, with only 2,000 books remaining.
As of 2008, the librarians of Congress had found replacements for all but 300 of Jefferson's original collection. When visiting the Library of Congress, you can see which of the books are originals, replacements, and which are still missing.
Hamilton at the Library of Congress
There is also a collection at the library of Alexander Hamilton papers and artifacts, totaling 12,000 items altogether. They previously had on display a selection of significant letters penned by Hamilton throughout different stages of his life.
Among those items were writings from a 12-year-old Hamilton, a Marquis de Lafayette communication about the final battle in the Revolutionary War, a work about the formation of the U.S. Constitution, and a July 4, 1804 goodbye letter to his wife shortly before the Burr duel. Hopefully, they'll bring this back so we can see as mentioned in the Broadway Alexander Hamilton musical, how he wrote like he was running out of time!

Revolutionary Statues and Memorials
I would be remiss if I didn't mention the memorials and statues you can also visit while in Washington, DC. There is, of course, the Washington Monument, which Elizabeth Schuyler Hamilton helped establish. The Jefferson Monument looks over the Potomac River and is beautiful when lit up at night. Then there is a statue of the man himself, Alexander Hamilton, which is located at the U.S. Treasury Building. There's another statue of him in the Captial building as well.
You can find even more Alexander Hamilton musical mentions around Washington, DC. You can see parts of his life and legacy in the Smithsonian's National Postal Museum, the National Museum of American History, the National Archives Museum, the Society of the Cincinnati, the National Gallery of Art, the Treasury Building, the Bureau of Engraving and Printing, and much more. I highly recommend a visit to Washington, DC, if you haven't had the pleasure yet!
Want to remember this? Post this Tips for a Hamilton: An American Musical Inspired Trip article to your favorite Pinterest board!